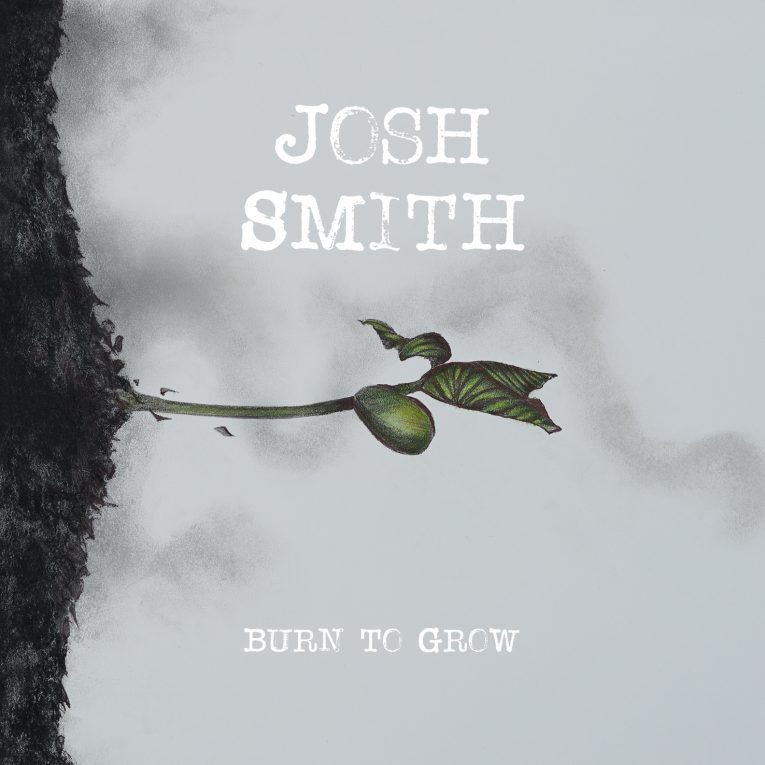 By Tom O'Connor
Josh Smith's new album, Burn To Grow, due out on September 28th from the VizzTone Label Group is, as one would expect, an eleven-song collection showcasing Smith's wide-ranging musical mastery that runs the gamut from blues and soul to funk, R&B and even a little jazz. It also shines a well-deserved spotlight on a tight and ready band of heavyweights that brings the music hard and straight to the people, intent on doing some damage.
Splitting drum duty are Lemar Carter and Pete Thomas. Likewise, Davey Faragher and Travis Carlton (son of Larry) divvy up the bass duties. A four, and sometimes five-piece horn section, made up of sharpshooters Jamelle Adisa, Chris Johnson, J.P. Floyd, Matthew DeMerritt and Dan Boisey adds swing and dimension to nearly every song and Carey Frank elevates every tune he touches with his organ. Adding to all this are some stellar backing and lead vocals from Mónet Owens, who sounds like a star-in-the-making herself.
Right out of the gate, the slow and heavy "Half Blues" is taken to another level by that take-no-prisoners horn section, laying back to make room for Josh Smith's guitar break and coming in strong at just the right moments. Taking a turn to the more sophisticated, "Through the Night" is a clean and slinky tune that gives you your first introduction to the honey-smooth backing vocals of Mónet Owens, in addition to the first really piercing guitar breaks of the album, that find Smith touching on mid-career slow hand Eric Clapton stylings.
A big riff and some serous organ swells anchor the angry break-up song "Watching you Go" where Smith's angry vocals compliment his fist-fighting lead breaks while those heavenly back-up vocals provide a counterpoint to the pain. For my money, this is a standout track in a great collection. The horn section does the heavy lifting on "That For You Too," a tale about the surprise of reciprocated love and devotion.
The popping good-time sounds of "Your Love (is making me whole)" is another album standout that features the dazzling Mónet Owens on lead vocals. The inclusion of this tune says volumes about the confidence (and generosity) of band leader Smith. How many performers would hand over such a showcase song to another singer on their own record? Not many. Add to this the fact the that full band sounds equally committed to making this song a gem and a standout and you have a good idea why the rest of the album is equally captivating. It is clear that the music comes first and everyone is working in service to the songs themselves. The wistful and lovely "Look No Further" comes next, giving Smith his turn at crooning the way through a shimmery and in-no-hurry song about hope, love and faith in one's convictions.
Once you've been completely lulled by a couple of sweet compositions, Josh Smith and the band dial the power back up for the striding and strident, "Let Me Take Care Of You," which would impress any crowd in any New Orleans juke joint I've ever been in. The intensity continues on the slow-walking, "What We Need," which takes you on a six minute straight blues journey with Smith's guitar. The song is a solid reminder of why we're all here in the first place; that deep rooted blues that Smith seems to summon so effortlessly. The horns come back to pilot "You Never Knew" with a ton of finger-popping swing that still leaves room for Smith's inventive guitar to journey through the mix. Showing yet another side, Josh and the band shift gears to the ethereal on "She Survives," a lovely and meandering composition that impresses without trying to. The album ends with the bruising and back-to-basics title track "Burn to Grow," which sounds as crisp and menacing as the title would suggest. It is a final taste of Smith's hellacious guitar talent laid over a rhythm that is as pounding and relentless as a long day workin' in the hot sun.
There is range and talent on this record to match the heart and commitment that comes through the speakers so clearly.
For more information on Burn To Grow by Josh Smith:
Pre-order https://lnk.to/burntogrow