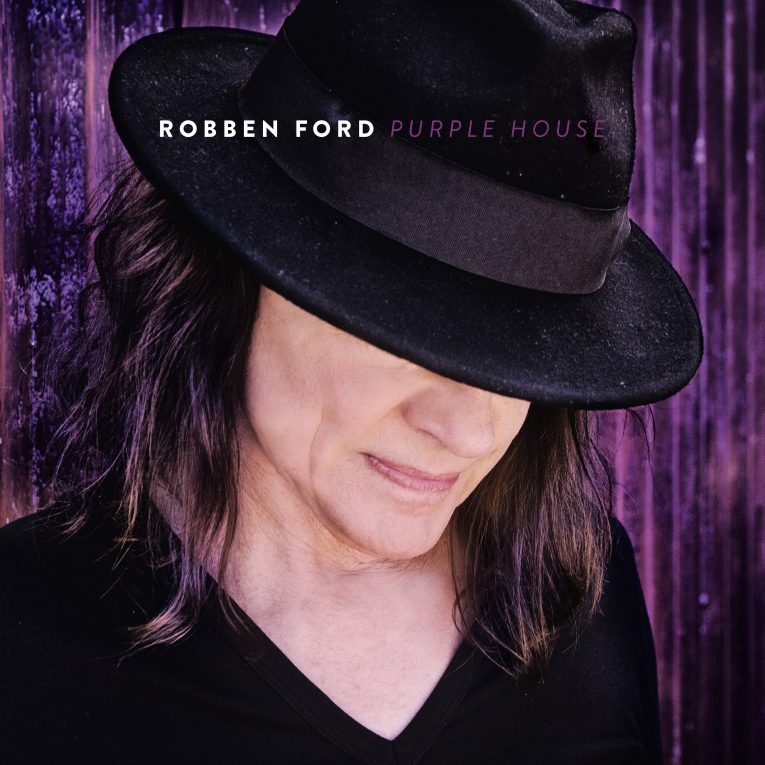 By Martine Ehrenclou
Having seen blues, jazz, rock guitarist and singer, Robben Ford live in a small venue a few months ago, I expected outstanding musicianship and incomparable guitar chops when I listened to his latest album, Purple House, released November 9th via earMusic. When I flipped the switch on all nine tracks, I was not prepared for what I heard. Leaning into my speakers, I embraced one of the best, if not the best album of 2018.
Robben Ford is regarded as a guitar master, a virtuoso with groove. This five-time Grammy nominee seems to have had a rebirth of sorts with Purple House. Call it a fresh approach to the album production (co-produced by Ford and Casey Wasner) or perhaps Ford's emphasis on songwriting with this release. Or the insight to bring in powerhouse vocalist Shemekia Copeland for one of the tracks, the lead vocalist from the band Bishop Gunn for another. But there's something more going on with Purple House. Maybe it's Ford's three-decade solo career as a blues, jazz, rock guitarist and singer-songwriter culminating in a fresh, contemporary sound. It could be just Ford's drive to release albums that never sound like the last. But something else is afoot on Purple House—Robben Ford seems to have settled into his musical soul. And you can hear on every track that he's having the time of his life.
Kicking off this nine-track collection of original tunes (except one), is "Tangle with Ya," a funky groove number with Ford leading the way with strong and soulful vocals and one kick a** band. This track, like the others on the record, is so well crafted with a delightful melody and horn section punching up the song. Drummer Derrek Phillips doesn't just lock down the rhythm–this guy is insane. "Tangle With Ya" is rock-R&B, with lyrical, stunning guitar solos by Ford that will lift your spirits no matter what mood you're in.
Poetic lyrics and catchy songs combined with superb musicianship are what this album is about. "What I Haven't Done" is no different. Plus it has great rhythm. The subtle surge of tenor saxophones punctuate Ford's melodic vocals, giving this a Stax feel in places. His guitar solos are pure poetry–brilliant but soulful with sweet, sweet tone. Bass player Ryan Madora and Casey Wasner on guitar must also be mentioned as they are significant members of this superb ensemble.
Purple House offers shifts in genre, tempo and style, characteristic of Robben Ford. Songs like "Empty Handed" are moody, spare at first. Opening with acoustic guitar, it reminds me in some ways of Neil Young or of Joni Mitchell's jazz years. This tune has a dreamy, desolate quality, and the effects create a theme of isolation and loneliness. Ford sings it from where it hits him hard. "Empty Handed" is a beautiful, sophisticated track that gives space before the next groove stomper.
"Bound for Glory" has hit all over it—but don't think for one second that it's formulaic–it's not. Once again, Ford has written a catchy, melodic rock/R&B song that's also inventive with rockin' groove.
A real standout, "Break in the Chain" opens with acoustic guitar that glides into a Southern roots-rocker. And then powerhouse vocalist, Shemekia Copeland roars in with her full-bodied vocals—POW. Building up to crashing effects and big drums, Copeland's voice paired with Ford's grip the already stunning track.
Beautiful and melodic chord changes grace a number of the tracks including "Wild Honey" and 'Willing to Wait." Robben Ford's compositions are masterful with flavors of blues, jazz, R&B, rock and roots music. The band is so in sync. Even the guitar work blends into the fabric of the songs, and with a guitar player like Ford, it would be easy for the tunes to simply pave the way for his breathtaking guitar solos.
Closing out the album is another standout "Somebody's Fool" a rhythmic blues-rocker featuring lead male vocalist of the year, for the decade really, Travis McCready from the Southern roots-rock band, Bishop Gunn. His vocals are all grit and soul and on a song as strong as this one, Ford enlisted the perfect choice. You'll play this one over and over. Seriously, this song hits all cylinders and includes a hard hitting, exquisite guitar solo by Robben Ford.
All the stars aligned for the album, Purple House by Robben Ford. When you get this kind of musicianship combined with stellar songs, thoughtful lyrics, a tight band, and soulful vocals, it's not unlike a great novel you just can't put down. Each song is so good that together they make up an even better whole—the sum of its parts as they say. And that's what you get with Purple House.
For more information on Purple House by Robben Ford: