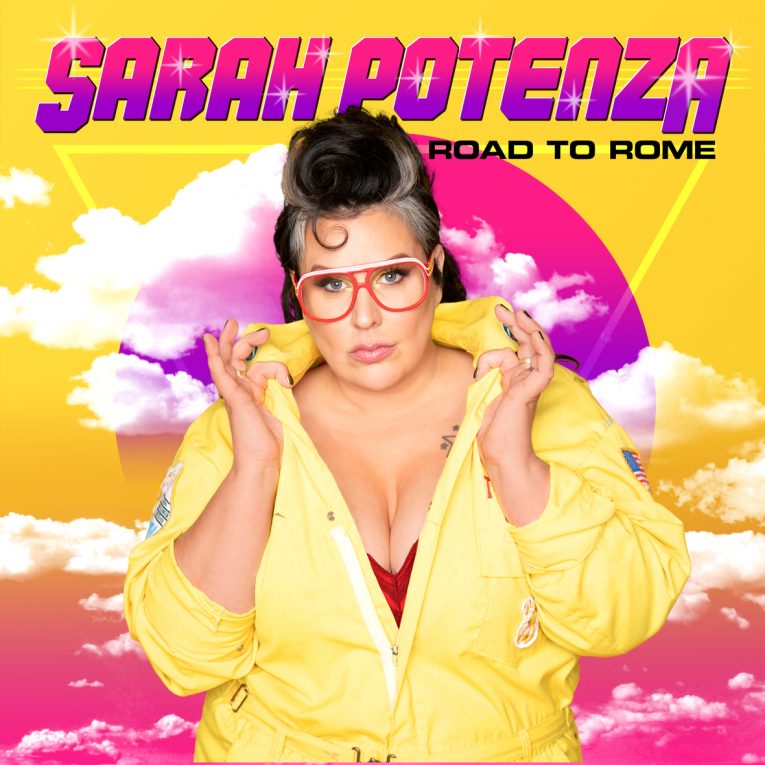 By Martine Ehrenclou
It's not often that you hear a singer who completely knocks you out. This is the case with Sarah Potenza and her new album, Road To Rome, out March 8, which is International Women's Day.
Nashville-based singer-songwriter, Sarah Potenza doesn't just sing it—she brings it. This is one powerful vocalist with plenty of soul and sass who embraces her music with spark and emotional depth.
A ten-track album of all original R&B, contemporary blues and soul tunes written by Potenza, her husband Ian Crossman, and friend Justin Wiseman, Road To Rome is about empowerment, self-confidence and standing strong for one's self and not taking any shit. And Potenza's been through plenty of it.
Who doesn't love to hear this kind of powerhouse, scorching vocalist sing with conviction and integrity, telling stories about being squashed as a person, as a woman, and then learning from it and moving on to triumph?
Potenza has something special. It's in the tears in her power ballad, "Earthquake" a beautiful love letter of apology, one sparkling with poetic imagery and moving melody. It's in her R&B, soul, rock and roll-ish opening track, "I Work For Me" that blasts honesty and accountability by shrugging off others' critical words and rising up to sing the hell out of it. With lines like "I've been collecting water from my well since I was 10," as well as many others like it on this album, Potenza showcases her talents as a songwriter.
Perhaps best known as a semi-finalist on Season 8 of The Voice, Sarah Potenza previously fronted her band, Sarah and the Tall Boys for seven years. Her debut album, Monster (2016), prompted Rolling Stone to write, "Potenza is to the blues what Adele is to pop; a colossal-voiced singer who merges her old-school influences with a modernistic sound." Produced by Jordan Brooke-Hamlin (Indigo Girls,) Potenza recorded with a female-heavy cast of collaborators. The record isn't just her story—it represents many artists, particularly female, who remain the minority in a male-dominated music industry.
Road to Rome
is inspiring. But not all of the tracks are anthems. Potenza offers a softer touch on songs like "Dickerson and Queen" a rhythmic winner with plenty of R&B groove. A little
Janis
and a little
Aretha
, but all her own, Potenza is a gifted singer, with plenty of spirit and grit.
In some ways, Potenza reminds of a great comedian who says what everyone is secretly thinking. That's why we love them, because they speak the truth with gusto and humor. Potenza, a different kind of entertainer, tells it like it is and delivers truth wrapped in poetic stories, uplifting messages—all with a killer voice.
This is Road to Rome.
"Diamond" another rockin' power ballad that cuts to the quick, tells the all-too-common story of young girls who listen too closely to those around them and lose sight of their inner voices. Potenza recounts past personal challenges and spins them on their head, surfacing as a victor instead of victim. Potenza is a force. "I blamed myself, I cursed my gifts, why do I have to be like this. I was just too young, too young to see. I was born to be a diamond." This is an anthem for women if I ever heard one.
There are plenty of lighter, upbeat tunes on Potenza's record. Enter "I Believe," a funky, upbeat number with a contemporary, ear-pleasing groove and "Happiness" an R&B/pop/rock tune, both with lighter themes. Potenza has some kind of rhythm and phrasing.
Closing the album is the title track, "Road To Rome," a moving ballad with emotional honesty, a significant theme on the record. "Shame is a drug and I was a user," is just one of the gems here. Potenza's vocals are stunning on this track as on all tracks of this album. The melody is beautiful with interesting chord changes. Potenza is a blues belter, but also a soft and sultry songstress. That kind of vocal command is one of her signatures.
Sarah Potenza is a one-of-a-kind singer of our time. Watch for her because this talented singer-songwriter is, without question, going places.
Highly recommended.
For more information on Road to Rome by Sarah Potenza: