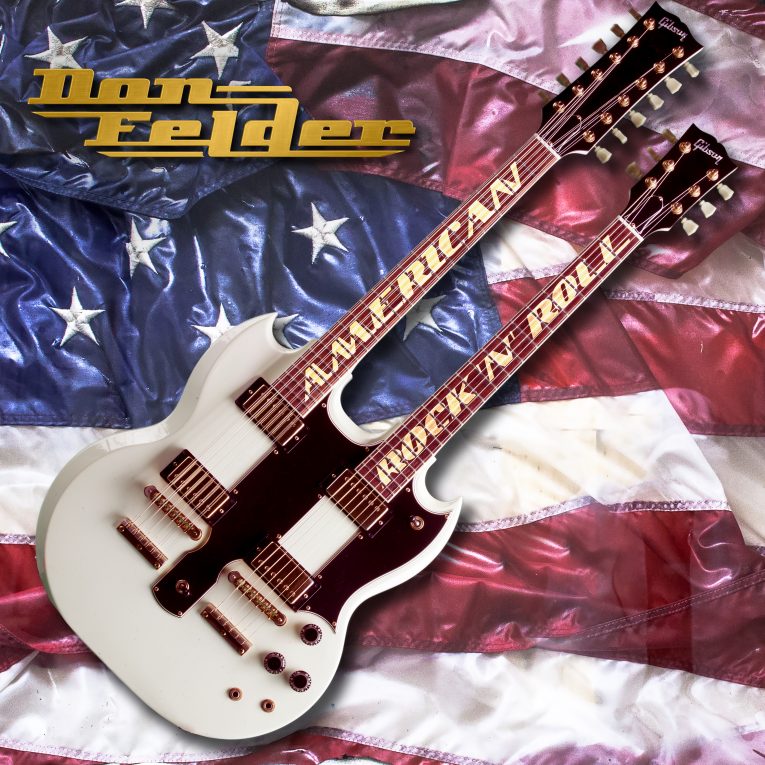 By Mike O'Cull
Former Eagles guitarist, singer-songwriter, multi-Grammy winner, Don Felder is a bona fide rock legend who has worked at the highest levels of the music business his entire career. Fans of his brand of straight-up lyrical songwriting and melodic guitar work will be happy to know that Felder is back in the spotlight with a new solo album, American Rock 'N' Roll, that comes out April 5th, 2019 on the BMG imprint. It features Sammy Hagar, Slash, Richie Sambora, Orianthi, Peter Frampton, Joe Satriani, Mick Fleetwood, and many more.
What'll make fans even happier is learning that American Rock 'N' Roll is as good or better than any music Don Felder has ever made. He seems to be that rare artist who's getting better with the passage of time. He logged in 27 years with the Eagles, co-wrote "Hotel California," "Victim of Love" and "Those Shoes" and worked with other important artists including The Bee Gees, Bob Seger, Michael Jackson, Alice Cooper, Kenny Loggins, David Crosby, Graham Nash, Boz Scaggs, Warren Zevon, Joni Mitchell, Stevie Nicks, Stevie Wonder, Elton John, and more.
American Rock 'N' Roll is Don Felder's third solo effort and arguably the strongest of the three. The record was mixed by Bob Clearmountain and mastered by Bernie Grundman. Felder produced the album himself and, at this stage, is more than able to articulate his own vision. Felder's deep songwriting and guitar skills maintain center stage and the set listens like a real album, not just a batch of singles.
The record opens with the lead single and title track "American Rock 'N' Roll," which features stellar performances from Slash, Mick Fleetwood, and Chad Smith. The song is a tribute to the icons of the classic rock era, artists who helped to define the sound of American music in the late 20th Century. "Hearts On Fire" is a gleefully funky rock song with a huge hook that'll instantly become stuck in your ear. "Limelight" is a great mid-tempo shuffle that features intertwined guitar solos from Richie Sambora and Orianthi, two players who can heat up any house in the world.
"Rock You" is a powerful, stadium-shaking kind of song that shows Felder still has plenty of gas in the tank. Joe Satriani rocks some solos on it as only he can and we are also treated to some lead vocals by Sammy Hagar and backups by
Bob Weir
. Felder can still write ballads like nobody's business and does exactly that on "The Way Things Have To Be."
Peter Frampton
contributes guitar and backup vocals and Leah Felder sings on the track, as well. Alex Lifeson drops guitar licks on "Charmed" to add some Canadian content to the proceedings and does his usual amazing job.
It's impressive to hear how great this old-school crew sounds. Felder and every musician on this record can deliver the goods live and on two-inch tape, which isn't something to take for granted in our computer age. Felder is one of the great guitarist/singer/songwriters of our age and the combination of his skills and the strength of the other players make American Rock 'N' Roll a perfect thing, an experience that anyone who cares about the core of rock music needs to have.
Put it on, turn it up, and enjoy one of the best albums of 2019. Don't let this one slip by you.
For more information about American Rock 'N' Roll by Don Felder: