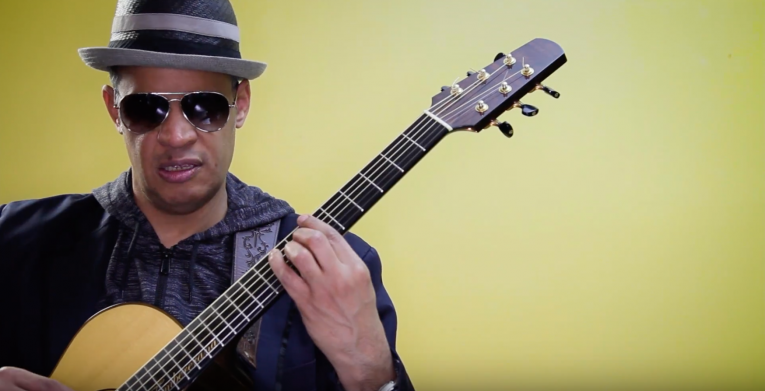 A two-time Grammy nominee, guitarist, singer-songwriter, Raul Midón's "Ain't Happened Yet" is our pick for our Video of the Week.
With a silky, soulful voice and percussive guitar, he is known for playing bass, harmony, and melodic lines all at the same time on guitar. The New York Times has called Raul Midón "a one-man band who turns a guitar into an orchestra."
An American singer-songwriter and guitarist, Raul Midón has released 10 albums, including If You Really Want (2018), which was nominated for a Grammy Best Vocal Jazz album, a follow up to his 2017 release, Bad Ass And Blind, which was also nominated for a Grammy Best Vocal Jazz Album.
Blind since birth and from New Mexico, this incredibly talented musician was educated in the jazz program of the University of Miami. With an eclectic mix of styles, Raul Midón has a reputation for having one of music's most distinctive voices who blends R&B, Jazz, Flamenco and more into his sound.
Midón has collaborated with Herbie Hancock, Stevie Wonder, and Bill Withers, along with contributing to recordings by Queen Latifah, Snoop Dog and the soundtrack to Spike Lee's, She Hate Me.
Listen to "Ain't Happened Yet" below and be sure to wait for his vocals and the great groove after the instrumental beginning.
With an extensive and impressive career, Midón began as a session singer for Latin recording artists, including Shakira, Alejandro Sanz, Julio Iglesias, Jennifer Lopez,  and Jose Feliciano. His first album,
State of Mind 
(2005) on Manhattan Records featured a guest performance by Stevie Wonder and another with Jason Mraz.
Midón worked with Grammy Award-winning producer Larry Klein on his album Synthesis (2010.) Two years later he released a live album, and in 2014 he released Don't Hesitate with guest appearances by Lizz Wright, Diana Reeves, Marcus Miller and Richard Bona. He wrote the song "Mi Amigo Cubano" with Bill Withers and it led to the film, Still Bill in 2014.
Midón's song "Everybody" was featured in the soundtrack of the movie The Peaceful Warrior starring Nick Nolte. Midón's national TV debut was on The Late Show With David Letterman in 2005. Herbie Hancock featured Midón on his album Possibilities (2006.)
I have to give a shout-out to Melanie from our Rock and Blues Muse Facebook Group as she is the one who turned me on to his music.
If you're up for another great groove by Raul, check out this video HERE 
Raul Midón Online