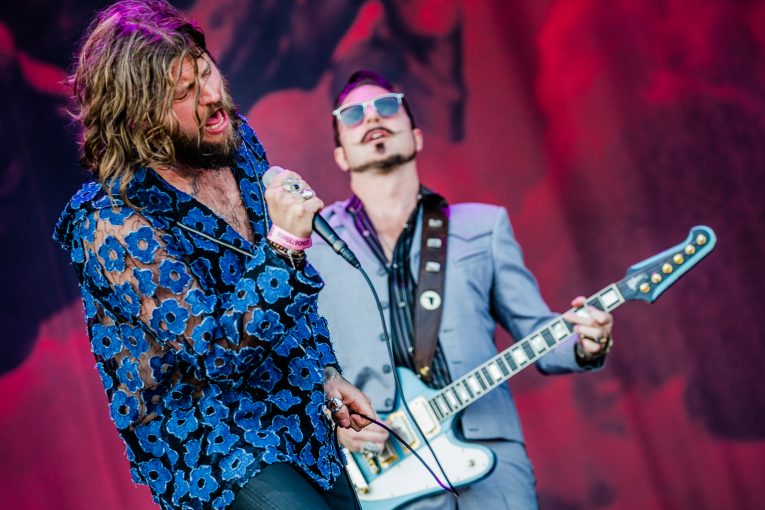 "Sugar On the Bone" comes from Rival Sons' latest album, Feral Roots, which was produced by legendary producer, Dave Cobb.
Created by Norwegian photographer/cinematographer Patrik Skoglow, the video "Sugar On The Bone" chronicles the band on tour in Oslo, Stockholm and Copenhagen, Denmark over a stretch of a days. The video focuses on life on stage and on the road, depicting how much the band's live shows mean to them.
One of the hottest rock bands around, Rival Sons celebrate their tenth anniversary as a recording and touring band with their latest album, Feral Roots. Their video is right in line with this kick a** record, their sixth album to date and produced by Dave Cobb.
From Long Beach, CA
Rival Sons
is made up of guitarist
Scott Holiday
, vocalist
Jay Buchanan
, drummer Michael Miley, keyboardist Todd Ogren and bassist David Beste. They continue to carve out their own niche in modern rock music.
Drummer Michael Miley: 'We're pushing the envelope of modern music; forcing it to stay awake and active through instinctive and honest music delivered with a blistering live performance'
Rival Sons is a genuine rock and roll band and have taken the world by storm with their album, Feral Roots. With Buchanan's unyielding rock vocals combined with Holiday's psychedelic fuzz riffs, Miley's powerful drumming, Beste's ripping guitar work, and Ogren's incredible feel on the keys, you've got one great rock band.
In an ideal world, I want our records and live shows to envelop the listener to the level of forgetting daily worries. Just be free and lose (or FIND) yourself in the music.' – Scott Holiday
We think Rival Sons has that covered.
Rival Sons is now on tour. See here. 
Rival Sons Online
Website