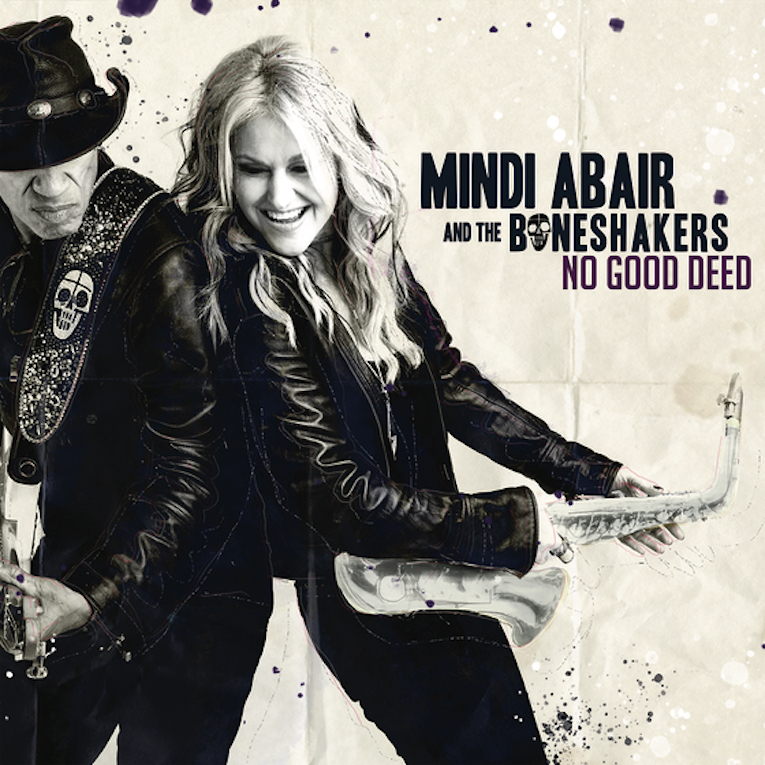 By Dave Resto
Fresh out of L.A.'s iconic EastWest Studios, Mindi Abair and the Boneshakers are back with their third studio album, No Good Deed. Produced by Kevin Shirley (Led Zeppelin, Aerosmith, Joe Bonamassa) for Abair's label Pretty Good For A Girl Records, it arrives on June 28th.
A native of St. Petersburg, Florida, Abair is a graduate of the Berklee College of Music. She gained national recognition for her incendiary saxophone style when she appeared with the house band for two seasons on American Idol, and was nominated twice for a Grammy Award as a recording instrumentalist. Touring with acts like Aerosmith and Duran Duran also helped to increase her notoriety throughout the music industry. Possessing the vocal prowess to accompany her instrumental skills, Abair took center stage when she joined forces with the Boneshakers in 2014.
I've been a fan of Mindi Abair and the Boneshakers for some time and was thrilled to review their new album. On No Good Deed Abair, Randy Jacobs (guitar and vocals), Ben White (bass and vocals), Rodney Lee (keys) and Third Richardson (drums and vocals) offer 10 tracks, blending eclectic original compositions with a few clever reinterpreted cover songs.
The title track, "No Good Deed Goes Unpunished" has a stomping, sing-along anthem feel, with a pulsing bass line, thundering toms, biting guitar and tribal chants. Abair snarls her vocals with legitimate rock star attitude, and her jazzy sax solo, following the song's breakdown, is beautifully chaotic in the way she blends harmonious and dissonant notes.
Two soulful blues ballads, "Sweetest Lies" and "Who's Gonna Save My Soul?" feature another side of Abair's vocal talent, which is her honest vulnerability. I found the way that she lifts her voice and then trails off to almost a whisper to have a chilling effect.
Much of the appeal of Mindi Abair and the Boneshakers has always been the powerful dynamic between Abair's saxophone and Jacob's guitar. The two share the spotlight as lead instrumentalists, always complementing each other's contributions. Producer Kevin Shirley did well at capturing them performing at their A game level on songs like the funky "Mess I'm In."
The selection of cover songs on No Good Deed represents a good cross section of Rock, Blues and Rhythm & Blues classics.
"Seven Day Fool" is an updated take on the R&B single which Etta James recorded for Chess Records. Abair adds a tasty retro sax solo to the middle section, with Jacobs riding the slipstream of her last note as the intro to his guitar solo.
"You Better Run" was originally released by the Young Rascals in 1966 and was re-popularized in 1980 by Pat Benatar and her husband, guitarist/producer Neil Giraldo. The version by Abair and the Boneshakers successfully blends the gritty attitude of the '66 version with a polished performance of the '80 version.
The most inventive reimagining of a cover song by far is the band's version of "Good Day For The Blues" by Storyville. While the original version possesses a lovely melancholy, here the relaxed but upbeat groove allows it to breeze along, giving the band room to contribute tasteful bits. Lee's keyboard work conjures a celebratory Mardi Gras atmosphere. Jacobs' rhythm guitar is bright and bouncy, capturing the giddy feel of Johnny Otis' 1958 "Willy and the Hand Jive" and Abair's extended sax solo is refreshing.
The album closes with a commanding rendition of Ike and Tina Turner's "Baby, Get It On." The duet is sung by Abair and Richardson, and there's convincing chemistry between them. It's fitting to hear Abair's virtuoso sax playing being accompanied by a brass section, which punctuates the track with the appropriate amount of punch for this R&B classic.
On No Good Deed, Mindi Abair and the Boneshakers flex their Rock, Blues, Jazz, Funk and Soul chops to great success. This album is truly a win/win for the band and their fans.
For more information on No Good Deed by Mindi Abair and the Boneshakers: