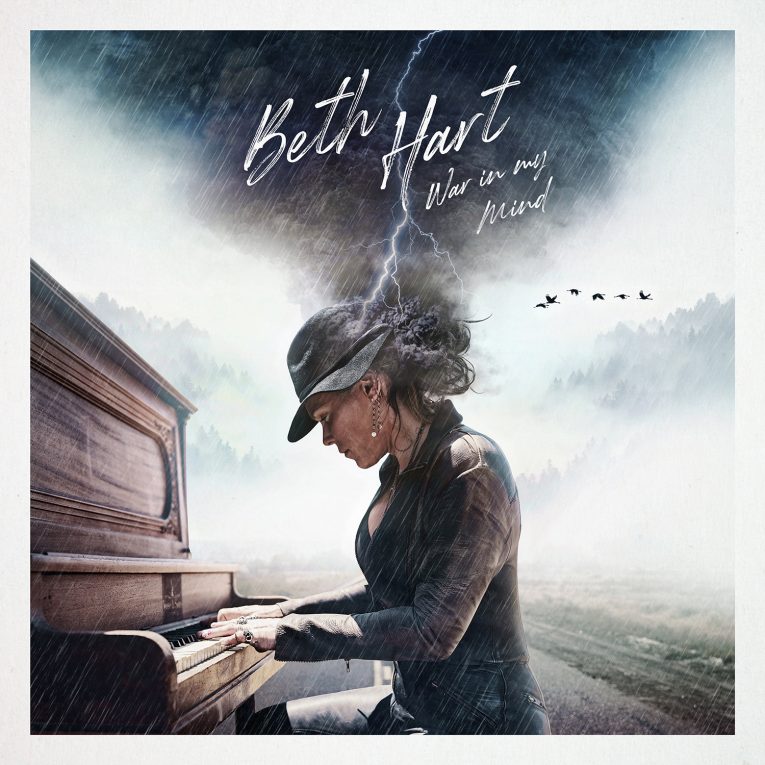 By Martine Ehrenclou
Grammy nominated singer-songwriter Beth Hart is set to release her new studio album, War In My Mind, on September 27th via Provogue/Mascot Label Group.
If you weren't blown away by Beth Hart before, you certainly will be now.
For over two decades, Beth Hart has released hit solo albums and collaborated with Joe Bonamassa, Jeff Beck, Slash, and Buddy Guy. She is known for her passionate, visceral vocals and songs that hit at gut level. Produced by three-time Grammy Award winner, Rob Cavallo, War In My Mind is a blend of superb songwriting and moving tunes that range from rock n' roll and R&B, to blues and jazz, sung by one of the great vocalists of our time.
A follow up to her 2016 Fire On The Floor, Hart has embraced her emotional journey and reveals it on War In My Mind. The songs are beautifully written with storytelling craft at its height. Most of the tracks on War In My Mind are not unlike short stories, and once the pages are turned and you get to the ending, you might just be emotionally spent. I know I was. That's how psychologically deep many of these 12 tracks go, and when a musician is that vulnerable and yet strong at the same time, the power behind the words put to music are pure fire power.
Beth Hart is a force. On War In My Mind she is a hurricane, but she stands strong at its center, strong enough to withstand the winds of emotional turmoil and tragedy, and just that talented to channel her truth into beauty. Even if at times, War In My Mind is brutal in its honesty.
Beth Hart spares no prisoners on opening rocker, "Bad Woman Blues." Gospel-esque backing singers kick off the track, with Beth's vocals raw with power and confidence on this rip-roaring album opener. With a rock groove, Hart throws herself into this song and she's feeling it. It's from the point of view of a woman who embraces her power as a siren and who is strong enough, bad enough, to dispense with nice girl actions to sing, "I was born to drive men insane…I'm the queen of pain…I'm not your mama, I'm not your wife,… good girls always lose." This track is a seduction, and a wicked one at that. Or perhaps just the kind of rock n' roll wallop to hurl you in the front seat of the roller coaster for the 11 tracks to come.
Slowing things down considerably with the title track, "War In My Mind" opens with a haunting piano melody and the crack of drums before Hart sings about her internal struggle with darkness and conflict. The song is so moving, it's hard to tear yourself away. It's beautifully orchestrated and produced, and Beth sings it with vulnerability and honesty. The song builds musically with strings and a full band and pulls back for Beth's sensitive vocals and adept piano playing. She shares her darkest secrets here, and like it or not, you'll be swept up in the storm.
Beth Hart creates interesting chord changes, moving melodies. You'll hear that on "Without Words In The Way," a ballad with her vocals front and center, piano, standup bass and faint specks of guitar and drum brushes. It's a song with jazz overtones, and her voice is soft in places, strong where it needs to be. A song of heartbreak over love gone wrong, her lyrics are poetic, the music stripped back. It's full of imagery, and damn, if Beth isn't one helluva songwriter as well as a powerful emotive singer and pianist.
As if to offer a reprieve after some heavy material, "Try A Little Harder" rolls in on an R&B groove with a delightful melody. Evoking the image of rolling the dice on the Las Vegas strip, Beth says about the song, "It's me jumping into my father's body back in the 70's when he was a high roller." It's a fun, rhythmic number with a dark side.
There are more heartbreaking songs on the album, so emotionally honest and revealing, you either lean in or you turn away from her pain out of self-preservation. "Sister Dear" is one of them, a poignant plea or story about her late sister. "Woman Down" is another one, performed in a minor key, dark and intense. Once again, Hart yields poetic songwriting. Her voice is breathtaking, partly because she's so present in the song. You won't get away unscathed. Are the songs orchestrated to heighten the drama similar to film scores? Maybe, but the effect is the same and they sure feel authentic to me.
Beth Hart has made her personal tragedies, past drug addiction and bi-polar illness public through the years and has written and performed songs about her losses, challenges and triumphs. Part of what is so appealing about Hart is that she embraces her truth, however dark or light that is. Our culture doesn't really allow for that and Hart gives herself permission to be real without the trappings of what a person
should
be. To deliver the message with a voice like hers, with songwriting and piano chops like hers, is awe inspiring. If she weren't a superb vocalist and musician, we might not listen as closely. You'll listen to
War In My Mind
.
War In My Mind is a triumph, and Beth Hart's best solo album to date.
For more information on War In My Mind by Beth Hart: