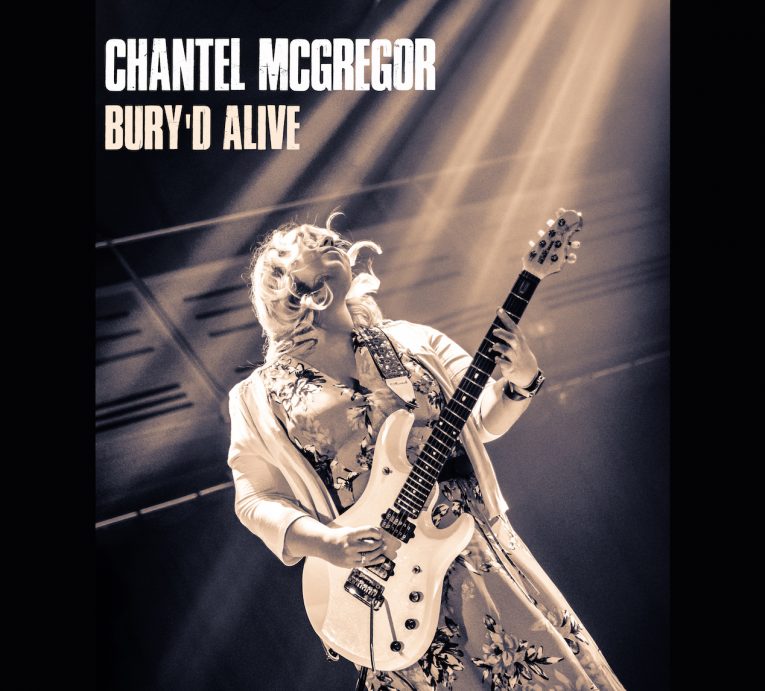 By Tom O'Connor
For my money, the best release this month was the September 6th drop of Chantel McGregor's Bury'd Alive produced by Wayne Proctor of House of Tone at Superfly Studios. So much more than yet another up-and-coming blues chanteuse, in addition to her ethereal vocals, McGregor brings some certifiably ferocious guitar work to every track of this energetic and transporting live album.
Bury'd Alive is a potent mix of hyper-tight musicianship from a road-tested, dialed-in trio and a bit of the magic that only occurs in live performances. I've rambled on before about the mind-meld possible in a good trio, and this group is a textbook case. All three musicians; drummer Thom Gardner, bassist Colin Sutton and guitarist/vocalist McGregor, are capable of almost anything on their instruments, from full-on hard-rocking bombast, to nuanced prog-rock explorations, and they can handle any dynamic shift in between the two. Combine that with the alchemy of a live set, and anything is possible. We're all lucky it was captured on tape.
Chantel McGregor throws down the gauntlet right from the get-go with a full minute, riff-laden instrumental that leads into rocking opener "Take The Power." She also immediately impresses with her first, soaring lead break. After some applause, the band casually launches into "Killing Time," which I'll put up against anything Motley Crue ever recorded. After impressing listeners with all that fiery guitar brimstone, McGregor & crew dial things waaaay down on  "Like No Other," this only further showcases McGregor's way with a power ballad vocal.
Ballad mode doesn't last long as "Caught Out" hits the gas again with a big fat central riff and a tale of coming out of the other side of bad times with new strengths. Adding in the best wah-soaked lead break I've heard in a long, long time and a rave-up ending and this song rocks as hard as anything I've heard in 2019… by anyone. The band then challenges their audience with a nine-minute version of "Eternal Dream," which originally clocked in at a little over four minutes on an earlier studio album, that a lot of people are going to think is still too short. It takes some serious guts, in a live setting, to hand your audience a dreamy, slow-moving tune like this one, but both Chantel's vocals and her wide-ranging guitar technique make it a risk well-taken. The extended lead break, again with plenty of wah-wah, is a real emotional journey, on par even with Santana at his most untethered.
The band goes back to meat-and-potatoes hard rock with the oddly angular riffs of "Lose Control" which proves they're a band capable of both extended nine-minute prog-rock journeys and hard-hitting three-minute rockers like this one. Did I say nine minutes? Imagine keeping your live audience enthralled with a nearly
thirteen-minute
 excursion like "Inconsolable." Again showcasing Chantel McGregor's remarkably emotive singing and the kind of guitar work from her that you might expect from some kind of
Mark Knopfler
meets Prince hybrid. After soaring with the angels all that time, the band gets earthy again with the menacing "Your Fever."
Clocking in at barely eight minutes "April" seems almost stingy in comparison to the album's previous prog-rock expeditions. That said, this is my standout track for reasons I can't quite name. This extended instrumental is at turns chiming and hypnotic then strident and brain-melting. If anyone has recorded a better guitar track this year, I sure haven't heard it. Next up, you can almost see an arena-full of lighters held aloft, or I guess in 2019 it would be glowing phone screens, as the gorgeous and spare "Walk on Land" slowly unfolds. The album closes with "Freefalling," the kind of furious riff-rocker that would be a great set opener, and that hits as hard as anything you'll hear this year short of Death Metal.
Re-reading this review I realize I've compared Chantel McGregor's playing to male guitarists and bands. She does, of course, rock as hard as the Wilson sisters with a bit of Lita Ford thrown in as well. I think, and it is unfortunate, that if you asked someone to listen to any one of these tracks blindfolded, their initial response would be along the lines of "her vocals are amazing, and who is the guy on guitar?" …and as I said, that is unfortunate. As immense as McGregor's talents are, and as the accolades for her vocals continue to pour in, I'm guessing it will still take her longer to receive full acknowledgment for her remarkable guitar playing than it would for some long-haired guitar dude. Know what I mean? This is a full-bore and potential-loaded hard rock trio that plays like a house on fire, regardless of guitar-player gender. Period.
I'll be shocked if this album isn't in nearly everyone's "Top Ten" for 2019.
For more information on Bury'd Alive by Chantel McGregor: