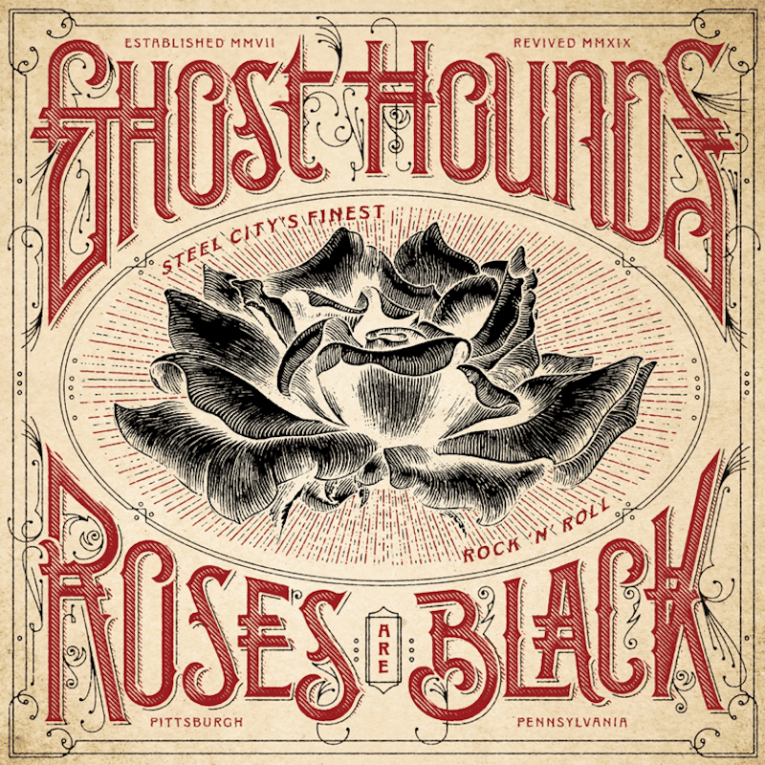 By Mike O'Cull
Ghost Hounds are a fully fired-up American rock and roll band in the classic sense with a stadium-worthy new album called Roses Are Black out November 5th, 2019 and features guest appearances by Slash, Kenny Aronoff, Reese Wynans, and Michael Rhodes. Roses Are Black was crafted by founder and guitarist Thomas Tull, alongside producing and songwriting partners David Grissom and Kevin Bowe. The set was mixed by six-time Grammy Award-winning producer Vance Powell (Chris Stapleton, The White Stripes, Danger Mouse, Arctic Monkeys, Kings of Leon) and engineered by Eddie Kramer (Jimi Hendrix, Led Zeppelin).
With all that horsepower on tap, you'd be right to think that this isn't just any old record. Roses Are Black hits as hard as any artifact from rock's 70s glory days and shows the kind of hard-scrabble commitment to the genre that gold records are made of.
Pittsburgh native and guitarist Thomas Tull formed Ghost Hounds in Los Angeles in the mid-2000s. The band released a Nile Rogers-produced self-titled debut effort in 2009 but came undone as Tull's focus shifted to his company Legendary Entertainment, which achieved major success with films including the Christopher Nolan/Christian Bale Batman trilogy, the Jurassic World series, Straight Outta Compton, and The Hangover. Tull sold the company in 2016 and started to feel the itch to make loud sounds again. He soon brought Ghost Hounds back to life with the goal of making the kind of rock music the world needs now, more than ever.
The current Ghost Hounds besides Tull are vocalist Tre Nation, guitarist Johnny Baab, bassist Bennett Miller, drummer Blaise Lanzetta, and keyboardist Joe Munroe. Together, they're a hard-charging outfit with a true love of rock and roll and the desire to play it for its own sake. The opening song, "Bad News," is all the evidence needed to know that these guys come from the bars and mean everything they do. The track is a Stones-influenced burner that gets Roses Are Black off to a roaring start and features the inspired line "I like a slow blues but who's got time for that?" The guitars scream, the drums groove hard, and Tre Nation commands center stage like he was born there.
"Black Rose" gets a bit heavier but maintains a memorable melodic approach that keeps it rock but not metal. It's brand new classic rock done with a fresh spirit that'll have you reaching for the volume knob so the neighbors can listen, too. The band also does fine work with Cliff Richards' "Devil Woman," infusing it with crunching guitars and a cracking rock beat. Lanzetta's drumming is exceptionally strong here and he's the right kind of backbone for this brand of music.
"We Roll Hard" is a beautifully straightforward rock song that only exists to get crowds up and moving. It will stop your over-thinking ways, grab you by the collar, and pull you out onto the dancefloor. Rock and roll has no higher purpose than creating this life-affirming energy and Ghost Hounds get it exactly right. No mere bunch of loudmouths, however, the band also excels on mellower cuts like "Second Time Around" and the honky tonk ballad "Almost Loved You."
Ghost Hounds display a deep knowledge of American roots music and old-school rock on Roses Are Black that allows each inflection to be heard correctly while simultaneously blurring the genre lines in a unique way. Plus, it was all tracked live, so it bristles with that goosebump-inducing immediacy you can't help but respond to. Ghost Hounds are knocking on the door of greatness with this record and it's impossible not to feel it. Spin it for yourself and see.
Watch Ghost Hounds  Video "Fire Under Water"

Ghost Hounds Online