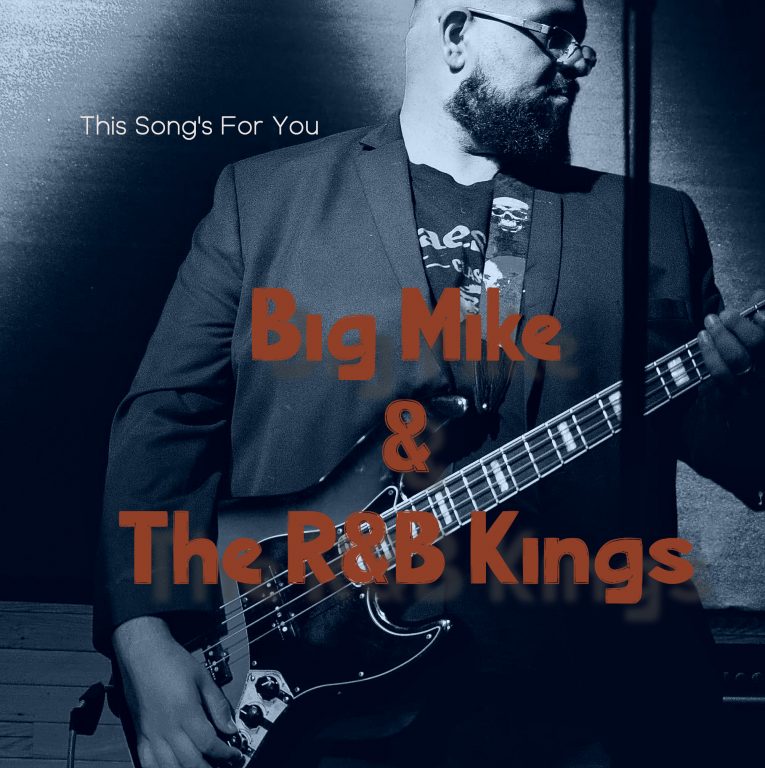 By Mike O'Cull
New Orleans groove masters Big Mike & the R&B Kings have a hip-shaking new record called This Song's For You that'll cure whatever ails you. The set pops November 22nd, 2019 on Red Tint Records and is a show-stopping dance party that blends Chicago blues, vintage R&B, and Big Easy funk into an experience you'll never forget. There are even traces of soul and reggae thrown in for good measure and the album will take listeners on a journey through love songs, heartbreak songs, and songs that will make anyone with a pulse move to their beats.
Bandleader/bassist/vocalist Big Mike Perez is a Chicago native who has been living and working in New Orleans for the last several years. Mike has become known for his blues/funk/rock fusion style and soulful vocals. Inspired by Chi-Town greats including Joanna Connor, Buddy Guy, Mike Wheeler, Rico McFarland, Carl Weathersby, and The Kinsey Report, Perez and his band have become a standing-room-only attraction in the Crescent City known for putting on a scorching and interactive live show. Mike has also worked with New Orleans blues guitar legend Mem Shannon, The Memphis B.B. King All-Stars, soul singer Sierra Green, and appeared at the 2018 New Orleans Jazz & Heritage Festival.
This Song's For You was tracked at DPL Studios in New Orleans and Rick Barnes Studios in Chicago and everyone involved took the time required to get it exactly right. Big Mike is backed by a burly bunch of groove hounds that includes Paul Provotsy and Rex Canieso on guitars, Bob Sass and Tajh Derosier on saxophones; Ben Joseph and Will Rast on keyboards, and Oberon Jackson Jr. and Jorge Leal on drums. It's a capable crew that can take Mike anywhere he needs to go and look good doing it.
It only takes a few seconds of the first cut, "Last Night," to know that this is going to be one amazing session. It's a soul-stirring dose of hard funk that instantly goes for the gusto and will make people sweat. The band gives it everything it has, laying down an incendiary pocket topped with hot vocals and solos. "Save Some Funk For Sunday" is another body-mover that's a staple of Big Mike's live show and it's easy to understand why. If a song ever actually sounded like hundreds of people dancing, this is it. Mike's basslines rock the house on top of one of the funkiest drum beats ever laid down and, as if that wasn't enough, we're treated to some hot-handed guitar throttling that pushes the track into Live Band Heaven.
The title song, "This Song's For You," is a complete sea change from the funk masterpieces that precede it. It's a stripped-down guitar-and-vocal love song that Big Mike wrote for his wife that's gentle, soulful, and warm. It's a perfect vehicle for Mike to show another side of himself to his fans and it fits nicely into the sequence of the record. "Blue Print" is an easy skanking reggae love jam that's smooth, hypnotic, and shows us yet another dimension of this formidable group. "Home" is a sultry slice of classic R&B that's steamier than a Louisiana summer night and features a soaring sax break. "Big Boy" picks the funk back up and again fills the dancefloor to capacity.
This Song's For You is a wonderful and varied effort that's all about the sound of an ultra-talented live band getting all the way down. Big Mike & The R&B Kings is the kind of band we all dream of stumbling in on a random Saturday night that changes our lives forever with nothing but the strength of its funk. This is an excellent record by one of the best bands in New Orleans. Let's hope it blows up worldwide.
Big Mike & The R&B Kings Online