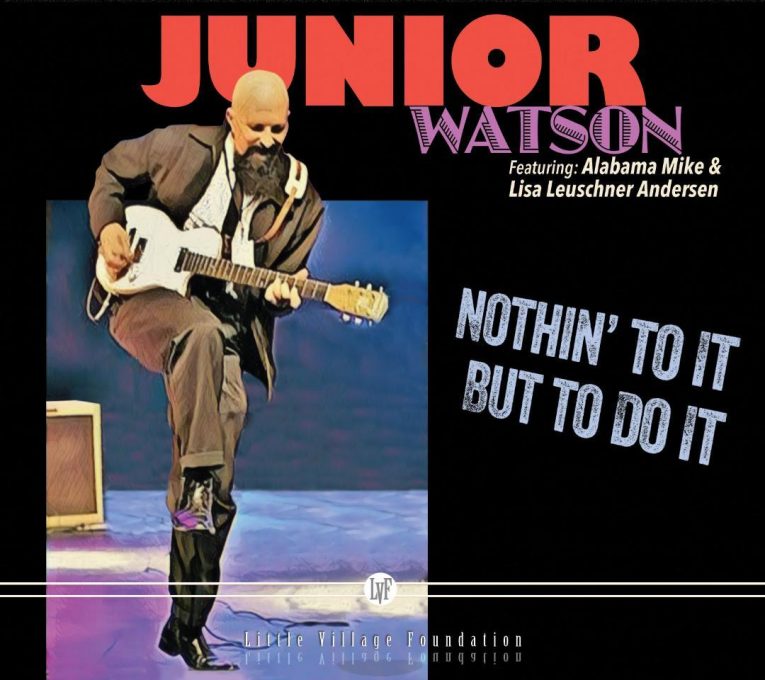 By Mike O'Cull
West Coast blues guitar legend Junior Watson drops it like it's hot on his swinging new set Nothin' To It But To Do It. Released in October of 2019 by Jim Pugh's Little Village Foundation and produced by seven-time Blues Music Award nominee and guitarist Kid Andersen, Nothin' To It But To Do It is an amazing set of jazz-tinged blues that sums up all that's great about Junior Watson. He's a guitarist's guitarist in possession of an unpredictable, playful style that combines blues and jazz ideas and is delivered with a greasy, corpulent tone few others can match. The set also features two emerging vocal stars in the roots music scene, Alabama Mike and Lisa Leuschner Andersen, as well as Watson's own soulful singing. The switched-up lead vocals and some well-chosen instrumentals make this record a stone gas from start to finish.
Junior Watson has developed a cult following that hangs on every note he plays. He's become known for melding his diverse influences into a truly original voice on the guitar that stands apart from the hordes of loud pentatonic rock players often thought of as "blues" these days. Watson draws from diverse inspirations including Tiny Grimes, Earl Hooker, Jimmy Rogers, Oscar Moore, and others to create his heady brew, a sound that's brought him gigs with Big Mama Thornton, George Smith, Jimmy Rogers, Shakey Jake, Luther Tucker, Charlie Musselwhite, Kim Wilson, and William Clarke. Watson founded The Mighty Flyers, spent a decade in Canned Heat, and toured with Los Angeles blues star Lynwood Slim. He's 30+ years into the blues game and gets better and deeper with every release.
From the first head of the opening instrumental "Up And Out," Junior Watson and the other musicians involved put on a phrasing clinic that even the best players among us could learn from. Watson, saxophonist Sax Gordon, and keyboardist Jim Pugh each display taste and tone on a masterful level. They vibe like the stars of old did, playing actual melodic ideas instead of flurries of notes that don't go anywhere. The track is so low-down and cool you probably won't be able to take the freeze but you should turn it up loud, anyway.
"Louella" is a rollicking shuffle that features Watson on lead vocals. He also displays his considerable rhythm guitar skills behind the sax solo before turning in a gorgeous chorus of lead licks that could only come from his hands. "Ska-Ra-Van" reinvents Duke Ellington's famous "Caravan" as a First Wave Ska masterpiece that nobody listening to this record for the first time will ever anticipate. Duke never kicked it like this but this kind of reimagining of a classic will get people dancing to jazz again, which is a cultural victory any way you look at it.

Lisa Leuschner Andersen steps to the mic on the jump blues "Whole Lot Of Lovin'." Andersen is a powerful singer with a wonderful blend of smoothness and grit and helps the band heat things up before Watson's guitar solo hits and takes us all to school. "That's Tough" is a song meant to rock anyone facing personal adversity and features a star vocal turn from Alabama Mike. It's a track that'll make you stay out too late, dance too long, and feel good about every moment of the experience.
Each song on Nothin' To It But To Do It is a smash and the pairing of Junior Watson with Kid Andersen will hopefully happen again. Andersen is clearly a fan and provides the right touch as a producer to bring out Watson's finest efforts. Listen to the whole record then listen to it again. If you love the real blues, you're going to be stuck on this platter for a good long while.
Junior Watson Online