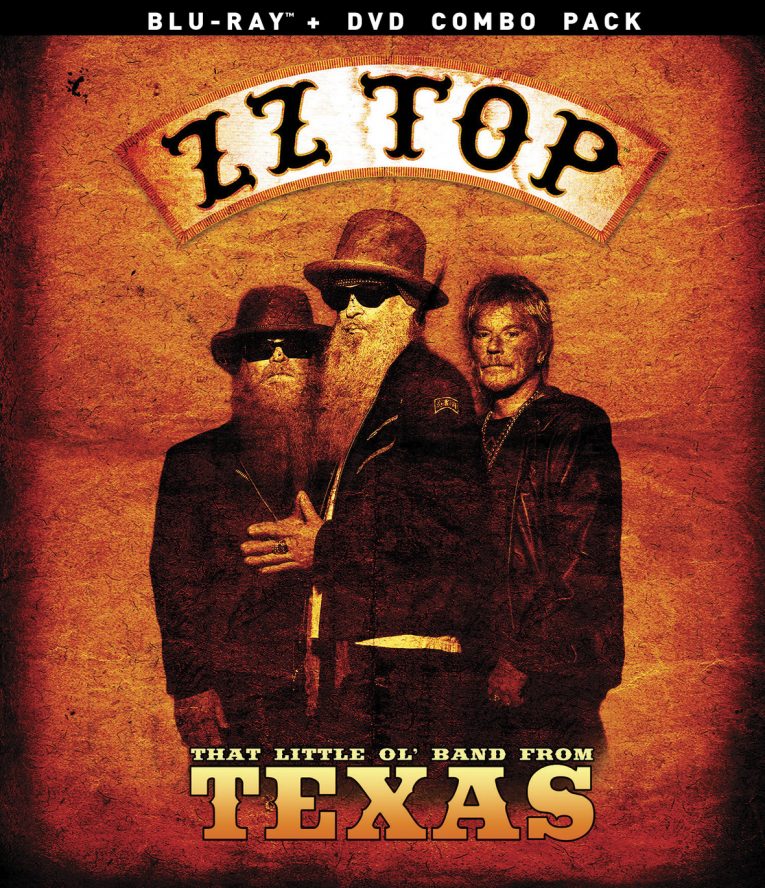 By Mike O'Cull
ZZ Top fans are going to love the new documentary film ZZ Top: That Little Ol' Band From Texas that will be released by Eagle Rock Entertainment on February 28th, 2020. Produced by the award-winning Banger Films (Super Duper Alice Cooper, Peabody/International Emmy Award-winning Netflix series Hip-Hop Evolution), the film tells the story of everyone's favorite blues/rock trio from its beginning in the 60s to the band's ascension to worldwide stardom in the MTV 80s. The film debuted to a capacity crowd at the Cinerama Dome in Hollywood and had a successful theatrical run at 150 theaters around the USA. Banger Films did an excellent and artistic job making the movie and the film lets the band tell its story in its own voice. It also features commentary from famous super fans including actor/musician Billy Bob Thornton and Joshua Homme (Queens Of the Stone Age).
ZZ Top: That Little Ol' Band From Texas is an absolute blast both visually and sonically. It's built around deep individual interviews with band members Dusty Hill, Frank Beard, and Billy Gibbons that take viewers on a journey through ZZ Top history as each of them lived it. It's also loaded with archival footage of the three men beginning in high school, which is worth the price of admission, alone, and vintage segments of the band playing live in its original bare-knuckle first decade. The film is also intercut with recent footage of ZZ Top playing only to each other on the dance floor of the legendary Gruene Hall, the oldest surviving dance hall in Texas, that shows the band to be as low-down and gritty as ever.
ZZ Top carries more mystique than most bands and the film takes us farther behind its curtain than ever before, even though Hill and Gibbons do their interviews and current performances in their full beards, sunglasses, and hats. We do, however, learn how Hill and Beard met as high school longhairs in Dallas in the mid 60s, moved to Houston, and connected with guitarist Billy Gibbons, an emerging ace who had already attracted attention with his band The Moving Sidewalks. From the moment they played their first shuffle in C, all three knew they had found something magical together.
One of the truths revealed in the documentary is the origins of their musical bond and power source. It turns out, as kids, Gibbons, Hill, and Beard all listened to the same Mexican radio stations that played sides by Muddy, Wolf, and other blues luminaries completely independent of each other. All three were turned on by the same music at the same time. This shared bedrock gave them the ability to expand the blues in a unique way and forged a brotherhood that's allowed ZZ Top to make its five-decade run without a single lineup change.
DVD and Blu-ray editions of ZZ Top: That Little Ol' Band From Texas include 18 minutes of the Gruene Hall set as well as a segment of concert clips from 1976 and 1981 taken from the archives of band manager and producer Bill Ham. The Gruene Hall footage is exquisite and treats us to live versions of "Shuffle In C / Fannie Mae," "La Grange," "Brown Sugar," and "Blue Jean Blues." The Bill Ham footage clocks in at 17 minutes and brings us revved-up takes on "Thunderbird," "Tush," "Beer Drinkers & Hell Raisers," "I'm Bad, I'm Nationwide," and "Manic Mechanic." Bundled with the film, itself, these bits make picking up a hard-copy of this one an extremely good idea.
ZZ Top: That Little Ol' Band From Texas is a wonderful film that sheds considerable light on both the group's career and where its trademark blend of blues, rock, Texas culture, and surrealism emerged from. It also makes clear that Hill, Beard, and Gibbons still have plenty of gas in their tanks and still love playing with each other. This is required viewing for all blues/rock lovers and for anyone seeking a way to put a truly original stamp on any form of roots music. ZZ Top embraced its own vision, built upon it, and created something truly iconic. All the rest of us can do is watch this and learn.
Watch the "Theatrical Trailer" below.

For more information on ZZ Top: That Little Ol' Band From Texas: