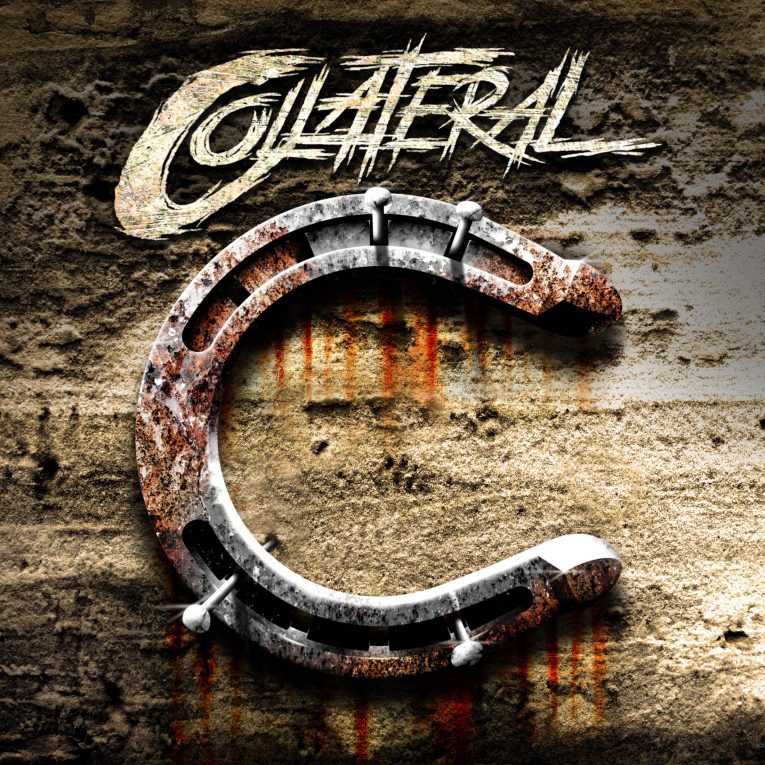 By Mike O'Cull
British rock band Collateral delivers its hotly-anticipated self-titled debut album Collateral to fans everywhere on February 21st, 2020 via Roulette Media Records. The flamboyant Kent-based four-piece group has been causing a ruckus since releasing its first tracks in November of 2018 and its straight-ahead classic rock and metal-inspired sound has found quite a bit of traction around the world. Collateral is the band's first full-length effort but, at only nine songs in total, is an "all killer no filler" record that maintains pace and interest all the way to the end. Those close to the band expect the album to help Collateral level up to the next tier of success. It has the potential to get a lot of rockers on its side who are likely to flip over its accessible-yet-aggressive style.
Collateral is comprised of Angelo Tristan (lead vocals, guitar), Todd Winger (guitar), Jack Bentley-Smith (bass), and Ben Atkinson (drums). The four players come from backgrounds in 80s rock, country music, Southern rock, and metal, which makes for a strong and varied original sound. They have already put out an EP and two singles that have garnered enough attention to land Collateral on Skid Row's 2020 European tour, win competitions over thousands of bands at the Camden Rocks Festival and the Ramblin' Man Rumble, and get them supporting Jon Bon Jovi on his Runaway to Paradise Mediterranean Cruise. Pretty impressive work for an emerging band but all involved feel the best is still on the horizon.
"Mr. Big Shot" kicks off the album with some strong riff rock connected to a killer chorus with stadium-ready vocals. It's a well-paced track that started life as an inside joke about the kind of ego people expect musicians to lug around with them. It grew and evolved and made the cut for the final song list. With only nine songs on said list, that means something. "Promiseland" is a tough-talking commentary about the state of today's music business, where venues are closing, plastic stars sing songs they didn't write, and artists are afraid to be authentically themselves. It's a gritty song with an ax to grind that, in keeping with rock tradition, speaks the truth as Collateral sees it.
"Merry-Go-Round" is a keep-your-head-up anthem written during a period of struggle for the group. It's the kind of song that reminds Collateral fans that they can survive anything life brings them and that the band is fighting the good fight right along with them. It packs a heavy groove and bruising guitars that help drive the message home that, for a lot of us, rock is the soundtrack to survival. "Lullaby" is one of this set's foundational cuts. It expresses some of the band's early frustrations through big, angry guitars and a hard-nosed beat that'll quickly get fans riled up. There's just something satisfying about a primal four-on-the-floor rock song and "Lullaby" gets it exactly right.
Collateral shifts into a cool country/rock feel on the catchy "Midnight Queen." It's an excellent song with a bit of an Eagles influence to it mixed with the band's usual guitar rock leanings. It's an unexpected treat after all the heavier songs that precede it and Collateral makes it come off as genuine and fun.
This is a fine first full album from a band that's growing rapidly right at this very moment. Anyone into hook-filled rock and roll with ripping guitars and boss vocals will feel right at home with it on their headphones. There's really no limit on Collateral in 2020 and watching the band get big is going to be an exceptionally good time.
Watch "Merry Go Round"

Collateral Online