By Martine Ehrenclou
We are excited to premiere the video "Feels Kinda Funny" by the gifted contemporary blues guitarist, singer-songwriter, Bernard Allison from his new live album, Songs From The Road, released as a CD/DVD on February 7th 2020 via Ruf Records. The son of the legendary Blues Hall of Famer Luther Allison who lived by a simple philosophy, "Leave your ego, play the music, love the people," the ferociously talented Bernard Allison carries on that mission, bringing soulful, guns-blazing blues to audiences who need it now more than ever.
Recorded live, "Feels Kinda Funny" kicks off with Bernard Allison's funky rhythm guitar, and his A-list band locking it down on this blues/rock number. Allison's soulful vocals have never sounded better as he sings, "The Blues will make you feel alright." And they sure do. During these strange and stressful times of the COVID-19 pandemic, we need music like Bernard Allison's to lift us up and remind us that real music by real musicians who rock, is alive and well.
A virtuosic guitarist with groove, Bernard Allison kills it on his wah-soaked guitar solo. Nothing less than masterful guitar playing by Allison on this tune and on the others on the album. The band includes Bernard Allison on guitar and vocals, Dylan Salfer on guitar, George Moye on bass, Mario Dawson on drums and Jose James on sax and percussion. This is one tight band.
Watch "Feels Kinda Funny"

Songs From The Road is a live snapshot of virtuosic guitarist, singer-songwriter Bernard Allison and his band, so raw and real it feel like you're right there in the front row of Dortmund's Musiktheater Piano Club in Germany when Bernard and his outstanding band performed there last October 23rd. With 13 songs hand-picked from his extensive list of albums, each was reimagined for the live performance. Every fan in the house got something on their wish list from Bernard's recent acclaimed release, Let It Go, and others from his prolific catalogue of songs. Songs From The Road is a dynamic live album and one of the best of 2020, mixed by the legendary Jim Gaines.
Bernard taught himself to play guitar at the age of 10 by listening to his father's albums. He furthered his guitar skills under the guidance of Johnny Winter and Stevie Ray Vaughan. He became bandleader, guitarist, and arranger for Luther Allison's band and then toured the world for three years with blues great, Koko Taylor as guitarist and bandleader. With armfuls of solo albums, Bernard Allison is one of the finest contemporary bluesmen of our time.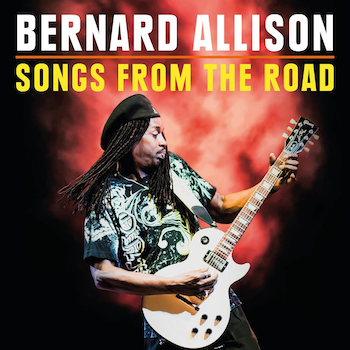 Order link for Songs From The Road 
Bernard Allison Online