We are excited to premiere the video "I Don't Want To Be The President" by the legendary Blues and Boogie Woogie piano master Kenny "Blues Boss" Wayne, featuring his son Cory Spruell aka SeQuaL. The song is off Wayne's new album Go, Just Do It! released June 12 on Stony Plain Records.
Inducted into the Boogie Woogie Piano Hall of Fame, blues, boogie-woogie and New Orleans jazz pianist, singer-songwriter Kenny Wayne also lines his shelf with seven Maple Blues Awards for Piano Player of the Year and a JUNO Award, among many other awards. Go, Just Do It! is his 11th album and a winner in and of itself.
"I Don't Want To Be The Present" serves up funky grooves with Kenny Wayne's smooth touch on the keyboards and soulful vocals, complete with horns punching up the track, dynamic bass and guitar playing. Wayne's son SeQuaL infuses rap cadence and fresh verse into the Percy Mayfield cover, adding creative rhyme with a contemporary feel. Bounce to the beat on this fun, rhythmic tune. Take it with you into your weekend and see if it doesn't get considerably better.  And who can resist Kenny Wayne having a blast performing this song? All the musicians on this tune are grooving.
Says Kenny Wayne about the song, "I actually stumbled across this song right after it was suggested to do a duet with Diane Schuur on another song by Percy Mayfield, 'You're In For a Big Surprise.' When I saw and heard the song, 'I Don't Want To Be the President,' I had the music written for another song that would fit with this Percy Mayfield song and it fit perfectly.  The timing was right to mention about the importance of this year's election.  And to help get this message across needed a good beat and a younger generation person to get the message to the youth, my son Cory Spruell (aka SeQuaL)!"
Watch "I Don't Want To Be The President"

As if the master pianist/vocalist wasn't enough, Kenny "Blues Boss" Wayne's band includes B.B. King bassist Russel Jackson, drummer Joey "The Pocket" DiMarco, powerhouse horn players Jerry Cook and Vince Mai (Powder Blues, Colin James and more) plus Boogie Patrol guitarist Yuji Ihara and harp ace Sherman "Tank" Doucette.
The 75 year-old Wayne has played professionally as a sideman since the 1960s. His relocation to Canada in the 1980s saw his solo career soar and he became known internationally as one of the great blues players. Fans of his sold-out shows know what they're in for: smooth, robust piano and cool, soulful vocals and a musical stew of blues, gospel, jazz, Latin, R&B, soul and dashes of bebop and swing for good measure.
Kenny Wayne's new album, Go, Just Do It! features a 13-song set of soul-tinged and funky blues with hot instrumental blues tunes that feature the powerhouse award-winning Montreal vocalist Dawn Tyler Watson and harmonies by JUNO Award-winning percussionist and vocalist with the Parachute Club. 10 of the 13 tracks are originals.
An American expat by way of Spokane, Los Angeles, San Francisco and New Orleans, Wayne long credits Canada for partly shaping him into the artist he is today. "I didn't know what I was in store for except that the people were great," he recalls of his move decades ago. "My blues career started in Canada, and I think this country really helps people create their art — whether it's painting, theatre, or music.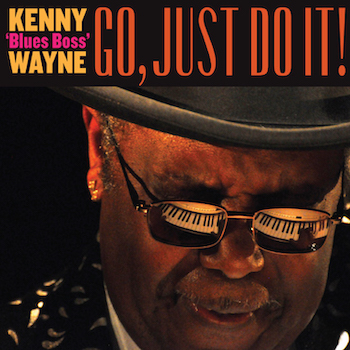 Order link for Go, Just Do It! 
Kenny "Blues Boss" Wayne Online