By Mike O'Cull
Suzi Q is the official full-length feature film documentary about the life of rock star, actress, and stereotype-destroyer Suzi Quatro. Made by Australian filmmakers Liam Firmager and Tait Brady, the film will be released by Screen Australia on July 1st, 2020 and tells the story of the 54-year career of Quatro, a groundbreaking female rocker who kicked open doors for many of the female rock musicians that would follow her example. It features interviews with Quatro, Alice Cooper, Deborah Harry (Blondie), Joan Jett, Cherie Currie (The Runaways), Tina Weymouth (Talking Heads), Donita Sparks (L7), Henry Winkler (Happy Days), Kathy Valentine (The GoGo's), KT Tunstall, members of the Quatro family, and many others who have been part of Suzi's life and times or felt her influence in one way or another.
Although Quatro has had the kind of career aspiring rock musicians dream about and sold more than 55 million records, her music and impact have not been sufficiently recognized by the music industry and contemporary audiences, especially in North America. A native of Detroit, Michigan, Quatro never found the massive success in the USA that she achieved in Europe, Japan, and elsewhere. Most American audiences know her from her stint as Leather Tuscadero on the iconic 1970s sitcom Happy Days starring Ron Howard and Henry Winkler. Quatro is so much more than a television performer, however, and deserves to be as popular and respected at home as she is around the world. This documentary hopes to assist in changing that situation and does much to highlight the ups and downs of her journey and revise the history of rock music that has overlooked her for so long.
Watch the Suzi Q Trailer 

It took more than four years to make Suzi Q and the film does an excellent job getting to the true essence of Quatro and isn't a typical rock doc or promo clip for her. It relates her story from the beginning, when she was growing up as the daughter of a professional musician in Detroit and part of sibling-based band called The Pleasure Seekers. The filmmakers interviewed Quatro seven times in a variety of situations and built the trust needed for her to expose the deepest parts of her psyche and emotions to the camera. The doc is also jam-packed with vintage performance clips, photos, and other archival material that give viewers a real sense of both her public and private lives.
Hearing Quatro's songs like "Can The Can" "48 Crash," and "Daytona Demon" again so long after her early 70s career explosion, you are quickly reminded what a ferocious and gutsy bassist and vocalist she is. Few women rocked like her in 1973 and her sound and leather-jumpsuited badass persona shattered all preconceptions about what, who, and how a woman could be in rock and roll. The interviews with her musical and spiritual descendants like Joan Jett, Cherie Currie, Deborah Harry, Kathy Valentine, Tina Weymouth, and Donita Sparks reveal just how much impact Suzi has had on those who took her to heart.
The film also explores the family tensions and sibling rivalries that sprung up when Suzy was selected for success and her talented sisters were left behind. This makes her story extra personal and pulls us into some of the most intimate and telling segments included in this project. Suzi Q does a fine job of relating Quatro's story, personal life, and ripple effect in the music business and draws much long-absent attention to her historically important career. Suzi Quatro finally gets her due in the modern era here and also lets us all see who she truly is. Highly recommended.
With theaters closed, Utopia Distribution will host a "SUZI Q" virtual event on July 1st featuring the film and an exclusive Q&A featuring Suzi Quatro and a Special Guest (available for 24 hours only) in advance of the film's traditional release on VOD and DVD on July 3rd. To buy your ticket for the July 1st event powered by Altavod, visit: https://www.altavod.com/movies/suzi-q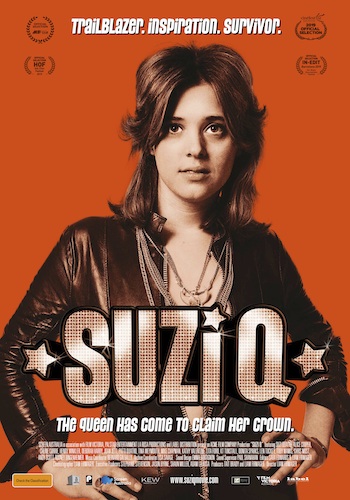 Suzie Quatro Online