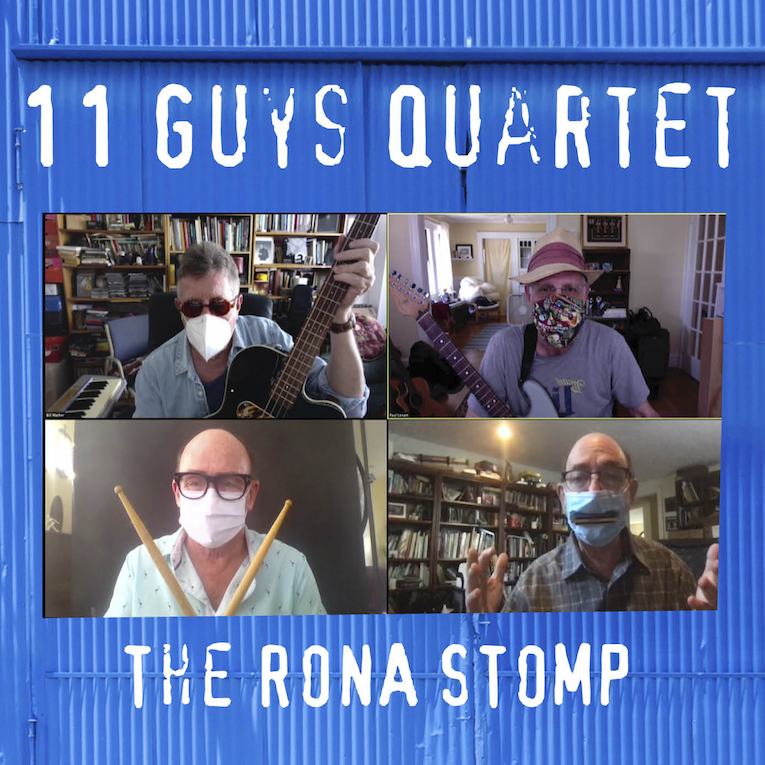 We are pleased to premiere 'The Rona Stomp,' the new video by 11 Guys Quartet. These outstanding blues musicians have been playing together one way or the other for more than 40 years. They got together in the late 70s to play the Boston area blues clubs as the 11th Hour Blues Band, released their first album in 1985, then recorded a baker's dozen inspired original instrumentals in 2008 that finally got released in January 2020 as the 11 Guys Quartet / Small Blues and Grooves, currently nominated for a Blues Blast Music Award in the Vintage/Historical category.)
The 11 Guys Quartet delivered a vocal-free treat on Small Blues and Grooves. 'The album is an exceptionally listenable 14-song set of blues instrumentals that shows the band to have a masterful, nuanced touch with any style of blues it takes on. Tracked live in the studio, each cut is an unaltered document of what happened when the Quartet set up and started to play.' The 11 Guys Quartet is made up of Bill "Coach" Mather (bass) Paul Lenart (guitar) Chuck Purro (drums) and Richard "Rosy" Rosenblatt (harmonica.)
Their new video, "The Rona Stomp," was recorded in social isolation due to COVID-19 but their musical chemistry and natural groove come through loud and clear.
When the pandemic hit, they started having a weekly zoom meeting, just to stay in touch. When people started releasing "socially distant" projects, they decided it was time for another 11 Guys recording. Of course instead of doing it together in a basement studio, they had to do it individually at home, on their smart phones, and put it all together afterwards with an iMovie app.
Paul began by laying down a guitar track and passing the audio and video along. Chuck and Coach followed on drums and bass, and Rosy finally added his harmonica track. It was not without its challenges: the original concept called for acoustic guitar and bongos, but after a couple passes at that they decided they were most at home with their time-tested electric approach, though Chuck did strip his drum kit down to kick and snare with brushes. But after a few tries and a little while to learn how to get everything into sync, it all came together.
"It's been extremely gratifying to put 'The Rona Stomp' together," says Rosenblatt. "Considering that we haven't recorded together for 12 years and we're using different technology, it could have been a real train wreck. It's such a joy to play with these guys, and I don't think we've lost our groove — so hopefully there will be lots more to come."
Just to keep it interesting, they decided to add a slide show of archival pictures of the band playing and hanging out together. The photos add some context to the performance, showing the band playing some of their favorite venues, and also demonstrating that the guys were not newbies when they first hit the local blues clubs in the late 70's – you will see a picture of Paul backing up Big Mama Thornton In Europe at the 1971 American Folk Blues Festival, a couple pictures of the guys playing with Hubert Sumlin, and more. What you don't see are pictures of Rosy recording with Sunnyland Slim in 1978 or Billy and Chuck backing up Buddy Guy or playing together in the early-70's James Montgomery Band, Chuck in the historic Colwell-Winfield Blues Band.
The band went through a few variations over the years, working with other musicians and singers, but they always seemed to gravitate back to their original quartet. Chuck moved to Florida and the band hasn't played together much in recent years, but they have remained close friends.
Watch "The Rona Stomp"

Pre-order link for "The Rona Stomp"