By Martine Ehrenclou
Grammy winning blues legend, Bobby Rush is a celebrated blues musician, singer, songwriter, guitarist, and harmonica player who is known for his spectacular live performances. Inducted into the Blues Hall of Fame, Rush won 12 Blues Music Awards, including B.B. King Entertainer of the Year and 48 BMA nominations. He co-stared in the 2014 documentary Take Me To The River alongside Terrence Howard, Snoop Dog and Mavis Staples, and his songs have been featured in the Samuel L. Jackson film Black Snake Moan, HBO's Ballers, and more. Rush appeared in the Martin Scorsese PBS docu-series The Blues with his own segment in the episode "The Road To Memphis" and appeared in the 2019 film, Dolemite Is My Name starring Eddie Murphy.
As a teenager Bobby Rush became a professional bluesman and played with Elmore James, Muddy Waters, and Howlin' Wolf. In the 50's Rush assembled his band to include Freddie King and later Luther Allison. Bobby Rush spent decades tearing up the chitlin' circuit before winning a long-overdue Grammy for his 2017 album, Porcupine Meat and earning his fourth Grammy nomination for his acclaimed 2019 album Sitting On Top Of The Blues.
At the age of 86, Bobby Rush returns to his roots with his latest and 27th album, Rawer Than Raw, out August 28, 2020 via his own Deep Rush Records label in partnership with Thirty Tigers. It is a stripped-down acoustic tribute to the rich blues history of the Mississippi, featuring originals and covers from a handful of blues greats/Blues Hall of Famers.
Martine Ehrenclou: With the pandemic, how is it to be home when you're used to touring 200 shows a year?
Bobby Rush: I've been isolated for a few months now because of the virus, no work, and with all the things going on in the world today, a whole lot of chaos, it has us on pins and needles. But we got to do what we go to do. I'm at home enjoying the part where I get to hug and kiss the kids, grandkids and great grandchildren.
Martine: Tell me about your new album Rawer Than Raw. I loved it.
Bobby: Did you? That makes me feel so good. The hardest thing for me was to make something that I really like and (include) the people that I respect so highly. I couldn't put everybody on the CD, so I decided to do things from guys I like from Mississippi, kind of a salute to the Mississippi blues guys.
Martine: How did you choose which artists to cover on the album?
Bobby: Being honest with myself. I just love Howlin' Wolf because he was so good and different, and I like Muddy Waters but both are equally good. I wasn't as fond of the Robert Johnson version of "Dust My Broom" as I was of the Elmore James version, maybe because I got to know him and I like his slide (guitar), the whole bit. Just because I'm doing a Howlin' Wolf song, I'm not trying to sound like Howlin' Wolf, I just want to do the song in my way.
When you listen to my guitar, a lot of people think it's two or three guys playing. That is me playing one time with no overdubs because my thumb is my bass and my fingers are my lead guitar. I think I had a couple harmonica overdubs because I couldn't sing and play it at the same time. Everything was one time. If it's wrong, its wrong, if it's right it's right. Wasn't no, "Let's do it again," or "Let's start taking another cut." No, no. Whatever you see is what you get. One take. Let's go.
Martine: Is acoustic blues closest to your heart?
Bobby: Yes. Everything that I ever done was acoustic. I don't think I ever talked about this in an interview. Everything you heard in the past, all the stuff that I do with the band, started with my acoustic by myself—that's the way I write. Then I take my little tape to the studio and play it for the band, and say, "Here's what we're going to do." They learn from my acoustic playing. That's the way my songs are written.
Martine: That sounds stripped down but I watched your videos in preparation for this interview–
Bobby: (Laughter) Whatever I have done live, I'm sorry. I probably embarrassed you with something I'd done.
Martine: (Laughter) I didn't watch anything that embarrassed me. I read that there was some stuff but I didn't see it.
Bobby: I'm so glad you mentioned that because a lot of people write about what I do like I crossed the line. But let me tell you something, I'm a blues singer, I'm a black blues singer, I'm a black man who plays what I play and this is what we do. I'm not ashamed of myself, my music, or where I come from, what I'm doing, or what I did, and what I'm planning to do.
I'm one of the few guys who crossed over but I never crossed out. Most black men my age when they got to Chicago or to New York or wherever (in the 1950's), they cleaned it up because they said, "This is what I think white people are going to like," so they cleaned it up. But Bobby Rush didn't clean up nothing. What you see is what you get.
I just try to do what I do and be good at it. You don't have to like me but if I do it well, you can say, "I don't like Bobby Rush but damn, he's good." That's all that matters.
Martine: Rawer Than Raw is a sequel to your acoustic album Raw from 2009? Why this album now?
Bobby: I think God has his arms around me. I didn't plan for the COVID to come. Never thought I'd be not working and touring with the band. So, it's a good time because everything that you heard is something I had in can. And I'll tell you, I may have 100 songs in the can like this. I can put out CD's for a long time without running out. All I was going to do was take these songs and go in the studio and say, "Hey band, let's put some music around this." Now, we're not working anyway so I just put them out.
Martine: You have five originals on the album. Can you tell me about your songwriting? You're known for your storytelling.
Bobby: My stories come first. Then I put the harmonica and my guitar. I have my stories already laid out like a play. I have my life in my songs. I visualize what I want to write about. Listen, I've been pretty blessed too and so lucky. This is my 397 work that I recorded. And I remember most of them because I write 99% of everything I do.
Martine: Where did your storytelling talent come from?
Bobby: I think it comes from me being a standup comedian.
Martine: When I watched your videos, you had me laughing for sure.
Bobby: I'm so glad I could be fun and did well enough so you can respect it.
Martine: I sure did. The next time you come to Los Angeles or Cadillac Zack brings you out, I'm coming to your show.
Bobby: (Laughter) You better come to see me. Speaking about that, I've been with a hundred thousand, two hundred thousand people. Do you know what I really like? A small club where you can just touch people and that's what Rawer Than Raw reminds me of–close up with people, just by myself. When I get to a small club, what a thrill to get up to people one on one.
Martine: For us too. Those intimate shows are a complete thrill for the audience, your fans.
Bobby: I love it, I love it. I want to get back to doing a lot more acoustic shows that I have done, that's where my heart is.
Martine: You broke out with your acoustic album Raw (2009) and then you did a bunch of intimate acoustic shows.
Bobby: Yeah, I did that because I wanted to ease into it because I'm a black man who had a black following, 'King of the Chitlin' Circuit.' Not many of the black guys in my position had that. Even John Lee Hooker, who's great, I just love him. Not many black people know about him. You follow me? But I'm one of the blessed guys where I crossed over, where my friend Buddy Guy, who black people don't know as much about as they know about me, but the white people love him. He's my friend and he plays good.
But how blessed can you be to have both sides of the fence working for you. I get people in the audience who are 15, 18, 19 and 80 years old who come to see me. Black and white, Hispanic or what have you, boy, that makes me feel good.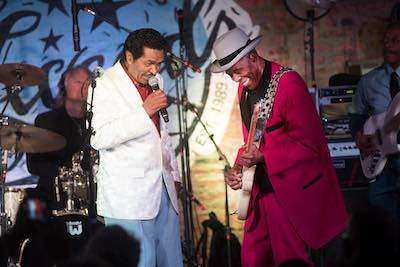 Martine: That's a beautiful thing. When you started as a professional bluesman you were a teenager when you played with Elmore James, Freddie King, Howlin' Wolf, Earl Hooker, Luther Allison and others. How'd that go?
Bobby: Elmore James was first. It wasn't a steady thing, maybe 10 or 15 different times, different shows or whatever in my band. I loved his playing. I think the first time I hired Elmore James, I believe I gave him $12 for three days. I had Muddy Watters for $17.50. I give him $5.50 a night. That was 1951, 1952. How about that? (laughter) I was making $7.50 as a band leader. $7.50.
Martine: Wow. Well, you're not making that now. (laughter)
Bobby: (Laughter) You're right. (Laughter) I got to write a song about that. That's a song! You could cry about what you were making then, and in between, but you're not even making that now. (laughter)
Martine: (Laughter) I didn't mean it like that but you're right, nobody is making anything now.
Bobby: (Laughter) God, I got to write about that. What is the difference in 1951 and now? I wasn't making no money then, I'm not making no money now. That's it. That's my song. (laughter)
Martine: (Laughter) It seems like harmonica and guitar are a large part of who you are. Your dad taught you both?
Bobby: My daddy taught me everything. He was a preacher, a pastor in a church. Back when I came up, blues music was the devil music. My daddy never talked to me about devil music. He never told me to sing the blues but he never told me not to. So, it was a green light to me. He brought my first song to me. My cousin gave me a guitar and my daddy said, "Bring the guitar here boy." I didn't know he knew I had a guitar because I had hidden it. I thought my daddy wanted me to play gospel songs and I didn't want to play no gospel songs.
I wanted to play the blues. I thought he'd have a problem with me playing the blues. So, he got the guitar and said, "Let me sing the song I used to sing to a little girl when I was a little older than you." I got real close to him because I thought he was going to sing about my mama. But he didn't sing about my mama. He said, "Me and my gal went chinkapin hunting. She fell down and I saw something." My dad had been a preacher and he said that to me. I said, "Man." (laughter)
Martine: (Laughter)
Bobby: I said, "Sing it again Daddy." Now, what I wanted my daddy to do was sing the other verse. I know he said he saw something, I figured in the second verse he would tell me what he saw. He said, "Me and my girl went chinkapin hunting. She fell down and I saw something."
And my mother was in the kitchen cooking. She said, "Uuhhh", cleared her throat like that. (Laughter)
I didn't pay attention to what my mother was doing. I said, "Daddy, sing it again". So, I got close to my dad and I said, "Dad, how big was she?" "She's tall boy. She weighs 345. Maybe 350." I said, "What she had on?" He said, "Nothing but a dress."
Now, you get that into my little mind. A fat lady falling down with nothing on but a dress." I wanted my daddy to sing the other verse so bad I said, "Daddy, sing it again."
Martine: (Laughter)
Bobby: (Laughter) He said, "Me and my gal went chinkapin hunting." By that time, my mother was coming up and he looks around for her. He said, "And she fell down and I kept running." (Laughter) That's all he said. I knew he wanted to tell me what he saw but Man, golly. When you hear all the songs that I do now, you can hear my daddy in them.
For more information on Bobby Rush and Rawer Than Raw:
Bobby Rush Online