By Mike O'Cull
Holy Roller Baby is the next emerging rock band we should all be excited about. The band's new record, Frenzy, drops on October 9th, 2020 and shows them to be a highly-developed outfit, unafraid to mix heavy riff rock and gritty Motown-inspired grooves in the same set. Holy Roller Baby tracked this full-length effort at Courtyard Studios in Oxfordshire, England, which is owned by Radiohead's management company, at the invitation of producer Ian Davenport (Demob Happy, Band of Skulls, Radiohead). These sessions turned out an album full of primitive swagger and intelligent lyrics that vividly describe the human experience without judgement. "A lot of cool kids make music, and I don't really fit into that world," says singer/songwriter Jared Mullins, "I don't know what it's like to be the cool kid." The band also partnered with Chalupa Production in Dallas, Texas to create music videos for the album, one of which ("Ravings At Your Window") hit 100K+ views shortly after its debut.
Mullins wrote all the songs here, demo-ing them with simple drum loop-based arrangements before bringing them to the rest of the band. The tracks ended up finding the sweet spot between 70s guitar jams and the forward-thinking perspectives of these present times, which turned out to be an excellent place to be. Holy Roller Baby delivers plenty of rocked out, string-bending guitar work that perfectly supports Mullins' melodic sense and deep lyricisms. Imagine great hard rock filtered through the heart of a soul singer and you'll start to get the picture. Mullins's vision is well articulated throughout these 12 songs and he is clearly the real rock and roll deal.
Frenzy kicks off with an almost seven-minute double track called "Leper Blues/Spread Your Love Around." The first part mixes slow, heavy riffing, soaring vocals, and intense guitar solos. The back half gets harder, heavier, and more melodic while still incorporating Mullins's soul leanings. He mixes ultra-raw rhythm guitars, funk beats, and pure rock energy to great effect and instantly tells all within earshot that this set won't be like all the other records they've heard. It's a killer song that'll make you want to stay put and dig the rest of what's coming.

"Drag The Lake" drives things even harder while still remaining structurally and lyrically unique. Mullins proves that big riffs can power smart songs with this minor key burner and reveals another piece of his concept of rock music. It's an exhilarating ride from end to end that's anything but typical. "Your Body Will Sing" hits the rock/soul hybrid idea with full force and creates an absolutely commanding presence. The first part of it is funky, dynamic, and hard but the middle opens up into a big shuffle groove for the guitar solo that's destined to move stadium-sized crowds. It's ultra cool, creative, and unpredictable in the best possible way.
"Eve" is another gritty rock shuffle that features a fuzzed-up octave pedal guitar intro that's raw and fearless. The band stretches out brilliantly in the song's interior before hitting its big chorus again and roaring into the final verse. "Ravings At Your Window" is more tough stuff that also features unique melodies in every section. The 70s rock influence is obvious but there's no imitation here. Mullins continually pushes everyone around him to new triumphs, the biggest of which is making music that rocks like this and still sounds fresh and original. Holy Roller Baby is currently writing the book on this brand of new school rock music and anyone who loves loud guitars, big drums, and unforgettable songs needs to memorize it. Frenzy is likely to be the most vital rock album you hear this year. Enjoy every moment.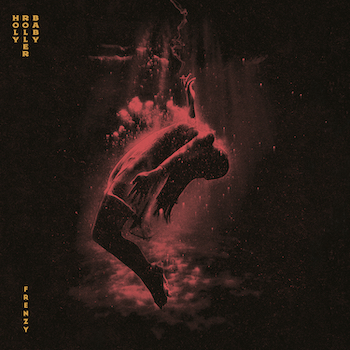 Holy Roller Baby Online