Exciting British blues/rock duo, When Rivers Meet, release their first single "Battleground" from their upcoming debut album, 'We Fly Free' out November 20, 2020 on One Road Records.
Made up of Grace and Aaron Bond, the duo's passion for blues/rock shows through with an underpinning of traditional blues and classic rock. The duo have made a concerted effort to keep to a genuine, gritty sound using authentic techniques, including tube tape echo and reverb chambers, which have created a live sound that keeps a truly vintage vibe that not only has energy but is also a true representation of the ever evolving sound this duo produces.
With a killer voice, Grace rocks this tune with Aaron providing solid backing vocals and guitar, and drummer Adam Bowers locking it down, creating a vintage rock and roll sound with a contemporary twist. When Rivers Meet is headed for the spotlight.
Watch "Battleground"

Grace sings lead vocal on most of When Rivers Meet's upcoming album, We Fly Free, showcasing her impressive range, while adding distinctive slide resonator mandolin and fiddle. Aaron plays guitar and adds rich vocals. The band includes Adam Bowers on bass drums, organ and piano, and Robin G Breeze on bass, organ and piano.
Since launching onto the Blues scene with their debut record 'The Uprising EP' April 2019, When Rivers Meet have earned attention from Cerys Mathews' The Blues Show on BBC Radio 2. We Fly Free is their follow up to EP 'Innocence Of Youth' released May 2020. Before the lockdown due to the pandemic, the duo toured the UK in their self-converted VW camper with an impressive tour schedule. Since the lockdown, they organized 'Rockin' The Lockdown'-weekly Facebook live streams, attracting thousands of viewers.
"The performances are exemplary, the sound is magnificent, the songs are gorgeous. I love the drama. I love everything."—Chris Kimsey, Rolling Stones Record Producer.
Produced/engineered and mixed by Adam Bowers, We Fly Free by When Rivers Meet was recorded in Boathouse Studio, Suffolk. All songs on the album are written by Grace and Aaron Bond.
We Fly Free is available on CD, Colored vinyl & Digital Download Pre-order here 
We Fly Free Tracklisting
Did I Break The Law (4:06)
Bound For Nowhere (3:59)
Walking On The Wire (3:30)
I'd Have Fallen (3:33)
Battleground (3:53)
Kissing The Sky (3:42)
Breaker Of Chains (4:03)
I Will Fight (3:48)
Bury My Body (5:25)
Take Me To The River (3:14)
Friend Of Mine (3:29)
We Fly Free (2:40)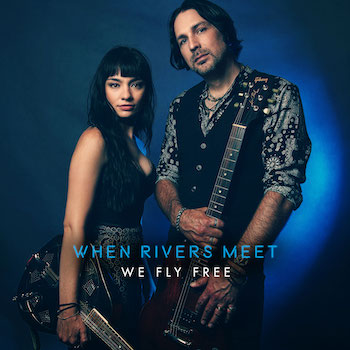 When Rivers Meet Online