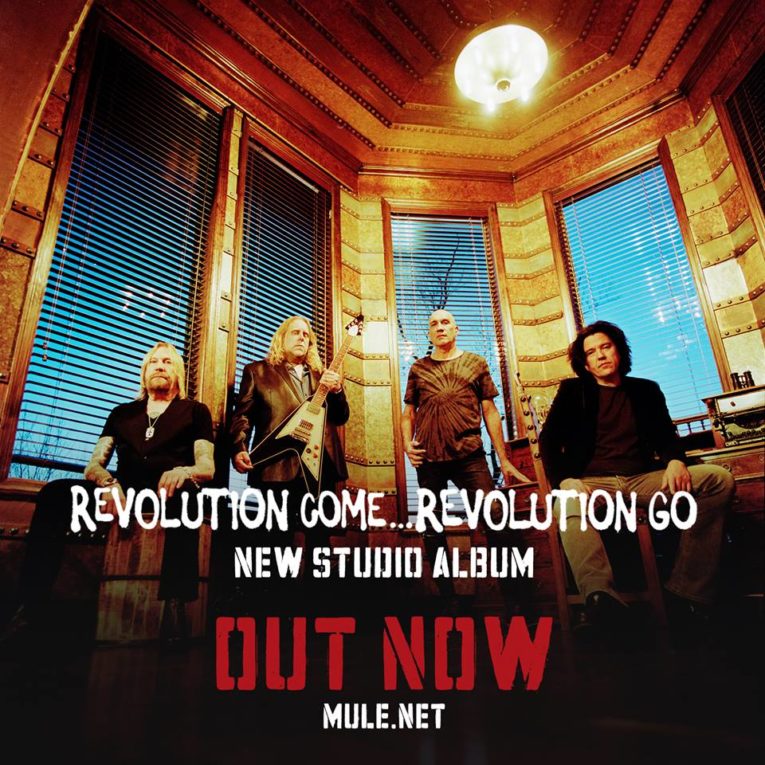 By Derek Malone
Formed in 1994 as a side-project for the Allman Brothers Band, Gov't Mule began as a virtuosic and ambitious heavy blues-rock trio featuring vocalist-guitarist, Warren Haynes, bassist, Allen Woody, and Matt Abts on drums. (Woody died in 2000, but the band has soldiered on over the years, touring and recording extensively with a succession of line-up changes, founding members Haynes and Abts being the only constants.) Since 2008, the band has been a quartet, with Jorgen Carlsson on bass, and Danny Louis on keyboards, and on rare occasions, trumpet.
Their 10th studio release, Revolution Come…Revolution Go was released on June 9th on Fantasy Records. The album is 80 minutes of music, and there's also a lengthier 1hr, 53 minute "deluxe" edition for the true believers, featuring six alternate takes of same material for a few dollars more.
While lacking the raw energy and "fire of youth" of their early years, when the whole band labored to squeeze in as many fancy licks, intricate grooves, and extended solos as possible, today's Gov't Mule has nothing to prove any more. The music here is mostly mid-tempo, a good deal simpler (and with a lot more breathing room) but there's no question that they are much better songwriters today than they have ever been.
The album is mostly original material, but heavily informed by the prodigious volume of live "tribute concert" work the members have done in recent years, individually, and as a band. The examples are too many to enumerate here, but I'll list a few: Pink Floyd, Led Zeppelin, and AC/DC. They've also performed the music of The Doors with Robby Krieger, joined a large touring group for the 40th anniversary of The Band's The Last Waltz, and they've played Grateful Dead songs with surviving members. Keyboardist, Louis, even toured with Cheap Trick, performing their tribute to The Beatles' Sgt. Peppers Lonely Hearts Club Band, which may have been a tribute within a tribute for him.
Every song seems to be in the style of a different classic rock band of old. The influences are easy to recognize. Like many jazz bands today who continue to churn out original material that sounds like the hard bop apotheosis of 1960, Gov't Mule are mainly traditionalists of the 1970's, vintage rock music's keepers of the flame. There's something on this record to appeal to just about every taste and sub-taste within this genre.
This is apparent with the opening of the James Gang-inspired, "Stone Cold Rage," a heavy-blues-funk number that seems to be an inchoate, political allegory of some kind.
Recording of this record commenced in Austin, Texas on November 8th, 2016, an election day to remember, that's for sure. The outcome certainly surprised the band, as it did so many others at the time. The album's title track, "Revolution Come…Revolution Go," is an obvious allusion to that fact, though the band is deliberately vague and non-partisan in their lyrical treatment of the subject. Warren Haynes has said that the album does have intentional "political" overtones but claimed to have fans on "both sides of the political spectrum," which is not surprising for a band with Southern Rock roots The effort is to address the subject in a strictly allegorical, rather than in a specific and didactical fashion (mercifully). Rage Against The Machine, they are not.
Musically, this epic-length song is a heavy-blues with some early New Orleans jazz stylings not unlike that which has been recently explored by The Tedeschi-Trucks Band. Louis breaks out the trumpet at one point.
Another standout is, "Travelling Tune," a road anthem in the manner of The Grateful Dead, with a little Marshall Tucker Band thrown in. Haynes mimics Jerry Garcia's singing and guitar-playing styles quite well. It unites both the Southern Rock and hippie band sensibilities.
"Dreams & Songs" is an earnest and ethereal ballad reminiscent of Dylan's "Knocking on Heaven's Door," if Lynyrd Skynyrd where his guest backing band.
Personally, I found "Sarah Surrender" to be the most refreshing track of the bunch. A bongo drum rhythm underpins this Latin-funk number that calls to mind the commercial-pop side of Carlos Santana's repertoire (a sadly neglected taste these days.) It's an obvious hit, if such songs were still hits, but in this variety show of records, everyone will have their own favorites.
I welcome your comments.
Revolution Come…Revolution Go is available:
Website: http://mule.net
Facebook: https://www.facebook.com/govtmule/
Spotify: https://play.spotify.com/user/erkwil/playlist/7x3O6CkYP434CPQCaDawbV
Amazon Music: https://www.amazon.com/Revolution-Come-Go-Govt-Mule/dp/B06XXTNFKT/ref=tmm_msc_swatch_0?_encoding=UTF8&qid=&sr=