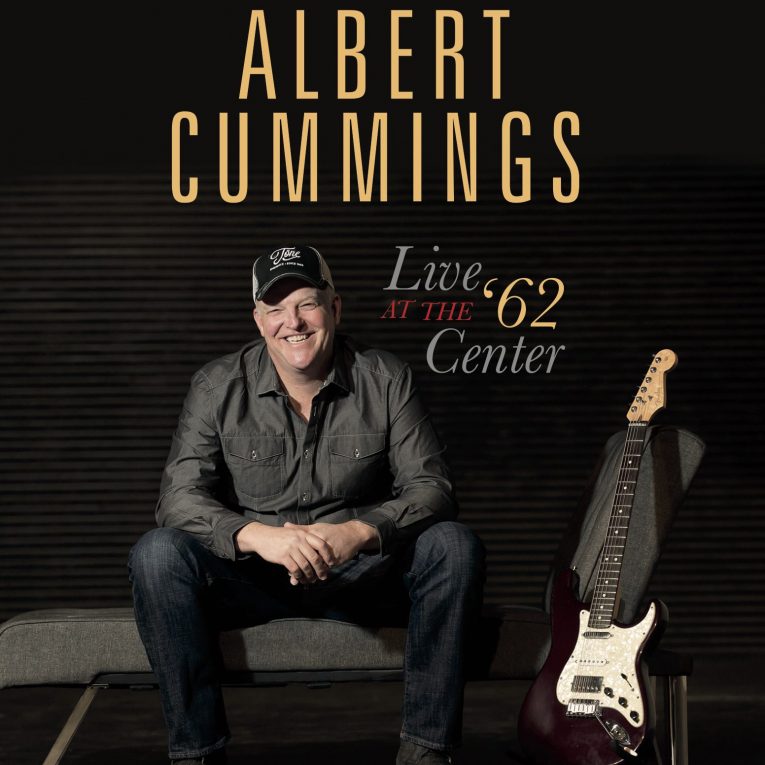 Tom O'Connor
Highly respected New England blues man, Albert Cummings, returned to his home turf of Williamstown, MA, to record his latest album, Live at the '62 Center. The December 5th release on Ivy Music is his eighth album and will be offered in a variety of formats such as CD, DVD and Blu-Ray.
Cummings, considered a guitar virtuoso, has been compared to Stevie Ray Vaughan. There is a striking resemblance to SRV in his playing on this 12-track album with his holy grail of tone. His muscular guitar work is simply outstanding. He's a great blues singer as well with passion for the tunes inherent in his full throttle approach.
Cummings has played with BB King, Johnny Winter, Buddy Guy and others. SRV's rhythm section, Double Trouble, tapped him first to play with after the passing of SRV. That gives you an idea of what you're in for with Live at the '62 Center, if you aren't familiar with Albert Cummings.
It can be dicey to put together a live album, but not for the always-spontaneous Cummings, who actually pulled in this version of his usual trio – Warren Grant on drums and Yanko Valdes on bass, on the day of the recording. He then added Pete Levin's keyboards and Kit Holiday and Lydia Harrell on back-up vocals. Albert's confidence in his people is well-founded. The result is a self-assured and commanding evening of soulful and explosive blues that will delight fans and interest new listeners.
Album opener "500 Miles" eases us into the set with a shuffling, driving tune that introduces the band, the back-up singers and the vibe you can rightly expect to rule the evening. That vibe  includes professionalism packed with passion and the kind of joyous abandon that can only be generated by a live hometown/homecoming gig. The positive vibe continues with the upbeat "Finally in Love," a bouncy crowd-pleaser written for the newly smitten, with a fierce guitar break near the end.
Things start to get serious with "No Doubt." The oft-mentioned Stevie Ray Vaughan influence and swagger is in full effect on this one with blistering guitar technique and tone. The upbeat honky-tonkin' continues on "I've Got Feelings Too." The band is in full stomp-mode from the first bar of the intro to the last down stroke. After an equally up-tempo intro, the band pulls things back on "Sweet Love" and stretches things out to make room for some slower, more mournful blues stylings.
Halfway through the collection, the track "Lonely Bed," dials it back to a slow burning, bass-walking framework for Cummings' always exploring guitar chops. Now solidly into the middle of the "sad blues" portion of the evening, the band unleashes a bruising cover version of "Hurts Me Too," a tale of love gone wrong that, for me anyway, drifts a bit into Little Feat territory… never a bad thing. The spirit of SRV and Double Trouble comes back strong with the rollicking boogie-woogie stomp of "Up Your Sleeve."
On "Cry Me a River," Cummings showcases his ability for simpler tasty guitar licks and his ability to communicate melancholy emotion with every single note. His vocals are powerful and controlled, and in this case more evocative than all-out belting that other tunes call for. The last part of the song culminates into blues guitar mania, only possible by a master like Cummings.