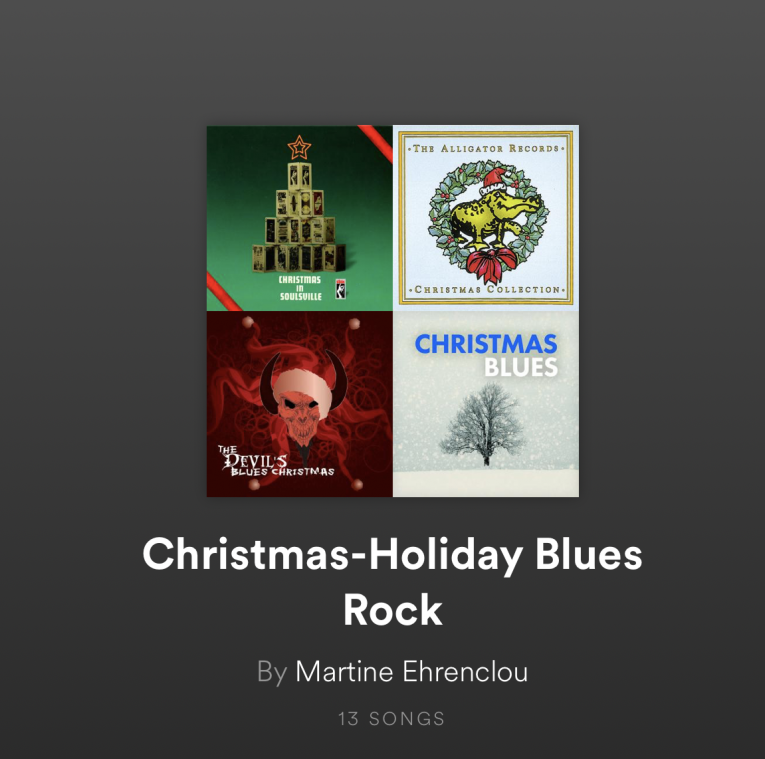 By Martine Ehrenclou
To help you usher in your holidays, I've put together "Christmas-Holiday Blues Rock Playlist 2017." Enjoy some rocking' holiday blues, blues rock and more, to amp up your holiday season.
Have a listen. Happy Holidays to everyone!
Click on the link and enjoy! https://open.spotify.com/user/rockandbluesmuse/playlist/0UzQEIHH9jLjZRmO2KJpWO?si=tkvrIKbnTYShuxie46GARA
Track listing:
"Christmas Tears," The Paul Nelson Band
"Santa Claus Wants Some Lovin'," Albert King
"Christmas Time in the Country," Kenny Neal
"Christmas Comes But Once a Year," B.B. King
"A Bluesman's Christmas," Coco Montoya
"Santa Claus, Do You Ever Get The Blues?," Roomful of Blues
"Christmas Blues," Canned Heat
"It's Bad to Have the Blues (At Christmas Time)" Charlie Daniels
"Merry Christmas Baby," Sheryl Crow
"Lonesome Christmas," Joe Bonamassa
"These Christmas Blues," Chris Simmons
"White Christmas," Tommy Emmanuel
"Shopping On Christmas Eve," Keb' Mo'
"Back Door Santa," B.B. King
Enjoy!