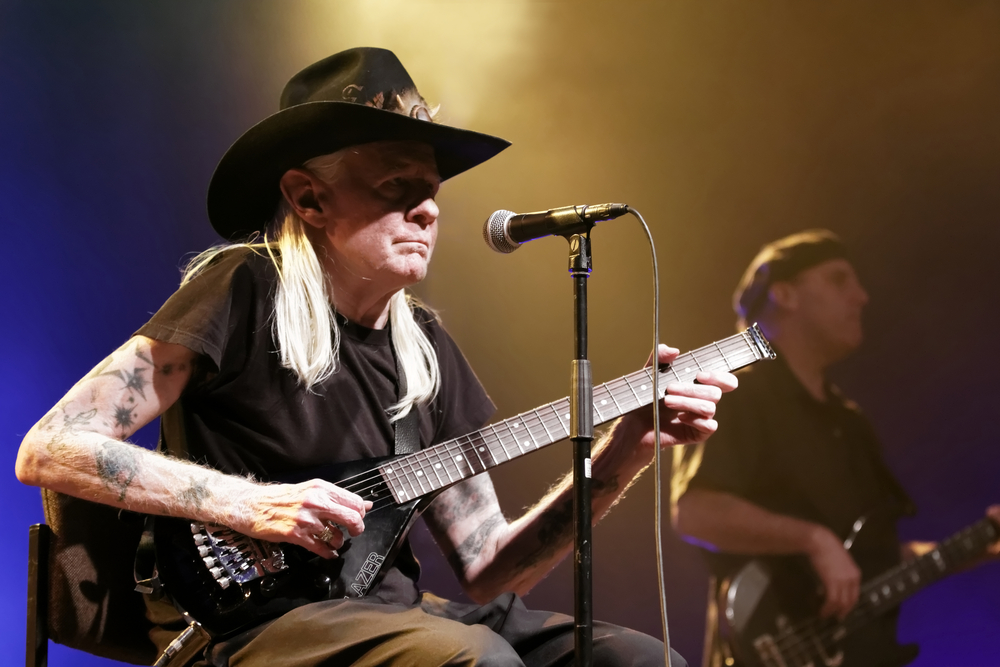 We miss the late, great Johnny Winter. Today he would have been 74 years old. He died July 16, 2014. Winter was one of the world's greatest blues guitarists in the world, regarded as a blues-rock guitar virtuoso. He was also a singer, songwriter, multi-instrumentalist and producer.
Known for his high-energy blues-rock recordings and performances of the 1960's and 1970's, Winter also produced three Grammy Award-winning albums for Muddy Waters.
After his time with Waters, he recorded several Grammy nominated blues albums. Step Back, his last album that was released posthumously, won the Grammy Award for Best Blues Album in 2015. Step Back was produced by Winter's guitarist, Paul Nelson. The album also won the 2015 Blues Music Award for Best Rock Blues Album. Step Back features guest artists such as Eric Clapton, Dr. John, Billy Gibbons, Joe Perry, Leslie West, and Mark Knopfler.
Johnny Winter became the first white musician named to the Blues Foundation Hall of Fame. Winter released a string of popular albums, combining classic blues and original compositions. Known for his lighting fast finger work on the guitar, he was named 63rd on Rolling Stone's list of the 100 Greatest Guitarists.
Thanks to ognet for the video.
Born John Dawson Winter III in Beaumont, TX, Winter and his younger brother Edgar Winter, were born with albinism.  Johnny formed the band, Johnny and the Jammers, with Edgar on keyboards. Edgar later became famous in his own right.
Johnny Winter caught his big musical break when Mike Bloomfield invited him to sing and play during a Bloomfield and Al Kooper concert at Fillmore East, NYC. Days later, he was signed to Columbia Records.
Johnny Winter released 19 studio albums and 8 live albums over the course of his career.
A documentary film about Johnny Winter's life and career, Johnny Winter: Down & Dirty was directed by Greg Olliver and produced by Paul Nelson. It was released on DVD on March 4, 2016. It can be found here
Johnny Winter was survived by his wife, Susan, and brother Edgar.
Do you have a favorite Johnny Winter story? Comment in the section below. We want to hear from you!
For more information on Johnny Winter: 
Website: http://www.johnnywinter.net