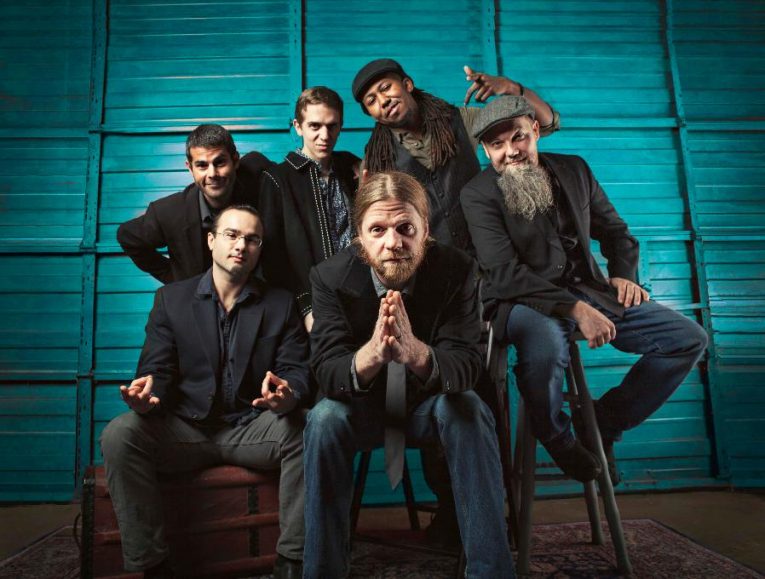 By Tom O'Connor
Memphis legends-in-the-making Ghost Town Blues Band have made their new, self-produced album, Backstage Pass, released February 27th, a raucous 65 minutes of LIVE covers and fan favorites. In this digital era where no one is going to sell ba-dillions of records anymore, a band better be able to seriously bring it live, and Backstage Pass, the band's fourth official release, proves they have what it takes to keep a crowd on their feet.
The award-winning, Ghost Town Blues Band have opened for Steve Miller Band, John Mayall, Keb' Mo', Jonny Lang, John Lee Hooker Jr, Booker T. Jones and others.
If you're going to self-produce a live album, it clearly helps to have a six- time Grammy nominee engineer/producer playing saxophone in your horn section, as Kevin Houston proves here. You're going to hear remarkable sound separation and none of the usual "muddy" audio often found in live recordings. That alone is impressive, even before you get to the crisp, professional playing of these Memphis heavy-hitters who still manage to keep it loose and swinging without beefing a single note.
The party starts with a cover of the Beatles' "Come Together." Opening the familiar tune with a pop of horns adds a new dimension to this classic, which is what every worthwhile cover should do. In this case, it also serves as a great album opener by sonically introducing you to both the band's overall sound and the individual members in the lead breaks. They then stretch it out to include a "Norwegian Wood" vamp before pouring in some bars of Zeppelin's "Whole Lotta Love" because, it's a party, so why not?
The party bus swings through New Orleans for the horn-heavy "Tip of My Hat," a bar tune set to a Rumba beat about eatin' and drinkin' and everything that comes after a long night of both. A full-on tribute to the STAX/Motown sound comes next with swelling organ swirls and, of course, the righteous horns of Houston and trombonist Suavo Jones.
I have to resist the temptation to just label every song "crowd-pleasing" because they all surely are, and that definitely includes the big-sounding "Giving it All Away," an exploratory jam built around a lilting/looping riff that culminates with a pretty spectacular Suavo Jones trombone segment for the clearly pleased crowd.
It is keyboardist Tim Stanek's turn to shine on the piano boogie-woogie of "Big Shirley." The song is a barn-burner even before the band segues into yet another Led Zeppelin deviation; this time the chorus/bridge from "Rock and Roll" and a little vamping crowd work before the big finish. This is followed by a showcase for the twin guitars of Taylor Orr and Matt Isbell on their extended excursion through the Allman Brothers classic "Whipping Post," that starts off with an almost Reggae feel before going through all the tempo and dynamic changes you would expect – and a few you wouldn't. Does the world need yet another sixteen-minute version of this song? Sure, why not. I told you it was a party, right?
The party continues on "I Get High" another highly addictive cover thanks again to the tight dueling guitars that establish the tune before they peel off on another tangent. This time it is a nod to the Stones' "You Can't Always Get What You Want" before the band really surprises you with a few big bars of impressive rapping from trombonist (and apparently rapper) Jones. You might read that sentence and gasp in horror: Rap on a blues record?!? …Hey, it's 2018, lighten up and just go with it. The band gets back to basics with the straight-forward guitar and harmonica shuffle of "One More Whiskey" because what would a live blues album be without a solid boozin' tune?
With "I Need Love," the album closes as strong as it started with a wild ride of a jam that features big doses of steel guitar and a nod to Spencer Davis Group's "Gimme Some Lovin'" mixed into the funky fine beat. It also gives you one last chance to hear the individual musicians shine in the extended lead breaks while the band as a whole keeps the groove together and keeps the people on their feet and shaking what god gave 'em.
This record is a good "document" recording, capturing a powerful band-on-the-rise doing what they do best; playing a take-no-prisoners set in front of an audience ready for a good time. I'm sure everyone went home sweaty and happy. Play it loud.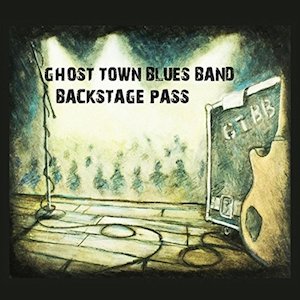 For more information on Backstage Pass and Ghost Town Blues Band:
Website: http://www.ghosttownbluesband.com
Facebook: https://www.facebook.com/GhostTownBluesBand/