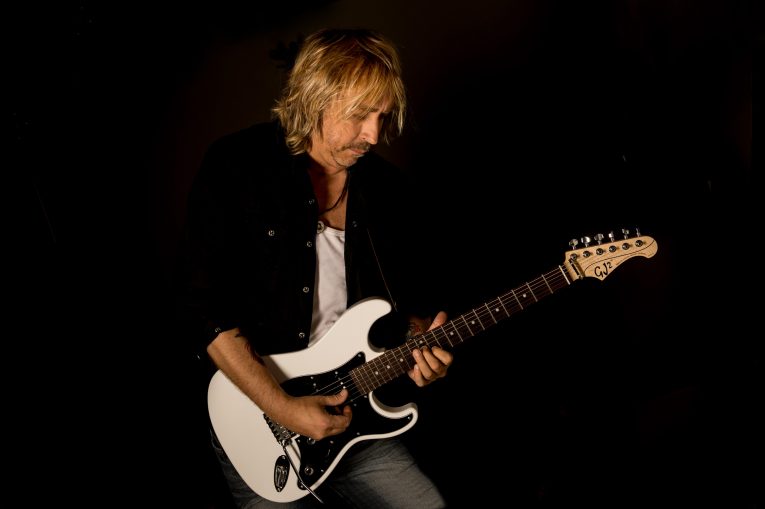 This is Part One of a two-part interview
By Martine Ehrenclou
Paul Nelson is a Grammy Award-winning guitarist, record producer and songwriter who has worked with everyone from Eric Clapton, Joe Perry, Warren Haynes, Billy Gibbons, to Robben Ford, Derek Trucks, Vince Gill, Joe Walsh, Joe Bonamassa, and more. Nelson is recognized as one of today's top guitarists, producers and songwriters.
Nelson was guitarist for legendary rock/blues icon Johnny Winter for many years. He produced several of Winter's albums including the Grammy nominated albums, I'm a Blues Man, Roots, and Step Back, which won Nelson a Grammy Award for "Best Blues Album." He executive produced and appeared in the Johnny Winter documentary, Down and Dirty, and also appeared in the documentary, Sidemen: Long Road to Glory.
Paul Nelson received a 59th Grammy nomination for his work as producer and guitarist on Joe Louis Walker's Everybody Wants a Piece. He has received several blues awards and has appeared on Late Night with David Letterman and Jimmy Kimmel Live.
Nelson's latest project, The Paul Nelson Band, released their album, Badass Generation, on Sony Music Group and he is currently on tour.
Martine: How are you doing today?
Paul: Good, thanks for doing this, I appreciate it.
Martine: Thank you for making the time to talk with me. I love your album, Badass Generation. The musicianship is exquisite. I just love the music. The songs are great.
Paul: Thank you. And the title just rolls off the tongue, doesn't it? [Laughter]
Martine: [Laughter] Yes, it does, it says so much.
Paul: I don't know what it means but it says something. [Laughter]
Martine: You have accomplished so much in your music career. One of your latest ventures is your own band and you released Badass Generation to rave reviews. You've been called one of today's top guitarists, songwriters, and producers. What's your inspiration for forming the band and releasing the album?
Paul:  As you know I played with Johnny Winter for many years, and the whole time while I was playing with him, he was very supportive of my career. I played before Johnny and during – now after, but he wanted me to continue with my music as well, so he was always pushing me as an artist. When he passed, I was contacted by Sony and a company called Friday Music out of California, and they said, "It's time that you do an album." I'd been working on some material and had scoped out some musicians from touring– drummers and bass players that I enjoyed, like the drummer from Popa Chubby's band, Chris Reddan, and the bass player from Samantha Fish, Christopher Alexander, and the singer, Morten Fredheim. He was number two in The Voice in Europe. He's got a great set of pipes.
We all started listening to retro 70's kind of music just to get in the mood and then I just started writing music and lyrics and it was a lock down. We just started churning out music, we rehearsed it, recorded it, and then refined it. I handed it to the label and they really dug it. Yeah, it's been great. I've been touring it, and it's been a great ride even after Johnny. We just did the mid-west and up and down the east coast, and we're going out again and then to Canada.
Martine: That starts tomorrow, right?
Paul:  Yeah, absolutely. We're going to new venues now, it's really building. It's been very exciting to play new material for fans and getting the reaction so far, it's been very positive. The last few runs we did, the crowds were fantastic. They're all real hardcore music lovers, blues, rock, jam, that kind of thing.
Martine:  They're really loyal fans, aren't they?
Paul: Yes. Because of my time with Johnny, I get a lot of Johnny fans that come down. They share stories of seeing me with him, and we talk about Johnny, and then at the same time I have my fans as well. It's really great to have that kind of support and I'm very appreciative. And there's nothing like it, there's nothing like touring and playing live. I really enjoy it. I toured extensively with Johnny all over the world and now to do it with my own stuff. Again, it's just very exciting. The fans have a fun time, we put on a great show with a wide variety of tunes, some blue songs and some songs that I played with Johnny, plus my new material. It's a really fun show for everybody.
Martine: You mentioned you have some new tunes. Does this mean that you've been writing new music for your own band? Do you have a new album in the works?
Paul:  I'm working on the sequel to Badass Generation. This one might be more blues oriented because I love blues, I love that.
Martine:  Me too.
Paul: Being with Johnny, you know, I'm a fan of traditional blues like Robert Johnson, T-Bone Walker, but I'd also like Freddie King and Albert King, guys like that. I infuse that into my own playing, especially a lot of Johnny Winter because I was with him so much and he was one of my idols and Hendrix. I also went to Berklee (College off Music) and I studied with Steve Vai, Mike Stern, and Steve Khan. I'm kind of well-versed in other styles as well.
Martine:  When do you anticipate the new album will be coming out?
Paul:  I'm thinking four months, maybe. I've been working with Derek St. Holmes a lot, the singer from Ted Nugent. Fantastic singer – we'll see, it's getting close.
Martine: Is this a new singer?
Paul:  I use a bunch of different artists. I'm kind of known for having great musicians come in and out. I use certain ones for recordings, certain ones live because of their schedules but I'm fortunate enough to have a lot of people that enjoy my style of playing and want to join me on tours, so I always have access to great singers, great bass players, drummers, keyboard players.
Martine: That really makes it nice.
Paul:  They all have the unique styles, they're all fantastic players. It helps me continue the tour. It expands me as a musician because I'm playing with different musicians. I admire each player that I have worked with so it's not like I'm leaving somebody for somebody else, but at the same time, it has variety and I enjoy that as well.
Martine: I'm sure they're honored to be playing with you.
Paul: Yeah, the singer that's coming up now is Ethan Isaac. He's in a band called Edisun, and they've toured all over the world. He's got a great voice, great range, great feel, great soul. He does a great version of "Can't Find My Way Back Home."
Martine:  He's really good. You're considered one of the most sought-after music producers. You produced Joe Louis-Walker's album, Everybody Wants a Piece.
Paul: Yeah, I got him nominated for a Grammy. That was great.
Martine: Yeah, no kidding. And you played on the album also. What draws you to producing?
Paul: It's kind of like an actor becoming a director. I love being on both sides, and I feel that I can help musicians. A lot of musicians ask me, "How did you get that sound? How do you get that drum sound? Who makes this, who did this?" I'm like, well, I did that. And then they ask if I would do that for them. That's how it started.
Johnny (Winter) didn't know that I produced and when I did his stuff, which was a big undertaking because of the caliber of the guests–Joe Perry, Warren Haynes, Eric Clapton. After doing that, I really got the bug. Then after winning the Grammy, the phone started ringing off the hook. Word got around the industry and so I get calls. Joe (Louis Walker) was a great one, great player, great blues artist, fantastic band. We recorded his material in my personal studio, Chop Shop Studios, and yeah, lo and behold it got nominated, which was his first nomination, so that's pretty cool.
Martine: Awesome for him and for you.
Paul: Thanks. And I just produced James Montgomery's album. He's a famous harp player. I recorded it with him and got Jimmy Vivino and the keyboard player from Paul Butterfield. I played on that one. All these projects are coming in and it's just another aspect of my career and I really enjoy it. I enjoy being behind the scenes, helping musicians get what they want.
It's just under the umbrella of music–it's all part of it, the touring, the producing, the playing, the recording, the practicing, the writing. I just want to stay in that world. But my favorite part is playing my own music and touring, there's nothing like that.
Martine: I can imagine. I've noticed a common thread through everything that I read about you and that is your love of the blues. Can you tell me a little bit about that?
Paul:  That genre should be infused in every style of music because it's what gives all music its soul. It's an American music form, which is pretty cool that it's established here. That's what everyone starts off with, every musician. It can be a three-year-old piano player or a 60-year-old business man. The first thing they learn is blues playing because you can learn a little of it and start making music immediately. But to really perfect it is a lifelong process, to really learn how less is more, to really have that feel.
Even the greatest players infused blues into the music because it's heart felt, it keeps it from being too sterile. It's a great form to go back to. The guys like Johnny and Hendrix, I mean, your greatest artists all have a heavy blues influence– there's something about it. The ones that we appreciate the most have listened to the blues the most. It's not a dying art form, it's always there. There's a whole slew of artists like myself that are still keeping it strong like Warren Haynes, Derek Trucks, Joe Bonamassa. Maybe British blues has a little bit of rock in it, but it still has respect for tradition. I just produced a band called Otis from Kentucky and they are so into the traditional blues sound and traditional slide playing, it's amazing. They're 19 or 20 or so. That's a good sign that things are going to stick around and be okay.
Martine: That leads to my next question. What's your take on blues music today and where do you think it's headed? Do you think blues music is moving towards more blues-rock or rock?
Paul:  Yes, it's everything now, it's mutt music, which is a good thing because now an artist can expand on their CD because you're going to see a Warren Haynes show and he's playing his Gov't Mule material and two minutes later he's playing with John Schofield, he's playing fusion, and then he's playing a tribute to ACDC and then some Grateful Dead song. You watch TV shows and the background music is always some kind of slide guitar or blues riff or something. It's bigger than ever. But again, it morphs a little– it's a little British blues, there's a little more rock in it, so you're getting influences by what I did, Bad Company or early Aerosmith, Led Zeppelin–it's all infused.
Martine:  You're saying there's a resurgence like with your band, Black Country Communion or Blackberry Smoke?
Paul: Perfect example, it's heavy but it's swampy. Yes. And there's a whole music scene coming out of places like New Orleans, like I said, Kentucky and Florida. The scene starts developing, or one band makes it out of an area, and the other bands gets more revved up because one of the locals made it and then the scene develops. That scene carries on the tradition, the language, the accent, the feel, the colors–it's all of it. You see people coming out of New Orleans, Sonny Landreth, Anders Osborne, Trombone Shorty–there's a huge scene coming out of there, so it's pretty neat.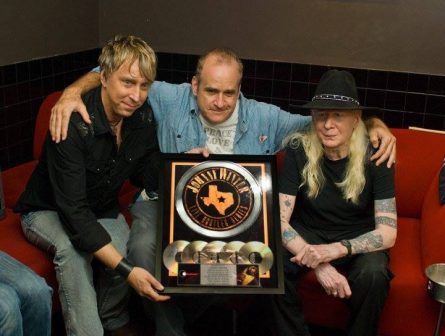 Martine:  I think so too.
Paul:  But again, it allows the musician to put more on their album which is great because now you don't have to stick with one genre and say, okay, this certain genre doesn't allow keyboards, in this certain genre you can't have horns, this you can't have two guitars, this you have to have this. Now it's like, go for it—it just shows that you're more of accomplished musician and you know more stuff.
Martine: I have never heard it described in that way, that's great.
Paul:  The audience has been educated, which is good too. They've come to expect more, and they don't mind that you're diversified. That's why it's a really good time, that's why I was able to do what I want to do, and I didn't get flak for it because I wanted to mix this and that.
Martine: So, you have a lot more freedom with your own band and the next album, right?
Paul: Exactly, and live, it's open season. So, I'll play some slide, I play some raw pedal stuff, I play slow blues, whatever. I can mix in Zeppelin's "Whole Lotta Love" and have fun with that, then play some of my songs. That's why I love the live atmosphere.
Martine:  I bet your audiences just love it too.
Paul: It's a lot of a fun, and there's a lot of smiles, a lot of people tapping their feet. That's what it's all about. People can be cynical, and critical but even the most cynical or critical, if their foot is tapping, you got them. And that's what I look for–somebody nodding their head or tapping their hand.
Martine: What are your thoughts on current music?
Paul: Well, what's happening now, there's no Middle America. It's either blues and struggling artists, or pop through-the-roof kind of numbers. There's nothing in between. There's a lot more musicians because of the wave of music schools, and then they all come out and play, and it's like, where's the work? It's tough. I've been very fortunate. I've played with a lot of famous people so I'm always working and touring and producing. But man, it's hard for new artists. It's hard for bands to hit.
An up and coming band I worked with said it very well to me a few weeks ago. They said, "It's really tough nowadays. A lot of bands that start out, they got a name for themselves when they were an opening act. All the important headliners are passing away, there's no one to open for anymore. We can't open for BB, we can't open for Johnny, we can't open for this one. So many have left us so that artists can't put it on their resume that they played with so and so, and that was really helping."
I didn't even think of that aspect, that these influential artists that performed were supporting the growth of other acts just by having them do an opening.
Martine: That makes a lot of sense.
Paul: All these struggling bands are trying to make it, and I hear it in the studio when I'm producing artists. So, knock on wood, I'm playing all over because I've worked at it. Everybody thinks music is for free. Musicians make their livelihood from road sales. I don't know what's going to happen next when the CD goes away, which is getting close. How are struggling musicians going to sell their music during or after a performance?  Musicians survive right now off of merch sales, and a lot of times it's even more than what they're getting paid for the performance. People need to go see live music and support it.
Part Two of this interview focuses on Paul Nelson's time with Johnny Winter and will be published soon.
Paul Nelson Band tour dates: https://www.facebook.com/paulnelsonofficial/app/123966167614127/
Website: http://www.paulnelsonguitar.com
Facebook: https://www.facebook.com/paulnelsonofficial/