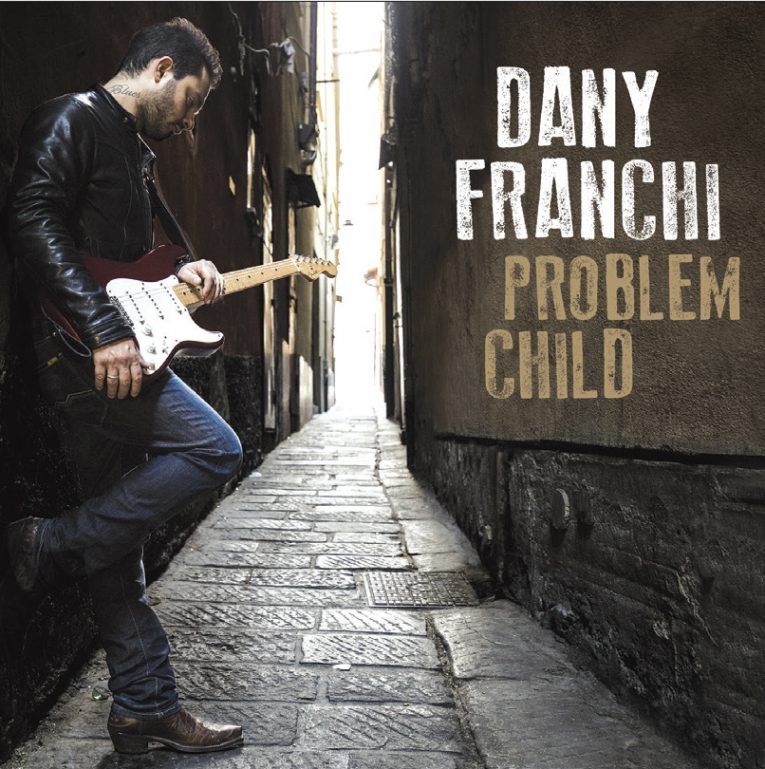 By Martine Ehrenclou
Problem Child is the third album for Dany Franchi, a young, soulful blues-rocker from Genoa, Italy. It's due out on May 18th via Station House Records.
Sometimes it's a gift to know absolutely nothing about an artist when you listen to their album for the first time. Especially if they're really good and you didn't anticipate it. Then it's a musical feast. This is Problem Child by Dany Franchi.
I plugged in Problem Child, not concentrating as I queued up the first track, "Back to the River." As soon as I heard Jim Pugh on piano, the swampy blues intro, and Franchi's smoky vocals, the music yanked me full on into the track. What a song. Really, it's the perfect album opener to showcase Franchi's vocals and magnificent guitar solo and this band's world class musicianship.
All I could do was fall back against my chair and say, "Dam." Mississippi groove with top shelf musicianship and soul. That's quite a combination. And not one you usually find with a young artist like this.
What comes to mind are old-school blues, as in some of the blues masters, with a very fresh take. There are three covers on the album by Eddie Taylor, Freddie King and Willie Dixon, odes to the blues tradition. But Franchi's renditions are contemporary versions of those tunes, changed up to enhance his vocal style or guitar chops or simply to serve up a modern feel.
"Give Me A Sign", a boogie-woogie foot-stomper, allows Franchi to rock out a bit on vocals. Pugh's piano fills and solo are outstanding, infusing energy and spark to this tune. By the time Franchi's tasteful guitar solo rolls in, I'm already thinking of Albert Collins and Freddie King, how their influences inform his playing.
I have to say, this is one bad a*** guitar player. Dany Franchi is also a soulful singer with nice tone, and the years he has ahead of him will only enhance his talents. It doesn't hurt to have some magnificent players on this album with Jim Pugh (piano and organ) Nate Rowe (electric and upright bass), Wes Starr (drums), and a full horn section, "The Texas Horns."
The 12-bar blues tune, "Big Town Playboy" (Eddie Taylor) is a tasty groove shuffle with a whopping harmonica solo courtesy of Greg Izor. Franchi's guitar style is innovative, while still paying homage to the blues greats. He purposely leaves space between the notes—a real breath of fresh air and a sign of an experienced player with plenty of feel.
"Run Around" is a blues-rock pleaser, opening with a rockin' riff and organ fills. This tune features the grittier tone of Franchi's vocals and they fit this song well. His guitar solo, in conversation with the organ, adds to the driving feel of this track.
Franchi includes a couple of soul/R&B numbers on the album, one of which is "You Don't Want Me." Everything syncs perfectly on this tune–Franchi's vocals, his guitar, the band. The tune shows off his unique guitar style in a lovely solo, again giving space between notes. The entire band, including horn section, blend seamlessly.
Another soul-infused toe-tapper, "Don't Steal My Time" is a standout on the album. Franchi's guitar solos are swinging, good fun with double-stops to punch it up. The entire band is exquisite and that includes the alto sax player, one of "The Texas Horns" (Kaz Kazanoff, John Mills and Jimmie Shortel.) Franchi's voice is smooth with some added grit.
And now for some real fun, "Sen-Sa-Shun" by Freddie King. What a standout. Rockin', funky blues with such a tight rhythm section. This is unlike any instrumental you've heard, except for by the master himself, Freddie King. This is a contemporary, fresh interpretation of the original. Franchi hurls this song into this decade by way of contemporary guitar tone and a ripping organ solo to round out the sound. I can't say enough about this track. Instrumentals aren't for everybody but "Sen-Sa-Shun" breaks that mold. It demands listening through quality speakers or headphones. It's a stunner. The rhythm and solos are nothing sort of outstanding.
Franchi's voice opens up on "My Only One," with a simmering, smoky quality on this soul-blues tune. Franchi pours himself into this one. This is some fine storytelling about love gone right.
"Everything Gonna Be Alright" by Willie Dixon, is a blues scorcher, another standout. Franchi slows down the tempo for his version. Vocals and guitar are equally impressive, a tight fit with the band. The way Franchi plays the Strat on this one, I could swear he's not using a pic. Jim Pugh adds his magic on the keys and organ, along with the band, to create a big, fat sound.
The album closes with the title track and it's more of a rootsy, slow blues number with spare instruments from the band. Definitely the darkest of the record, it cuts deep. Soul searching and soulful, it's an interesting choice for the title track. Perhaps it's foreshadowing for more to come from Dany Franchi. I, for one, can't wait.
For more information about Problem Child by Dany Franchi:
Website: https://www.danyfranchi.com
Facebook: https://www.facebook.com/danyfranchimusic/
Apple/iTunes: https://itunes.apple.com/album/id1373773873?ls=1&app=itunes