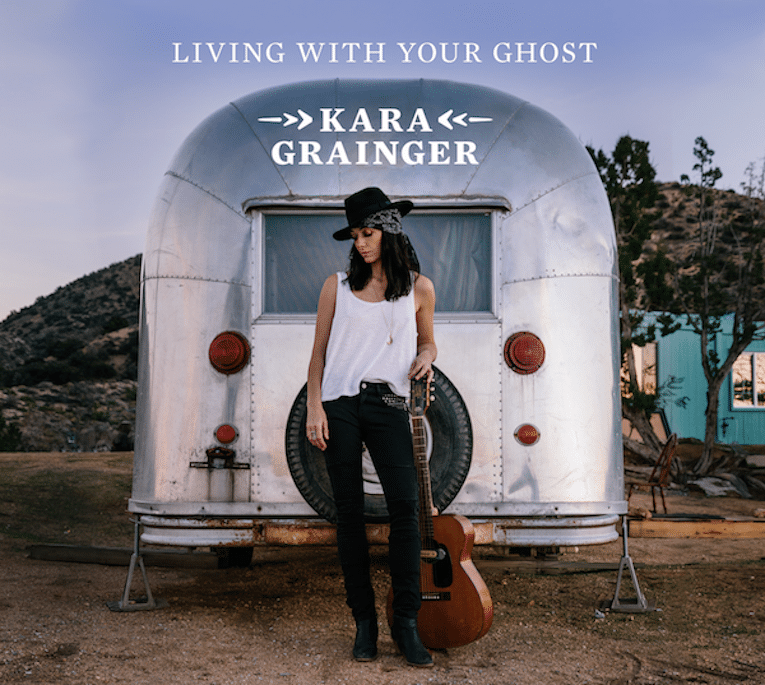 By Scott Bampton
Released June 1st on Station House Records, Living With Your Ghost is the fourth album from Australian-born singer-songwriter-guitarist, Kara Grainger. Produced by Anders Osborne, the band features The Texas Horns, Ivan Neville, bassist Dave Monsey and drummer JJ Johnson (Tedeschi Trucks Band.)
Hailing from the sunny bayside suburbs of Sydney, Kara Grainger made a splash when her debut album Grand and Green River spent 38 weeks on the Americana Charts. Now living stateside with a couple more releases under her belt, Grainger describes her new record as a "gumbo of different emotions." And it's a delicious mélange, served up by a humble chef with an eclectic repertoire. While she describes herself as a soul singer, that tag probably sells Grainger a little short – her smouldering vocals definitely carry a strong soul flavor, yet there is a mournful blues essence that distinguishes her from other soul vocalists. She bears her own modern take on roots, blues and soul music.
There's also a hint of Norah Jones in the vocal mix and a touch of Bonnie Raitt. On the title track and album opener "Living With Your Ghost," the song sees Grainger lyrically pine for the memories of people she was close to but there's a pop sensibility to the song that keeps affairs agreeably breezy. Grainger's fiery slide guitar work is featured on this track and others on Living With Your Ghost. She's quite the guitar player with a unique slide guitar style all her own.
"Working My Way Back Home," with Grainger's rootsy and soulful slide guitar, is a real slice of southern rock/Americana. A tale of life spent living out of a suitcase, she lets fly with some sizzling vocals that perfectly balance her husky tone with her ability to sustain a note for what seems like days.
Meanwhile, "Nowhere to be Found" and "Man With Soul" are perhaps the record's strongest examples of Kara Grainger's impressive songwriting ability. In her native Australia, it would be referred to as "fair dinkum." Translating to "genuine", "truthful", or "certain." The closest American catch-all phrase would probably be "legit." Skilfully balancing forlorn vocal melodies with delicate instrumental layers on these tracks, Grainger proves she's just as "legit" with a pen in her hand as she is with a guitar or a microphone.
And producer Anders Osborne has done an outstanding job of ensuring those instrumental layers are perfectly balanced in the mix. Osborne also supplies vocals and guitar on a number of tracks, including "You're in New Orleans" – a bouncy organ-led ballad that pays tribute to The Big Easy. As slide trombones drizzle out the brass line, with Grainger proclaiming, "You know you've arrived when the river rolls by," you can almost imagine her recording the song on an old packet steamer as it chugs along the Mississippi.
"Groove Train" showcases yet another side to Grainger's vocals—strong, clear and gutsy. This song has great groove.
Upbeat numbers like "Favourite Sin" showcase Grainger's rock'n'roll credentials, including her talent as a guitarist. Her song summons images of Harley Davidsons, leather jackets, and half-empty bottles of Jack Daniels. On the other hand, the far more sedate "Nobody But You" is an ode to the rewards of working through a tough relationship. It's a testament to Grainger's diverse songwriting ability that she's able to place two contrasting songs back-to-back on the record without it feeling contrived or jarring.
Winding to its close with the delicate and haunting "Freedom Song," Living With Your Ghost strikes a pleasing balance between the eclectic and the simple. As a gifted vocalist, songwriter and guitarist, Kara Grainger delivers a rousing performance on the album,full of bluesy melancholy, soulful swagger, and elegant musicianship.
For more information on Living With Your Ghost by Kara Grainger:
Website: www.karagrainger.com
Facebook: https://www.facebook.com/kara.grainger.12/
iTunes: https://itunes.apple.com/us/album/living-with-your-ghost/1374130993