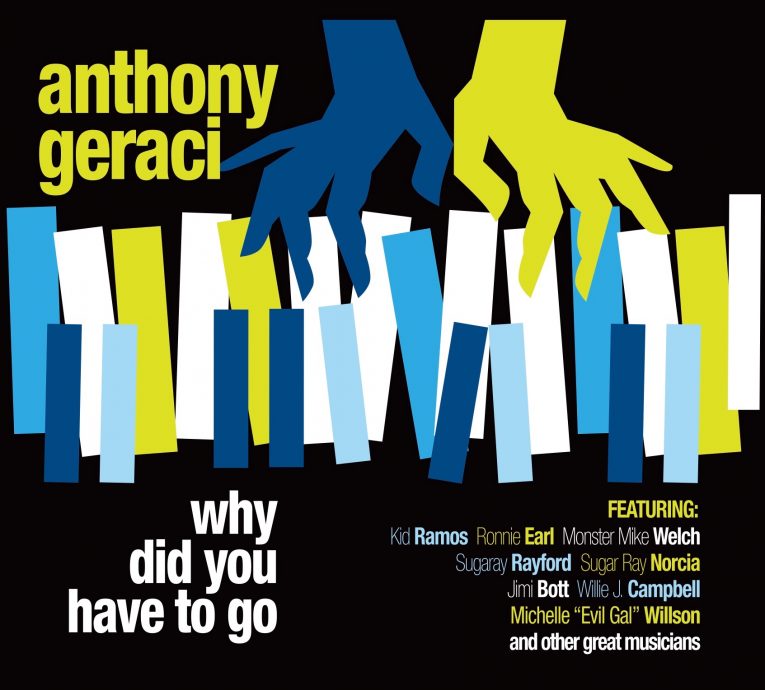 Listen to the new single "Why Did You Have To Go" by multi-Blues Music Award nominee, Anthony Geraci from his upcoming CD, Why Did You Have To Go, released September 21 via Shining Stone Records. Sugar Ray Norcia, also a multi-BMA nominee, is the vocalist on the new single.
Keyboardist, songwriter and composer, Anthony Geraci assembled an impressive cast of musicians to perform with him on the new disc, including guitar legend Ronnie Earl, as well as many Blues Music Award nominees/winners, such as Sugar Ray Norcia, Monster Mike Welch, Michael Mudcat Ward and Neil Gouvin (all fellow members with Geraci in Sugar Ray and the Bluetones).
Other guests include singers Sugaray Rayford, Michelle "Evil Gal" Willson, Willie J. Laws, Dennis Brennan and Brian Templeton; guitarists Kid Ramos and Troy Gonyea; bassist Willie J. Campbell; drummers Jimi Bott and Marty Richards; and a mighty horn section of "Sax" Gordon Beadle and Doug Woolverton. The CD package also features extensive liner notes by respected journalist and editor of Blues Music Magazine, Art Tipaldi.
Anthony Geraci says, "'Why Did You Have To Go' is a song written in Clarksdale, Mississippi, some of it at Sonny Boy Williamson's grave in Tutwiler, MS. Sugar Ray Norcia's always spot on vocals, sings about a man scorned by his woman, a cheater that ultimately meets her demise by the hands of a jealous man. 'She laid on her back, for every Tom, Dick and Jack…'" 2018 BMA winner, Michael Mudcat Ward on bass, lays the foundation for the song that also features Sax Gordon and Doug Woolverton on sax and trumpet."
The all-original 13 songs on
Why Did You Have to Go 
cover a wide range of Geraci's styles and influences, touching on several types of blues, R&B and even an excursion into jazz on the album's closer, "A Minor, Affair," which sounds like a combination of the textures explored by the Butterfield Blues Band on the groundbreaking "East-West" and something from Blue Note Records.
"As a songwriter and arranger, I chose each musician for their individual talents that I knew would sound awesome on the songs they were singing and playing on," Geraci says about the album sessions. "The recording process can always be a daunting experience. Being surrounded by musicians that are your friends is a very special feeling. I played music with many of these musicians for almost 40 years, others more recently. As the 'producer,' it was my job to get the material to everyone, coordinate the studio(s), and make sure everyone could make the dates – not an easy task especially with these many in-demand musicians!"
For almost 40-years pianist, Hammond organist and composer Anthony Geraci has played behind some of the most influential blues musicians of the 20th century. He is an original member of Sugar Ray and the Bluetones and Ronnie Earl and the Broadcasters. He has been recognized for his contributions on numerous albums by nominations from both the Blues Foundation/Blues Music Awards in Memphis, TN and the Grammy Awards. Anthony has been nominated the last three years for the prestigious Pinetop Perkins Piano Award (2016/2017/2018) by the Blues Foundation.
Additionally, he's received BMA nominations for Album, Traditional Album and Song of the Year for the title track of his previous CD, Fifty Shades of Blues (2016.) At last count, he was a part of 40 BMAs nominations as a member of the acclaimed Sugar Ray and the Bluetones, including Album/Traditional Album of the Year nominations for Living Tear To Tear, the CD for which he wrote the title track. This year, he's already received nominations from both Living Blues: Outstanding Musician-Keyboard; and Downbeat Magazine Readers Poll: Blues Artist or Group.
"Wherever my music takes me globally I'm inspired by the people, the history, the food, the smell and the sounds of the surroundings," Geraci says. "It is all reflected in my songwriting."
Anthony Geraci will support the new album's release with a string of summer tour dates, many featuring his well-named tour band, The Boston Blues All-Stars, which includes Dennis Brennan – vocals/harmonica/guitar; Troy Gonyea – guitar/vocals; Michael Mudcat Ward – bass/vocals; and Jeff Armstrong – drums/vocals.
For Anthony Geraci tour dates see here https://www.anthonygeraciblue.com/shows
For more information about Why Did You Have To Go by Anthony Geraci: