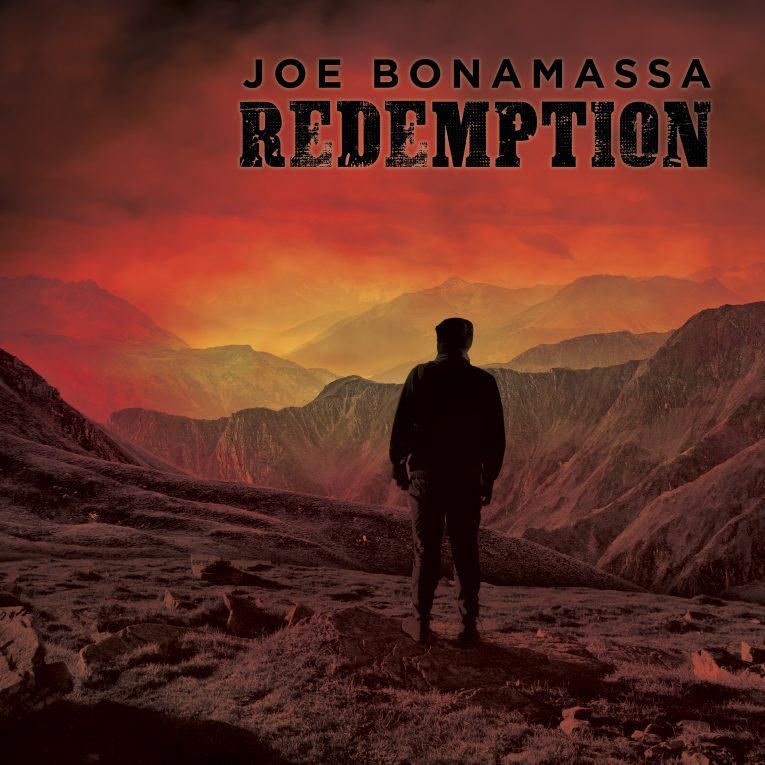 By Dave Resto
As blues-rock guitar giant Joe Bonamassa celebrates his 26th year in music, the two-time Grammy-nominated artist is releasing his newest album, Redemption on September 21, 2018 via J&R Adventures.
Redemption features Bonamassa's touring band of legendary veterans: keyboardist, Reese Wynans (Stevie Ray Vaughan, Buddy Guy); bassist, Michael Rhodes (Mark Knopfler, Johnny Cash); drummer, Anton Fig (Late Night/Late Show with David Letterman); trumpeter, Lee Thornburg (Wayne Cochran and the C.C. Riders); saxophonist, Paulie Cerra (Stevie Wonder, Billy Preston). Guitarists, Kenny Greenberg and Doug Lancio, and backup singers, Mahalia Barnes, Jade McRae and Juanita Tippins also contribute. The album was produced by Bonamassa's long-time collaborator, Kevin Shirley.
The opening track, "Evil Mama" immediately grabs your ear, with Fig bashing out the famous drum intro to Led Zeppelin's "Rock and Roll." Joe Bonamassa and the band jump in to shift the song into a tight, funky groove which echoes Tower of Power's "What is Hip?" The horns and backing vocals punch in all the right places, and Bonamassa's guitar playing and singing are in top form, right out of the starting gate.
"King Bee Shakedown" is a driving, jump boogie. The infectious chorus, "Hallelujah! Good to see ya!" will have you thinking of hot rods and poodle skirts. Bonamassa intros his solo with spot on rockabilly riffing before transitioning into some stinging slide guitar playing.
"Molly O" and "The Ghost of Macon Jones" are a pair of haunting tracks. While Bonamassa infuses both songs with sadness and reverence, they are distinctly different.
"Molly O" tells the tragic tale of a woman from a small Irish village, who perishes at sea during her voyage to a new life. Powered by a heavily punctuated drum and bass line, Bonamassa sings, "On high raising tides, may she rise to the skies – Molly O!" The song transitions to a Celtic rock bridge section before Bonamassa's eerie slide guitar solo.
"The Ghost of Macon Jones" rides in on a riff that is destined to become as memorable as the iconic "Ghost Riders in the Sky." Bonamassa's lap steel guitar and Reese Wynans' saloon piano loan the proper cowboy aesthetic and the duet between Bonamassa and guest vocalist Jamey Johnson is a perfect fit. The straight-out-of-Nashville guitar solo with just a tinge of rock puts this one right over the top.
The brass section returns to put the big city blues into "Just 'Cos You Can Don't Mean You Should." Bonamassa's tone strikes the perfect balance between fat and bright, and his 'Chicago licks' are right on the money. While he's known for using effects pedals sparingly, here he uses just the right amount of wah-wah pedal to take a bigger bite out of his solo section.
With all that the title track has going on, "Redemption" takes on an epic feel. Joe Bonamassa plays both finger-picking and slide acoustic guitar to create a lush foundation. Singing against that backdrop, his vocal sounds stoic and remote, until he comes to the chorus. That's where he's joined by his backup singers, who open the heavens with their powerful, angelic harmonies. The guitar solo section takes on a feel and sound that harkens back to Bonamassa's work with
Black Country Communion
.
"I've Got Some Mind Over What Matters" is an electrified take on the Delta blues. The intro, the turn arounds, the breakdowns are all classic, old-school licks, as you'd hear from an acoustic guitar played on a country front porch. The production, however, is thoroughly modern.
Redemption is Joe Bonamassa's 13thsolo album. As on his previous two albums, all of the songs are original compositions. It seems he's found a creative well spring from which he will be drawing for years to come.
For more information on Redemption by Joe Bonamassa: