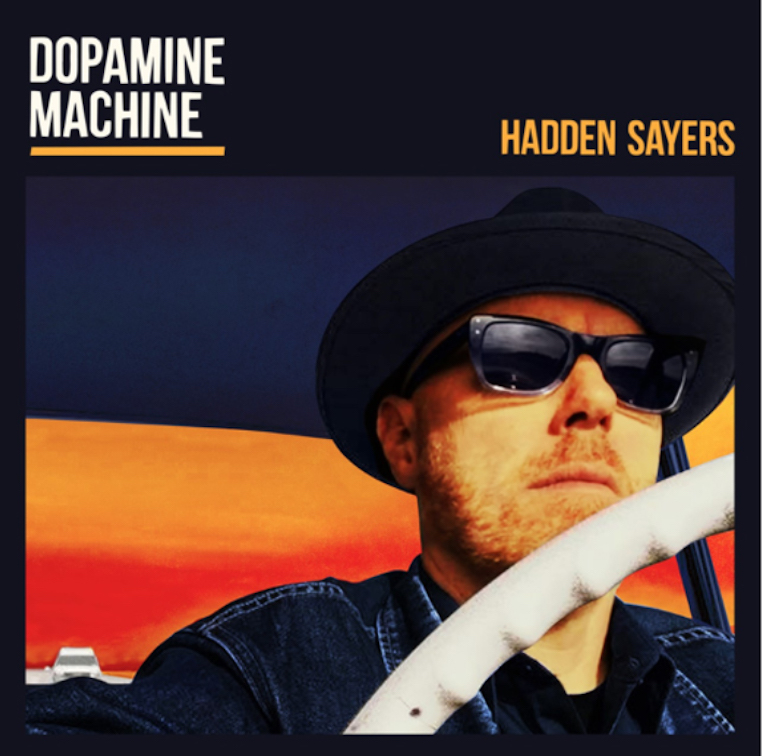 By Tom O'Connor
Iconoclastic singer/guitarist/songwriter Hadden Sayers journeyed from his Texas home to Nashville to record his new, self-released album Dopamine Machine, out September 14, 2018. The result is a winning eleven-track collection of his fearless blues and hard rock mixing style.
When you're crafting your ninth record, it is a pretty safe bet that you know who you are and what you want to say. For this clearly personal and purposeful album, Hadden Sayers brought in some equally formidable and respected session players; Greg Morrow on drums, Rusty McFarland on bass and percussion and Johnny Neel on organ. Together they create the right sonic landscape for Hadden's distinctive guitar, voice and point-of-view as he covers topics both large and small.
The false start at the beginning of opening track "Unsatisfied," along with the mischievous guitar blips and squeaks heard throughout, clues you in to the overall playful, expect-the-unexpected vibe that runs through this entire collection. This is a hard rocking tune that gives a nod to its Blues roots as it passes them like a muscle car on a blind corner. Another big rocker follows with "I Feel Love." Who says a love song can't also kick ass?
One of the things I enjoy about Sayers' songwriting is his willingness to go the extra mile to tell a story. "Hit the Road" starts off like a classic blues-rock lament about a hard-working, truck-driving guy having to kick some bad love to the curb, then later flips to tell the same guy's story of getting kicked to the curb because his own love was sub-par, going from "kicker" to "kickee" in just a few crisp and tight verses. Don't try this at home kids. That extra effort continues on the incredibly smooth "Blood Red Coupe de Ville." This "life is sweet, even though it's hard" meditation unfolds in no hurry and has you hanging on every next line. If you put this song near the top of your "play this at my funeral" playlist, there won't be a dry eye, or a frown, in the house.
When not making his own music, Hadden Sayers plays guitar in Ruthie Foster's band, so it is no surprise to hear her lending a hand on backing vocals for "Waiting, Wanting."
Just a hint of organ raises the emotional stakes of this simple and hypnotic song about love, longing and handing your heart over to that other person before you're 100% sure they'll actually take it. Float on the hopeful chorus and take the ride through the otherworldly instrumental break.
The gears shift again on "Good Good Girl." There is an interesting pop to this toe-tapping, light-weight ditty, but even when a song's emotional stakes are low, the songsmithing quality is high, and the flanged guitar solo adds the dose of funkiness that the impish falsetto vocals promised would be coming around. Sticking to the funk-rock vibe "Learning to Disappear" is a proud declaration of refusal to treat life like an endless ride on an over-caffeinated bullet train. Sayers and the band effortlessly return to straight-up balls-out big rockin' style on the next track. If the woman in AC/DC's "Whole Lotta Rosie" has a sister, she might be the "Peppermint Patty" Sayers celebrates here.
Listen to "Unsatisfied" by Hadden Sayers here. 


The comparatively quiet tick-tock intensity of title track "Dopamine Machine" could be about any bad love or addiction. In this particular case it seems to be about a cellphone. Once again Sayers lets listeners figure out what it ultimately means to them. No verbal tricks or double entendres are needed to get the message across in "Gravity." Possibly the most thoughtful song in a well-crafted and thoughtful collection, it is a meditation on the struggles and triumphs that go along with finding yourself older than you ever thought was possible. The album closes on a final hard rocking note with "Backbreaker" seemingly to prove that, "Gravity" aside, there is still as much power and punch in his guitar (and spirit) as there ever was.
This release is actually a double-disc collection. The second CD "Acoustic Machine" is a rearranged playlist of the same eleven songs, done as a stripped down acoustic set. I didn't have access to it for this review, but I have to imagine it could only compliment what I've heard here.
For more information on Dopamine Machine by Hadden Sayers:
Album/song purchase: https://haddensayers.com/album/643768/dopamine-machine