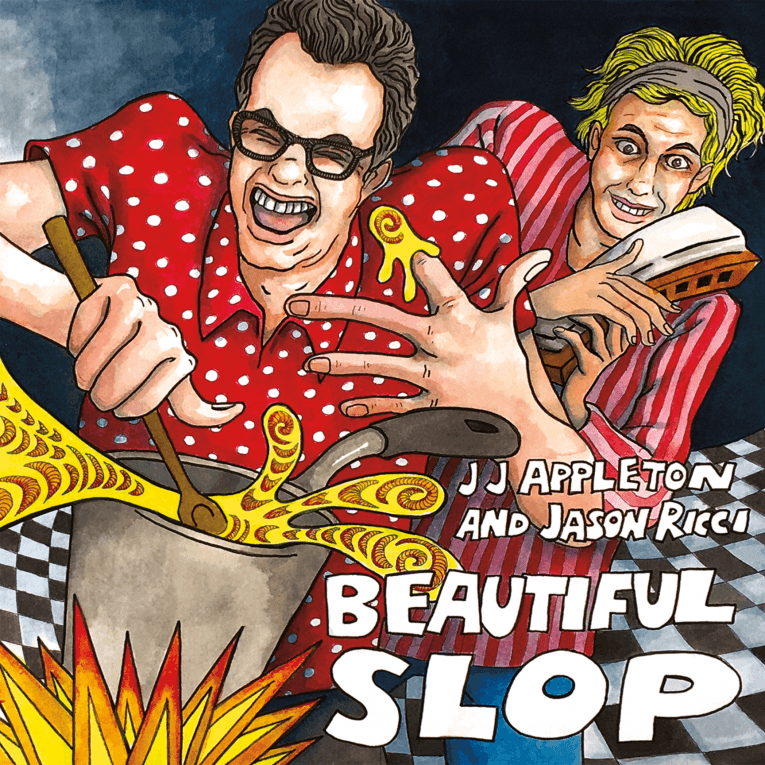 We are pleased to premiere the new song, "Don't Take Advantage of Me" by blues-roots heavyweights, singer-songwriter, guitarist JJ Appleton and award-winning harmonica player, Jason Ricci from their upcoming album, Beautiful Slop, out October 26, 2018.
Jason Ricci, a harmonica legend and winner of the 2018 Blues Music Award for Best Instrumentalist/ harmonica, who also was featured performer/harmonica player on Johnny Winter's Grammy Award-winning CD, Step Back. In addition he was a featured performer at The Rock and Roll Hall of Fame with Zac Brown and Tom Morello for the Paul Butterfield Blues Band induction. He has recorded with Walter Trout, Ana Popovic, Cedric Burnside, Joe Louis Walker and many others.
JJ Appleton was handpicked by David Bowie as guitarist for his critically lauded musical "Lazarus." He has appeared on Late Night With Stephen Colbert, Good Morning America and Last Call With Carson Daly show. JJ has produced records for Darius Rucker, Kesha, Grace Gaustad and Erin Bowman.
Ricci and Appleton teamed up for the much-anticipated October 26, 2018 release of Beautiful Slop and will be released in conjunction with a tour throughout the Northeast, New England and Mid-Atlantic.
It was an unlikely phone call made in 2014 that brought Jason Ricci and JJ Appleton together. "You don't have an acoustic album yet, let's make one" said JJ. A few songwriting sessions, a live to video and pro tools recording in NYC with Tedeschi Trucks bassist Tim Lefebvre, and the album Dirty Memory was birthed.
Cut to a multi-week long stay in the top 10 iTunes Blues Charts and the Roots Music Report, headlining festivals and venues from the tip of icy Maine, to steamy New Orleans – it was quite a run. It became obvious to Appleton, Ricci and their fans, that a new album was in order.
Listen to "Don't Take Advantage of Me" here:
The duo took over bassist/producer Derek Nievergelt's Brooklyn basement studio for two days, 90-degree heat and no AC. The swampy heat and the stage for what can only be described as 10 recordings dripping with raw grit, groove, acoustic soul and sweat for their new album, Beautiful Slop.
Ricci, a harmonica legend and winner of the 2018 Blues Award for Best Instrumentalist/Harmonica, has broken another barrier melding perfectly his Sonny Terry on speed style with beautiful melodic flowing riffs that consistently bring a smile or tear throughout the record. Appleton's original songs and unique takes on some very unusual covers, shows the duo's penchant for keeping people guessing as to what they'll do next.
For more information about Jason Ricci and JJ Appleton: