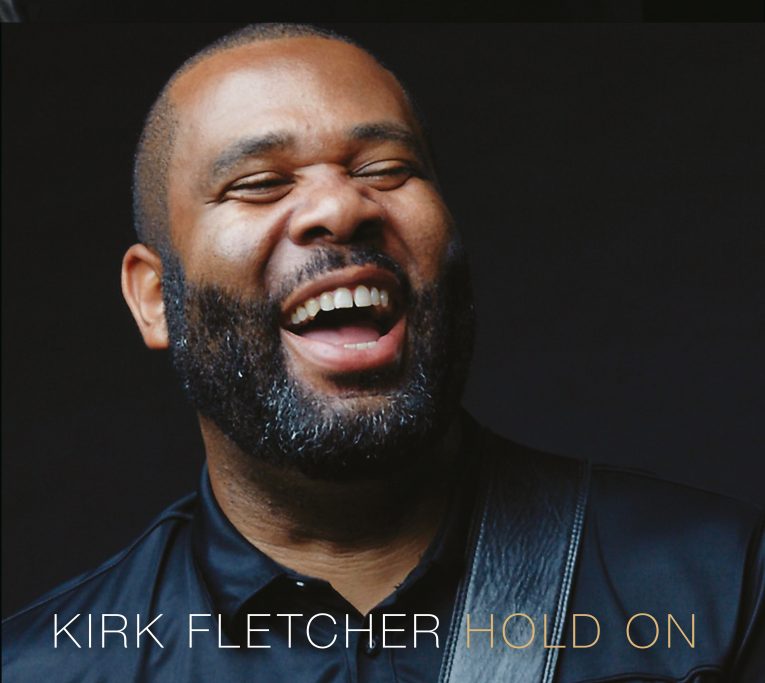 By Martine Ehrenclou
Regarded as one of the best blues guitarists in the world, Kirk Fletcher, without question, lives up to that description and more on his upcoming release, Hold On, out October 19, 2018.
This four-time Blues Music Award nominee and British Blues Award nominee is back with his fourth studio album, a collection of original funky, contemporary blues and R&B tunes with shades of rock.
Hold On invites you into Kirk Fletcher's world. That world is so musically dynamic with moving melodies and such extraordinary guitar playing, that it actually takes courage to write a review of it. Hold On is a musical palate of eight songs, each uniquely different in style and approach, each lush and textured with soulful vocals and layered guitars with dazzling effects.
This is no ordinary guitarist, singer-songwriter. In fact, I've never heard anyone like him. With vulnerable lyrics, beautiful chord changes and progressions, Hold On, is a sample, if you will, of what Fletcher is capable of, and perhaps of the genres he loves.
With an enviable music pedigree, including a four-year stint as lead guitarist for The Fabulous Thunderbirds, Fletcher has played/collaborated with blues greats such as Pinetop Perkins, James Cotton, Hubert Sumlin, Charlie Musselwhite, Robben Ford, Joe Bonamassa, Doyle Bramhall, and others.
The album opens with a fiery start. "Two Steps Forward" is a hard-hitting protest anthem, an R&B/rock number that features Fletcher's melodic guitar riffs against organ fills in just the right places played by Jonny Henderson and backed by Matt Brown on drums. It has a "Living For The City" (Stevie Wonder) vibe to it but with a harder edge, more anguish perhaps. Fletcher's stirring vocals carry you into the first verse and then the track roars into a mind blowing, muscular section with Mahalia Barnes killing it on vocals. Passion and protest peak as Fletcher launches into a monster guitar solo with plenty of wah. Shades of Hendrix here.
Fletcher's solo says it all—he makes his guitar cry out, demand justice, scream in protest. You think only vocals can move you? Think again. Fletcher has something special—not just in lighting fast fingers, but in how he conveys emotion in his playing. For Fletcher, the guitar truly is another voice.
After the first shattering number, Fletcher settles you back into an easy, restful place with "You Need Me," an R&B beauty with funky rhythms and a melody that will sprinkle fairy dust on any sour mood. This song will delight and also make you shake your head in awe. Fletcher has a real ear for melody and it shows on this sunny afternoon ditty. If you listen closely, you'll hear his brilliant call and answer on guitars, each guitar with its own effect or voice, creating a true musical conversation. His vocals hint of Teddy Pendergrass.
Regarding Hold On, Kirk says, "I wanted to write songs about other things other than just boys and girls and maybe give some answers and some hope to this crazy time we live in. It's about love in general, love for humanity, frustration about all the stuff we have to deal with in this life."
"The Answer" is a slow blues tune with plenty of feel for melody, co-written by Fletcher and Josh Smith. Fletcher's guitar solo, once again, is so much like a vocal it could be said that the spirit of Aretha Franklin is in his hands.
This track shifts from a lonely blues number to more of an R&B tune, heavy on organ that builds to a more intense, emotional rise and fall. Fletcher's guitar solo is stunning, channeling loneliness and longing in a way that could draw tears. It did to me. This is exactly what "slaying it" means.
"Times Ticking" opens with charging rock chords and dirty guitar riffs. There is a sense of urgency to Fletcher's vocals and guitar playing on this rocker. But this is no ordinary rock song–the layers of guitars are like an orchestra. You can hear passion and anguish in his vocals and guitar riffs, which become more muscular and intense as the track progresses. Guitar sustain anyone?
There is definitely something other-worldly about Fletcher's talents—he writes impassioned lyrics, and melodic songs and then rubber stamps them with his insane musicianship.
Along comes a delightful instrumental, "Dupree," a tribute to one of Kirk's heroes, the late Cornell Dupree. This song has such great groove and a sense of fun. Put your headphones on for this one to capture every nuance. The organ and drums are so tight, you'll move with the swing just like I did. At one point, it's only Fletcher on guitar and drummer, Matt Brown and then an organ solo rolls in performed by a master keyboardist, Jonny Henderson. The song's outro is all funk-jazz fun. As I listened to this tune, I kept envisioning it as a movie soundtrack.
"Gotta Right" is a blues shuffle with a delicious melody. Fletcher's voice shines on this tune, soulful and Teddy-ish again. He sings, "I gotta right to sing the Blues… seems I was born too blue." Well, if that's the case, bring it on because this mid-section unfolds with some breathtaking guitar soloing. He manages some lightning fast licks but also staccato trills on guitar.
The album closes with "Hold On," an R&B number complete with angelic backing vocals by Jade McCrea. The lyrics offer hope and inspiration, emphasizing love and resilience in troubled times. "It's so simple to love one another," Kirk Fletcher sings. Yes, indeed.
For more information on Hold On By Kirk Fletcher:
Album pre-order: http://radi.al/KirkFletcherHoldOn
Website http://kirkfletcherband.com
Facebook https://www.facebook.com/kirk.fletcher.58/