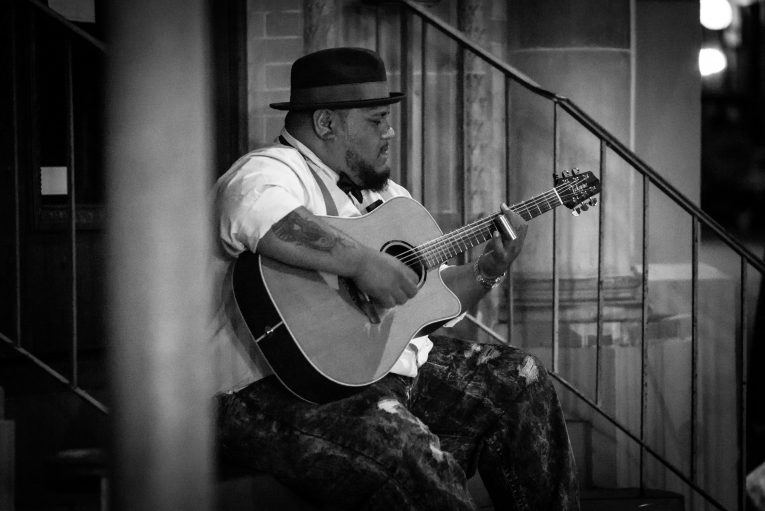 We are pleased to premiere the video "Little Lani" by John Akapo from his new CD, Paradise Blues out October 19 via Mensch Records.
We love Taumei "Big John" Akapo's soulful voice and this contemporary blues/roots tune that showcases his talent on acoustic guitar as well. There's something special about Akapo. We think you'll agree.
Hawaiian-based Akapo says, "I wrote Little Lani while I was at Kentucky State University, a Historically Black College. It was the beginning of football camp, and the rookie talent show was that night so I decided to write a song. I killed it (ha-ha-ha!). It was more about me being ironic. I was 18. I never owned a car, I never owned a house, I never had a woman named Lani and I was from a tiny island in the South Pacific so far away from the blues. But I knew I had them; I knew I had the blues."
John immersed himself into the origins of the blues and never looked back. Taking a cue from the legends like Robert Johnson, Tommy Johnson, Blind Lemon Jefferson, Son House, Willie Dixon, Muddy Waters, Howlin' Wolf, Buddy Guy, and B.B. King, he began to explore and absorb as much as he could from recordings, movies, books and magazines. Blues had become his solace.
Paradise Blues features 10 songs that mix his love of Delta Blues and his American Samoan DNA for a blend unlike any other performer in contemporary blues/roots music. Produced by Akapo, Paradise Blues include seven originals, as well as his own unique take on songs from some of his mentors, such as Robert Johnson ("Ramblin' On My Mind), Muddy Waters ("I Can't Be Satisfied") and Tommy Johnson "Big Road Blues".)
Watch the Video Premiere of John Akapo performing "Little Lani" here.
John Akapo is a presence in Hawaii with his soulful blues voice and guitar playing, enthralling residents and visitors to the Islands for decades. With the release of his debut CD,
Paradise Blues
, listeners around the globe will now experience what all the excitement is about.
Recording his own original works, John began a professional career as a luau musician, bandleader, solo entertainer, and more recently, a hip-hop producer and vocalist for 13 years. When he sits down to write music, he always ends up with a blues song. It's only fitting that he has finally decided to release his first album, Paradise Blues, as a blues artist bringing him right back home.
"I think my music is like a tree rooted in traditional blues but sprinkled with Pacific salt water," John explains. "I'm merely telling a story of where I'm from, and how I got here, set to a mellow acoustic blues soundtrack. I play the blues because it feels familiar to me. I feel a connection to the story behind the blues and I'm just trying to continue the story from another perspective. Give me a try and see if I can't make you feel good about being blue."
Akapo's eclectic style has won over fans across the globe, including the likes of comedians J. Anthony Brown and Russell Peters, who sang John's praises on his Instagram feed.
On his musical journey, John Akapo never turned his back on his Samoan heritage or his Hawaiian roots, and his experiences on the Islands have helped shape him as a person, as well as a guitarist. John embodies the spirit, beauty, sadness, and struggle of the Islands with every guitar lick.
"The blues fans that have seen me play, appreciate the fact that I'm from Hawaii, yet I make them feel like they're at home in the mainland," he summarizes. "The blues is at home here in the Islands, and it's nothing new. I think the entire blues scene could use some of this Paradise Blues."
For more information on Paradise Blues and John Akapo: