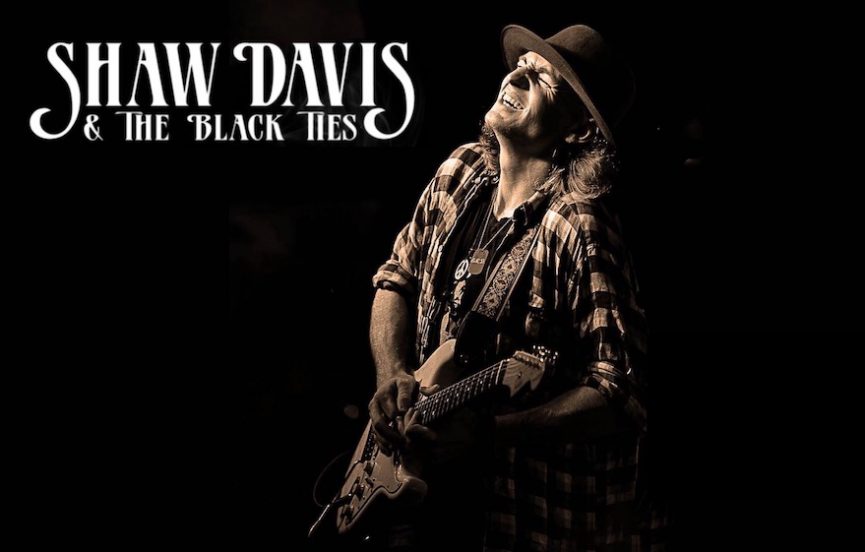 By Tom O'Connor
Powerhouse rock band, Shaw Davis & The Black Ties bring some serious bluster with their recently released second album, Tales From The West. This young and hungry power trio definitely veers hard to the rock side of the blues-rock scale, bringing not just youthful energy, but a surprisingly mature and "big picture" outlook to this collection of dynamic, multi-layered tunes.
I've gone on (and on) about the special magic of a good power trio before, and all the usual hallmarks are present here. If they've got the chops, all a band needs really, is one drummer, one bass player and one guitar, all going flat-out with no one having to share their sonic space with anyone else. It makes for an explosive and inventive mix in any genre of music. Add in some well-above-average lyrical themes, especially given the young age of this band, and there just might be something special afoot here. Shaw Davis' guitar feels equal parts precise and instinctive, which is no easy trick, while Bobby Van Stone's drums and Patrick Stevenson's bass have no trouble keeping up with, and weaving their own musical ideas around, Shaw's confident lead.
Opening with a brash and ballsy SRV-style riff, as the bass and drums join it with a little something beyond the usual ideas, the band invites you into the maelstrom with "Take My Hand." The band allows that opening blast to dissolve into a swirling groove; letting it build back up to full strength on the back of that opening theme. This is immediately followed by a riff-monstrous cover of Frank Zappa's "Willie The Pimp," which is big and ugly and would likely make even curmudgeonly ol' Frank very happy.
There are a lot of guitar hotshots, young and old, but with title track "Tales From The West" you start to get a sense of what makes this band a bit special. Made up of several sections, this tune tells you a tale and takes you on the kind of journey you would expect from a more mature writer/player. This song tells me that Shaw and the boys don't just want to make a big noise, they want to use that noise to explore some internal terrain.
Of course, all that high-falutin' stuff doesn't mean there isn't room for some scorching badassery. "Mamma Told Me" is an anthem and lament for every bad boy who knows, or at least thought he knew, better than his momma. Really impressive lead break in this one too, and still plenty of room for the tight rhythm section to keep everything rocketing down the road. The power and heart continues on "Fire Inside," a multi-layered tale about the special breed that sees life for what it is early in the game, and decides to play it all out, without abandoning that deep rocking soul. It is another impressive composition, and a step beyond what you're expecting. More SRV-vibe is found in the mid-tempo strut of "Know Where You Been," a universal tale about a woman who done him wrong and yet another showcase for some impressive guitar work.
The final third of this nine song collection ramps up the intensity in a series of very deliberate steps. "Atomic Groove" is a neck-breaking hard stomp that is the sort of late-in-the-set song that'll cripple any audience members who haven't been doing enough cardio. Next up is the slightly longer "I Gotta Try You" that sets up the kind of hard jam that would make the
Allman Brothers
proud. And finally the album closes with the epic nearly eight minute long "My Friend" which, once again, shows no shortage of interesting turns and musical ideas. For all its fury and mayhem, this is a carefully laid-out tune that the band bends into very specific shapes, for very specific reasons. It is pretty goddamned impressive musicianship, coupled with some real heart and soul.
If I was a betting man, I would say this is only the beginning for this remarkable trio. Shaw Davis & The Black Ties are all on the same page of what is already a very interesting book, which might turn out to be quite a saga.

For more information on Tales From The West by Shaw Davis & The Black Ties: