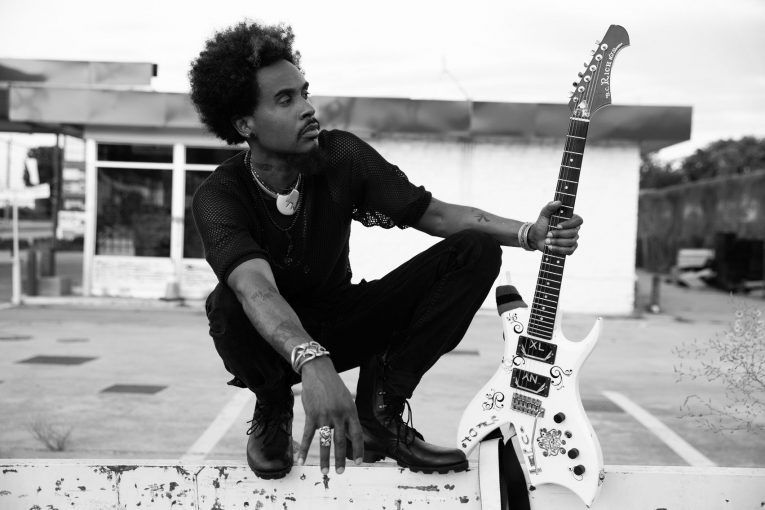 By Mike O'Cull
Stone Mecca is, without a doubt, one of the most original musicians you will encounter this year. He's a guitarist, multi-instrumentalist, songwriter, and producer who's loaded with both talent and creativity. With ten all-original tracks, Mecca's new album Alienman is a singularity, a set that blends blues, rock, funk, and hip-hop ideas in ways unheard of until now and turns all that old-school goodness into intensely modern music that, quite honestly, requires a few listening sessions to fully grasp.
Stone Mecca doesn't do anything you'd expect a player with his influences would do, preferring to continually follow his own instincts as an artist, just as the greats of the past did. Alienman is some seriously Next Level stuff that's meant for visionaries rather than purists and demonstrates how much power these foundational styles still have when used with the proper spirit.
Stone Mecca's credentials are impeccable and include work with performers like Earth Wind & Fire, George Clinton, Wu-Tang, RZA as Bobby Digital, Ice Cube, Westside Connection, and Snoop Dogg. He has also contributed to film soundtracks like Django Unchained, The Man with the Iron Fist, Friday, Blade: Trinity, Repo Men and Soul Plane. His style is informed by Prince, Jimi Hendrix, Parliament, B.B. King, and Sly Stone but the influences are more spiritual than direct.
Mecca played all the instruments himself on Alienman and also produced the album, which makes the set wonderfully fresh and idiosyncratic. As such, this isn't a blues, rock, or funk record but a Stone Mecca record, a record that shows us one possible destination for guitar-based music.
Dropping the needle anywhere on Alienman will bring you face-to-face with the Stone Mecca experience, which features gritty, funky guitar playing, booming hip-hop kick drums, soulful vocals, and bold production choices that speak to a modern audience. "If Experience Was Money" is a prime example of what Mecca does. The track builds on a low-down and dirty groove powered by the biggest kick drum this side of a classic 808, guitar, bass, and vocals working together in unison, and Stone's psychedelic lead guitar work that simmers in a zone somewhere between Hendrix and Zappa. The coolest thing, though, is the amount of space between the instruments. There are no unnecessary overdubs here and being able to feel each instrument breathe, for lack of a better term, makes the song sound huge.
The title track, "Alienman," is a driving rock track that shows some 80s DNA mixed with Mecca's multi-tracked vocals and esoteric production. It's the kind of song that makes this so much more than just another guitar player's album overloaded with pentatonic wankery. Mecca's songwriting and production skills elevate the art factor on the entire record and turn it into a set capable of breaking through to a worldwide audience.
Unlike many guitarists who remain overly devoted to the past, Stone lives in the present day and is actively helping to reshape the instrument's role and future. "Slave" is deeply funky with stony overtones, thought-provoking lyrics, and more of Mecca's South Saturn/Martian blues guitar playing. Other bright spots are "Rock N Ma Roll" and the funky-yet-abstract closing track "Eloise," which is one you'll have to hear for yourself to fully get.
Stone Mecca has made a beast of an album with Alienman. He is a creative powerhouse who, a generation ago, would have been a household name already. Mecca is an artist worth getting excited about because he delivers an authenticity birthed by the modern world. His music has the same edge as our contemporary society and feels destined to carve out its own future. In an age of plastic emotions and low expectations, Stone Mecca shines as brightly as those who inspired him and has made the record for which a lot of us have searched. Do you want to hear the future? Here it is.
For more information on Alienman by Stone Mecca: