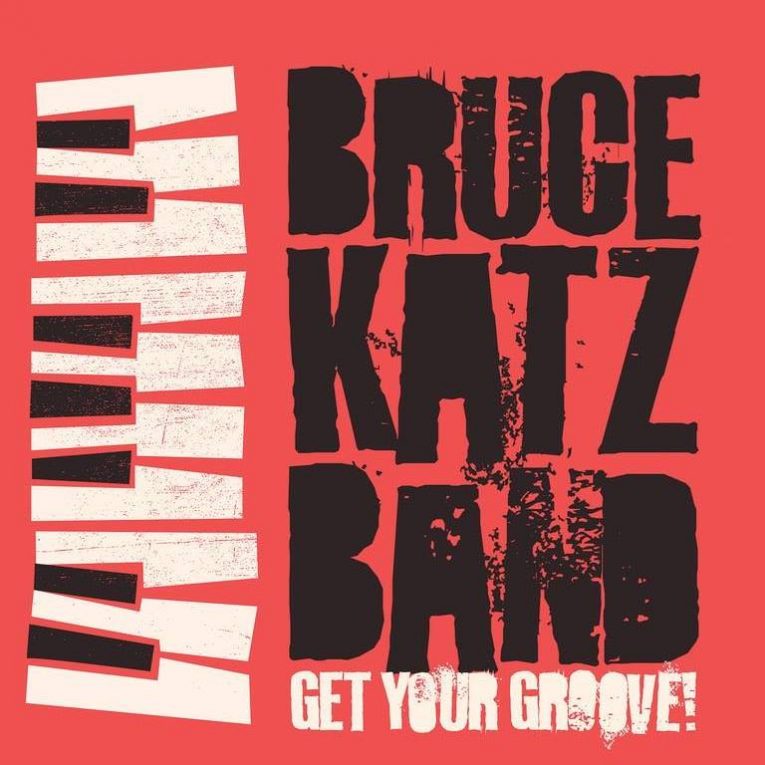 By Kevin Porter
Keyboardist extraordinaire, Bruce Katz and his band returned with Get Your Groove! on the American Showcase label earlier this year. Get Your Groove! is an 11-song showcase of Katz's formidable caliber of musicianship on piano and organ, and he moves between multiple musical styles, such as blues, barrelhouse boogie-woogie, and jazz, with astonishing ease. No surprise that Katz is a member of the Blues Hall of Fame and a four-time nominee of the W.C. Handy award for "Pinetop Perkins Piano Player of the Year."
Bruce Katz is perhaps the best keyboardist you might not have heard of but he is probably performing on many CDs and albums in your collection. He has appeared on over 60 albums and has performed with artists such as Gregg Allman, Levon Helm, Mama Thornton, Delbert McClinton, John Hammond, Duke Robillard, Jimmy Witherspoon, and Ronnie Earl and the Broadcasters, a personal favorite of mine.
Bruce Katz' versatility is unparalleled, from bluesy and soulful organ to barrelhouse piano playing, and everything in between. His band includes singer/guitarist Chris Vitarello and drummer Ray Hangen, and guests include former Allman Brothers Band drummer Jaimoe, and Matt Raymond on acoustic and electric bass.
The album starts off with the band's take on "Hesitation Blues," an old blues standard from 1916 that has been covered by many prominent artists, including W.C. Handy, Rev. Gary Davis, Jelly Roll Morton, Hot Tuna and Janis Joplin. The band does this as a standard blues swing, with Vitarello crooning the lyrics.
For me, the highlight of the album is "Freight Train," a song Katz wrote in memory of the late Butch Trucks, Jaimoe's companion drummer with The Allman Brothers Band. Jaimoe plays on the song to give the double-drum-set attack that was a feature of The Allman Brothers Band. The song starts off with a driving organ and guitar line played in unison before Vitarello rips off a guitar solo that Mr. Earl would likely approve of.
After an organ solo by Katz, the tempo of the song slows, and after several tension-building moments, the band breaks into an all-too-short segment of the Allman Brothers Band instrumental classic, "In Memory of Elizabeth Reed." Vitarello plays an excerpt of the well-known guitar line before Katz and he exchange several mini-solos while Raymond keeps the pressure building on the bass. The band then explodes back into the main dual organ-guitar melody line that started the song. One more change in tempo and melody awaits, with the band slowing and swelling into the ending, similar to the end of yet another Allman Brothers Band classic, "Jessica." I don't keep track of favorite jams of the year, but if I did, "Freight Train" would certainly be one.
Katz shows off his piano skills on "Beef Jerky," a jazz swing instrumental that would not be out of place on a Horace Silver album, if Wes Montgomery played guitar. This is actually a remake of an earlier version that Katz issued on his 2000 album, Three Feet Off the Ground. The band swings hard, and Katz and Vitarello show their jazz chops with impressive solos.
Jaimoe returns to play on "Shine Together (Tribe of Lights)," a blues shuffle with a bit of a reggae feel to it, and the first song with vocals since the first track. Hangen gets a chance to strut on this song by exchanging several short drums solos throughout the song in between solos from Katz and Vitarello. It's a light, airy song that would sound great at a jam band festival.
"River Blues" is a slow blues instrumental with a gospel sound, with Katz mixing in both organ and piano. Both Katz and Vitarello rely on a "less is more" approach with this song, with each note carrying particular weight, and Katz and Vitarello pulling and extracting emotion and meaning out of each note. For those wanting a comparison, think of some of Jeff Beck's slow instrumentals, like "Love is Green" on Wired and, of course, "Cause We Ended as Lovers" on Blow by Blow.
"Make Things Right" is a return to the hard driving blues-rock where Katz and Vitarello share the melody line. Vitarello's vocals bemoan the state of the world today but tries to figure out how he can make things right. Katz displays his barrelhouse playing piano with the title track, a New Orleans-sounding romp with a little off-kilter melody, akin to some Thelonious Monk songs.
Another highlight on the album is "Wasn't My Time," where Vitarello sings about close brushes with death, such as a near-miss drive-by shooting, but it wasn't the singer's time to leave this earth just yet. It's a slow blues jam where Katz and Vitarello again make each note count. It's another long jam, clocking in at eight minutes, but not a second is wasted. The song closes with "The Bun," another organ-driven instrumental with a slow burn reminiscent of Jimmy Smith.
Vitarello plays a useful foil and nearly steals the spotlight on some songs, displaying his versatility with swinging jazz guitar on some tracks and more bluesy playing on others. Get Your Groove traverses multiple musical genres with ease and with grace and is a joy to listen to.
For more information on Get Your Groove! and Bruce Katz Band: