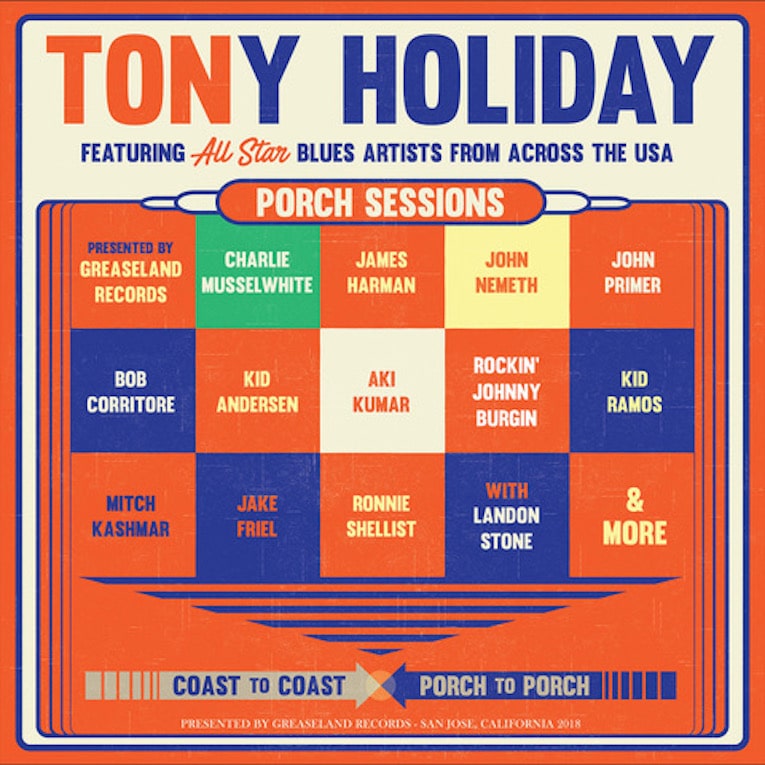 By Mike O'Cull
Tony Holiday is a vocalist and harp player who is rapidly emerging as a star on the international blues scene. He has been recognized by blues legends like Charlie Musselwhite and Rick Estrin as one of the finest up-and-comers in the game right now and is steadily building his own legend one gig at a time. Speaking of gigs, he plays up to 200 of them a year across the US and has brilliantly recorded his latest album Porch Sessions in between them on the actual porches of some of the blue's best-known musicians. Hitting the streets January 25th, 2019 on the VizzTone Label Group, Porch Sessions by Tony Holiday is reminiscent of Alan Lomax's landmark field recordings and the live recordings that have surfaced from Chicago's famed Maxwell Street era over the years. It is all about the real blues captured live as it happens.
Tony, along with his partner Landon Stone, have crisscrossed America in pursuit of this project and have ended up on some pretty significant front porches. Live sessions were tracked featuring some of the blue's biggest names, including Charlie Musselwhite, John Primer, Kid Ramos, John Nemeth, Kid Andersen, Rockin' Johnny Burgin, and more. The down-and-dirty format is a genius move, as it connects listeners directly to the live blues experience. Studio slickness is replaced by in-the-moment performances and off-the-cuff deliveries. It's like sitting in on a rehearsal or impromptu jam where the musicians are playing for the simple joy of doing so.
Highlights abound on Porch Sessions by Tony Holiday and hardcore blues fans will love every inch of this record. The opening cut features guitarist Kid Ramos and singer/harpist James Harman getting down on a number called "Pickpocket Fingers," a Jimmy Reed-ish shuffle about a girl with a "Buster Keaton smile" that's immediately engaging and sets the tone for what's to follow. Ramos' rhythm playing is absolutely popping and will make you want to move, even in this intimate context. Chicago guitarist and Muddy Water's bandleader John Primer checks in with "They Call Me John Primer" and brings the classic interwoven Windy City sound with him. Bob Corritore adds harp in all the right places and Primer sounds as full of life as he ever has.
One of the best cuts on Porch Sessions is the humid and sultry "A Woman Named Trouble," which showcases Jake Friel on vocals and John Nemeth on harmonica. Built on a subtle-yet-simmering funk groove, the track creates that smoky 3AM headspace that made many of us fall in love with the truth of the blues. When Friel tells us his woman "can make a baby out of a full-grown man," we are left with no choice but to believe.
Charlie Musselwhite and Aki Kumar guest on the venerable standard "That's Alright" with Kumar handling vocals. The two harps fill the track with lonesome, moaning licks that will keep listeners in a trance and put the full emotional power of the instrument on display. Tony Holiday and guitarist Rockin' Johnny Burgin team up on the low-key bounce of "Coin Operated Woman" to great effect, keeping everything right in the pocket, and the set closes with "This Time I'm Gone For Good," a slow, heavy minor blues spotlighting William G. Kidd on vocals and Ronnie Shellist on harmonica that's pure midnight heartbreak.
Porch Sessions is nothing but fun from beginning to end and it's immensely refreshing to bask in its casual glory. This is the raw, homespun blues, the kind of music that made possible all that came after it, and Tony Holiday deserves praise for recording these folks playing it in the most human setting there is.
Highly recommended.