By Martine Ehrenclou
Ana Popovic, multi-award winning blues and rock guitar slinger, singer-songwriter, is currently touring the US and Europe, in support of her latest and ninth album, Like It On Top. The album was produced by four-time Grammy winner, Keb' Mo' and is blues-based, rock, R&B, with a touch of pop. Her album features guest appearances by Kenny Wayne Shepherd, Robben Ford and Keb' Mo' and celebrates strong women who overcome obstacles to reach the top.
A highly respected guitarist, Ana Popovic is the only female musician to join the Experience Hendrix Tour, which tells you a lot about Ana's prowess as a guitar player. She blends smoking electric blues, funk, slide guitar, jazzy instrumentals and a tight blues groove with soulful vocals.
Most of Ana's albums made it to the top 5 of the Billboard Blues Charts. Billy Gibbons of ZZ Top said, "Ana rocks the blues in a fine, fine fashion."
Ana Popovic and her band tour tirelessly, playing major blues, jazz and rock festivals around the world. She took time out of her busy schedule to speak with us.
Martine Ehrenclou: I really like your latest album, Like It On Top. Please tell me about the album and your vision for it. It's blues influenced but also rock, funk and plenty of groove.
Ana Popovic: It's different than all my previous records. This is a cleaner, modern, funky, bluesy and groovy sound.
ME: How did you end up working with Keb' Mo' on Like it On Top?
AP: We talked about working a few times in the past, and finally after the last Joe Bonamassa cruise, we set the date and cleared our busy agendas. We wrote all the songs in my home in Los Angeles and recorded them at his home studio in Nashville.
ME: You do an acoustic duet, "Matter of Time" with Keb' Mo' where you play slide guitar. How did this song come about?
AP: This song is based on a heavy subject of domestic violence, and the courage and strength these women need to succeed in escaping such situations. Especially when children are involved. She feels trapped in her own life and her own skin and trying to break through.
ME: Please tell me about your theme for the album of female empowerment. You celebrate women in a position of power and strength.
AP: I was always impressed with women leading huge corporations with hundreds and thousands of employees under their wings. What kind of pressure they must feel when trying to juggle business and family. I know a bit about that myself since I'm the one doing what used to be considered a 'male job' and still is largely dominated by men. I travel, play 120 shows a year and try to juggle my family. So, this was a basic inspiration for the album.
ME: I can understand why. You've always stood out as an outstanding guitarist and singer in a genre dominated by male guitarists. Please describe how you carved your path as a powerful, female guitar slinger with triumphs and challenges.
AP: Starting back in 2000, I was not only a female guitar player in a world basically reserved for men but was also a European artist in the US and a Serbian artist as the first ever, trying to break into the blues guitar market in the USA. It required focus and determination, strong will and a vision of how my music would sound to set myself apart from the rest of the artists and carve my own recognizable sound.
ME: You've certainly been successful at it. I saw you play live at Experience Hendrix a couple of years ago in Los Angeles. You blew me away as well as the rest of the audience. You were the only female musician on that stage. Tell me what that is like.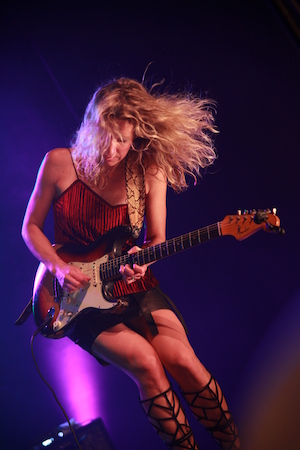 AP: It is the right tour for me, I feel totally at home playing such varied audiences – from heavy metal, fusion, rock, blues, jazz fans, and of course Jimi Hendrix fans, all in the audience each night. There are certain expectations when I hit the stage since I have represented female guitar players for the last five consecutive years on that tour. But I've loved the challenge and I know that there's a huge line of guitar players waiting to get a chance to play that gig – one of the biggest guitar shows past or present.
ME: The title track for Like It On Top features Robben Ford. How did that collaboration come about?
AP: I'm a fan of Robben's playing and met him a few times on the road and this time he was recording not far from our studio. Keb' Mo' and I went for a visit and he was kind enough to steal some time from his busy recording schedule and play on two tracks on my record.
ME: You're known for your jazz playing as well as blues. Tell me about your mix of styles. I hear R&B, funky grooves and some pop in your newest album too. How did you get into the blues and jazz and other genres? Where did the funk come from?
AP: I always listened to good music no matter the genre. All my music is based and rooted heavily in blues. But I love records like Albert King 'New Orleans Heat'–that was very funky. Loved the band WAR and that's where the old school funk comes into the picture. But also on the jazzy side Joe Pass, Django Reinhard, George Benson etc.. I always look for that blues note in music.
ME: What music are you currently listening to? What's on your playlist?
AP: Everything from John Mayer to D'Angelo and Albert King to John Schofield. Love old school blues and love modern music.
ME: Please tell me about your guitars. Do you have a number one strat? Or do you have others that you love as well?
AP: My main guitar is a '64 all original strat. I have a reissue '57 that I got from my parents when I graduated high school. That guitar is still on stage with me every night. I have a few Custom Shops, a Hamilton custom made for me, some acoustics like a Martin, a 12 string Ovation, etc.
Some exciting news is that I'm in the process of making my own model at the Fender Factory with John Cruz, a master builder for many legendary guitars.
ME: Congratulations. I look forward to hearing you play that guitar. What's next for you? You are continuing your tour–tell me about that and anything else you're working on.
AP: We'll be going back to the US for an east coast/mid-west run and then the UK is on our list. After the summer festivals and in between all that, we're planning a live CD and are working on some new songs too.
ME: That sounds exciting. I look forward to catching your show when you come to the US.
AP: Thank you.
ME: Thank you for your time.
Ana Popovic is currently on tour. For tour schedule see here.
For UK tour May 2019 see here.
For more information on Ana Popovic: