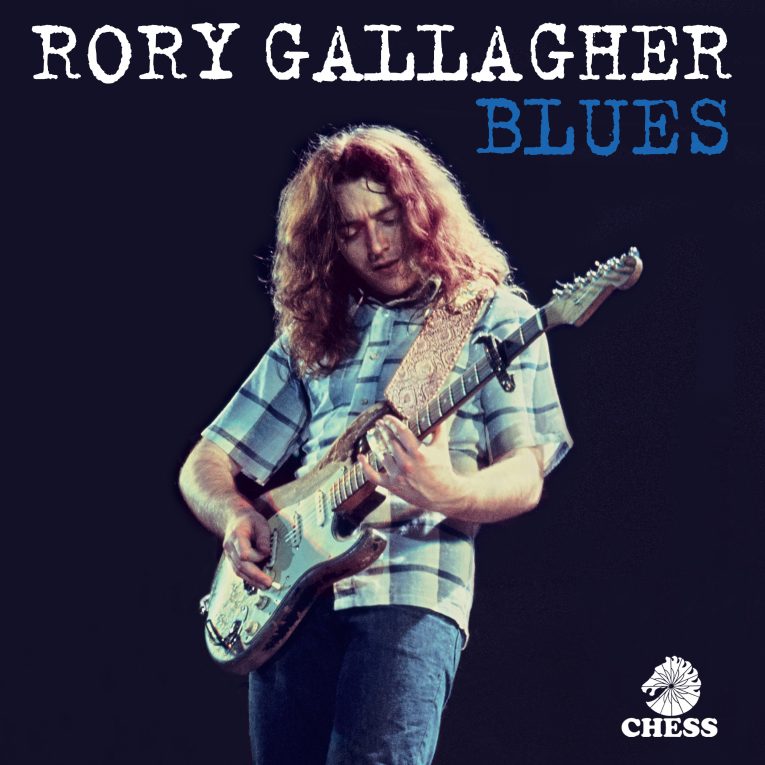 By Mike O'Cull
Legendary Irish guitar slinger Rory Gallagher still casts a long shadow over blues/rock community even though he left this mortal coil far too soon in 1995. Gallagher fans will be happy to know that a new release of previously unknown material called Blues will hit the streets May 31st, 2019 on the Chess/UMC label. The Gallagher estate broke open its vault and compiled a three-CD set of mostly unreleased recordings of Rory Gallagher playing his favorite blues material in studio, live, and acoustic settings.
The set goes for broke in the best-possible way and reminds us all what a powerful, multifaceted artist Gallagher was and just how much was lost with his passing. There's a reason why there's a statue of him in his hometown of Ballyshannon, Ireland.
Gallagher was an uncommonly-gifted guitarist who shined in all situations and carried a powerful tone and style in his back pocket. Blues separates its tracks into discs of studio sessions, live recordings, and acoustic blues but Gallagher's nimble-yet-muscular phrasing and deep-in-the-pocket rhythm work are the threads that run through everything presented here. The songs on Blues range from studio outtakes to lost radio appearances to guest spots with giants like Muddy Waters, Albert King, Jack Bruce, Lonnie Donegan and Chris Barber. No matter the context, however, Rory puts the blues down hard and lights up the sky.
The studio disc kicks off with a version of Sonny Boy Williamson's eternal "Don't Start Me Talking" taken from the Jinx album sessions in 1982 that absolutely smokes. Gallagher's rhythm playing locks the band down and his slide licks drive the other players into overload, culminating in Rory's raw, bestial wail of noise and feedback during the stop-time solo breaks. It's the kind of playing that leads to artistic immortality and Gallagher deals it out so naturally that you'll think it's easy.
A version of the Freddie King classic "Tore Down" that was part of the Blueprint album sessions of 1973 gets the Irish treatment, reworked from King's slickness into a romp that's loose, jammy, and fun. One of this disc's best moments is Gallagher guesting with Muddy Waters on Waters' hit, "I'm Ready" from the "London Sessions" album done in 1971. It embodies everything that's great about electric blues and the sound of these two masters together is not to be missed.
The acoustic disc opens with "Who's That Coming," an outtake of a Gallagher original recorded during the Tattoo album sessions in 1973 and shows how intuitively cool Rory was even with no one else behind him. His rhythm playing is, again, rock solid and his slide phrasing is fresh and inventive. This is as close as any of us will ever get to sitting in a room with Gallagher and absorbing his energy directly through the air. His vocals and guitar work just drip with soul.
A blast through Muddy's "Blow Wind Blow" from a radio appearance on WNCR in Cleveland from 1972 is equally strong and gives us more of Rory's virtuoso rhythm playing and emotive singing. The driving "Whole Lot Of People" features some intricate picking and pushes past traditional blues structures. Recording for the Deuce album sessions 1971, Gallagher is at his best here, vital and fully energized. Other acoustic imperatives include the resonator-toned "Loanshark Blues" and the tightly-fingerpicked "Pistol Slapper Blues."
The live disc presents Gallagher at his most boisterous and bold. His swift and intense pass through Junior Wells' trademark track, "Messin' With The Kid" definitely crosses the line into rock and roll and both Gallagher and the band turn the heat way up in this performance captured at the Sheffield City Hall concert in 1977. Rory gets some help from bassist Jack Bruce on an exploratory version of Albert King's "Born Under A Bad Sign" done on Germany's famous Rockpalast TV show in 1991 that lets everyone involved stretch out some. Bruce adds his own thing wherever he goes and makes this often-covered tune far from typical. Speaking of Albert King, "You Upset Me" is a previously unreleased, cooking shuffle from King's Live 1975 record that features a nice dose of Gallagher's soloing ability done while standing next to the mighty Mr. King. The huge contrast between each icon's guitar style adds much flavor to the track and they both work to keep the energy going.
Overall,
Blues 
is 36 tracks of magic that will entertain and enlighten anyone with a passion for Rory Gallagher's music. Gallagher's style and sound has the immediate identity that the true greats all display and he speaks the language of the blues with an authenticity that can only be gained the hard way. Some of rock's most seminal figures, from Jimi Hendrix to
Eric Clapton
and Brian May, have cited him as an influence.
Had he lived, Rory would be revered by current players in the way that Jimmie Vaughan, Robben Ford, and Buddy Guy are. This set should do a lot to reignite his flame in the public eye and turn on fans old and new to just what Gallagher and his beat-to-death black Strat could do. If you only buy one multi-album set this year, make it this one.
You won't find better.
Rory Gallagher Online: