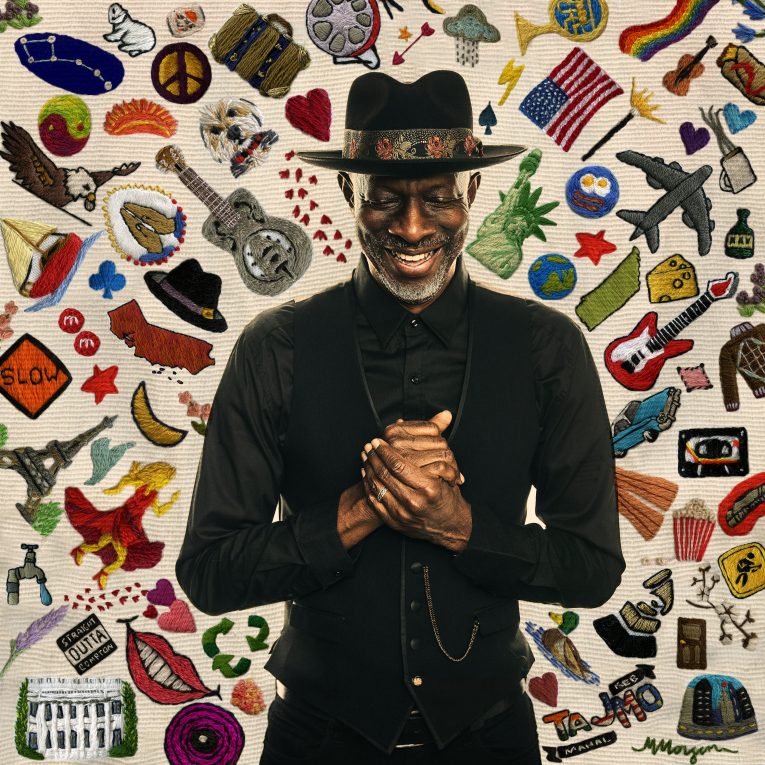 By Tom O'Connor
On June 14th, four-time Grammy winning singer-songwriter, guitarist Keb' Mo' will release his lucky 13th studio album Oklahoma through Concord Records, co-produced by Keb' Mo' and music veteran, Colin Linden. The blues/Americana legend has earned a reputation for his ability to draw upon his roots-music expertise to create deeply expressive, highly personal music. Oklahoma digs deeper as Keb' tackles a number of up-to-the-minute issues such as pollution, immigration, feminist strength, mental health and, of course, love–all wrapped up in his usual intimate, engaging and confident style.
"When you are in a certain part of your life, the concept of an album is woven into the process," Keb' Mo' says. "All of these songs stemmed from important issues and topics worldwide that really resonated with me during the time we were recording the project."
A unique talent, Keb' Mo' exists in a self-created musical sweet spot that includes his talent for combining elements of traditional blues and country styles with a contemporary feel. Widely admired and respected, he has no trouble finding highly talented guests/friends eager to sit in on this record, including Robert Randolph, the legendary Taj Mahal, Latin singing sensation Jaci Valasquez, and his own wife Robbie Brooks Moore, who contributes some incredibly lovely vocals. Everyone seems to have the same mission here: create the kind of music that is going to welcome people in for a closer listen. Every song, every riff, is a seduction and an invitation to put your ear a little closer to the speaker. And you will.
Oklahoma opens with Keb' Mo's take on a timeless subject: the memory of that particular woman, that particular night in that particular bar. The groove on "I Remember You" is tight, simple and frills-free as Keb' lays out the story of a dude left in the wake of a femme fatale in a red dress.
Keb' then pulls the rug out from under you with the title track "Oklahoma," a remarkable and remarkably assembled song that pops along on an upbeat groove while it shines an unflinching light on the complicated history of the state, and the country. The haunting and beautiful guest lap steel break by Robert Randolph is the perfect emotional counter-point to a tune that should make every Oklahoman proud.
A run of impressive guest performances powers up next, starting with Rosanne Cash putting her unique vocal stamp on the timely feminist anthem, "Put a Woman In Charge." Keb' then again switches gears completely on "This Is My Home." Stripping things down to pretty much just his finger-picking guitar style, Keb' tells the universal immigrant's story in his open-hearted way, aided only by some impressive backing vocals by guest Jaci Velasquez. The heavy-hitter guest list expands to include Taj Mahal playing bass and adding his vocal hoodoo on "Don't Throw It Away," a fun and loose-elbowed, Big Easy-flavored call to action on recycling and, you know, not killing the planet.
The gears shift again on the quietly brilliant "The Way I" as Keb' tackles the heavy subject of depression in a way that feels so personal and heartfelt, it stopped me in my tracks the first time I heard it. The opening rat-a-tat-tat of the snare on "Ridin' On A Train" is downright startling after the reserved intensity of the previous song, but it sets up the closest thing to a straight-forward rocker on this album. The thump/wap of the railroad rhythm also sets up a showcase moment for Keb' Mo's distinctive pick/slide guitar work. Things get outright funny on "I Should've," a story about a lifetime of romantic mistakes that also gives Keb' a chance to flex his harmonica skills in a showcase moment.
After nine such open-hearted and tightly delivered songs, it is pretty astonishing to get to the closing track "Beautiful Music" and discover there are more layers to peel away. Crooning such an unapologetic ode to love, in a duet with your own wife (Robbie Brooks Moore) no less, is just about the most soul-exposing thing any artist could attempt. What you all thought was happening between Bradley Cooper and Lady Gaga during that song they did at the Oscars? …you can hear it actually happening on this tune. That kind of unvarnished honesty and generosity of spirit might really be the core theme of this album. Keb' Mo' is the kind of artist who never leaves you guessing. He always tells you exactly who he is and where he's at. You'll want to be there with him.
For more information on Oklahoma by Keb' Mo':