Samantha Fish released her new video "Bullet Proof" from her upcoming album, Kill Or Be Kind out September 20th via Rounder Records and produced by Grammy winner Scott Billington.
Samantha Fish has consistently pushed boundaries and "Bullet Proof" sees Samantha Fish exploring more edgy roots-rock. It's an outstanding song from her upcoming release that will surely be a major breakthrough for this multi-talented artist. And how can you not love watching Fish playing slide on one her cigar box guitars?
Known for her incendiary live performances, Samantha Fish has been mesmerizing audiences across the globe. This Kansas City-born musician draws from tradition but pushes genre boundaries–from blues and soul to roots rock. Kill Or be Kind is sure to establish Fish as a rockin' force in roots music.
Watch "Bullet Proof" below.
Her sixth solo album and her debut on Rounder Records,
Kill Or Be Kind
features an extraordinary level of song craft on its 11 tracks.
Anyone who has heard Samantha Fish' previous albums, knows she has earned a place in the top rank of contemporary blues guitarists and that her voice ranges from soulful to rock and roll belter. The songs on Kill Or Be Kind tell captivating stories, are full of emotion and catchy hooks that stay with you long after the song is over.
"I think I've grown as a performer and as a player," Fish explains. "I've become more respectful of the melody. You can go up and down the fret board and up and down your vocal register, but that's not going to be as powerful as conveying a simple melody that people can really connect to and sing themselves."
To assist with bringing those elements to her music, Samantha Fish brought in high-quality songwriting collaborators, such as Jim McCormick (worked with Fish before and also Luke Bryan and Keith Urban) Kate Pearlman (Kelly Clarkson) Patrick Sweeney, Parker Millsap and Eric McFadden. The result is that each song is distinct but held together with Fish's entirely unique style.
Pre-order the album here. When you pre-order you receive "Bullet Proof" as a free MP3 download.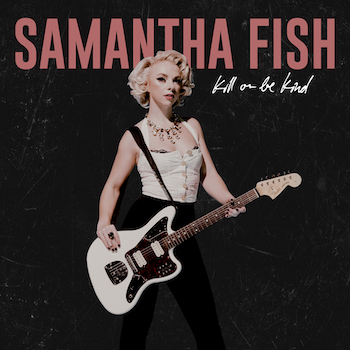 Kill Or Be Kind Track Listing
Bulletproof (05:19)
Kill or Be Kind (03:45)
Love Letters (03:38)
Watch it Die (05:00)
Try Not to Fall in Love with You (04:04)
Fair-Weather (04:12)
Love Your Lies (02:47)
Dream Girl (04:14)
She Don't Live Around Here (05:45)
Dirty (03:27)
You Got It Bad (03:21)
Samantha Fish Online