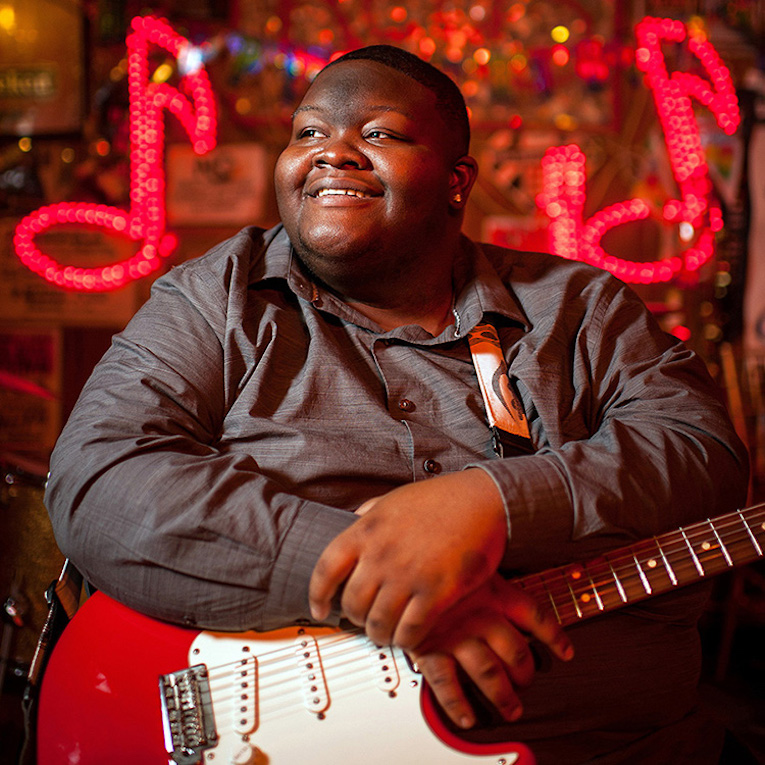 CHRISTONE "KINGFISH" INGRAM ANNOUNCES FIRST HEADLINING TOUR:

"FISH GREASE: A JUKE JOINT TOUR"
Is Christone "Kingfish" Ingram the future of the blues? The blues savior is one of the most exciting young guitarists in years, with a sound that encompasses B.B. King, Jimi Hendrix and Prince.
—Rolling Stone
Kingfish is the next explosion of the blues.
—Buddy Guy
The blues phenom plays guitar like he's on fire.
—Guitar Player
Young blues sensation Christone "Kingfish" Ingram announced plans for his first-ever headlining tour this fall and winter. "Fish Grease: A Juke Joint Tour" will start in early August 2019 and run through the end of November with North American performances stretching from New York to San Francisco and from Texas to Canada. His debut CD, Kingfish, was released on Alligator Records on May 17, 2019.
With the first dates of the tour fast approaching, Christine Kingfish Ingram can't wait to get started. "I'm excited to continue to hit the road this year performing songs from my debut album. I've been fortunate to play live dates since I was young, but the opportunity to headline my first tour in some fantastic venues across the country is a dream come true."
From mid-August through early September, Kingfish will open a series of 13 shows for Grammy Award-winning indie rock sensations, Vampire Weekend.
Additionally, World Cafe, the NPR program heard on more than 200 stations nationwide, will feature Kingfish with an in-depth interview and recent live performance recordings. The show will begin airing on July 25, 2019. After broadcast, the segment will be archived for on-demand streaming at WorldCafe.NPR.org.
Since the release of Kingfish, Ingram has been featured in newspapers, magazines, and on radio and television. The album debuted at #1 on the Billboard "Blues" and "Heatseekers" charts and continues to receive regular airplay on radio stations across the country. Fans are lining up after each performance to meet him, and critics are equally ecstatic.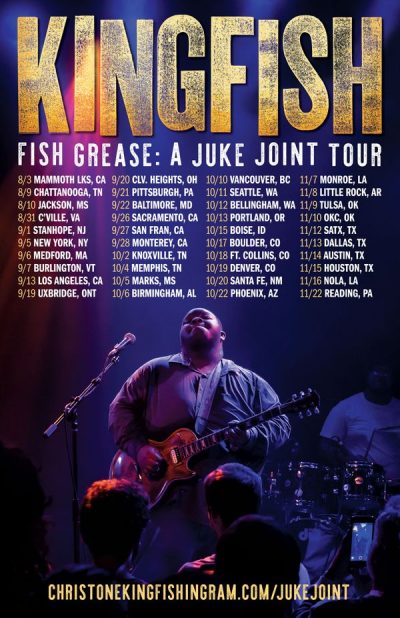 "Astounding playing." — NPR Music
"A blues prodigy." — Billboard
"Swimming with the big fish." — Guitar Player
"A stunning debut." — No Depression
"Infinite promise." — DownBeat
"A rare talent. Incendiary performances. The most promising blues debut of 2019." — Blues Music Magazine
"Impossible to ignore. Tell everybody—the Kingfish is here." — Living Blues
Sprung from the same earth as so many of the Delta blues masters, Kingfish, now just 20 years old, comes bursting out of Clarksdale, Mississippi, just ten miles from the legendary crossroads of Highways 61 and 49. Born to a musical family, Ingram fell in love with music as a small child, first playing drums and then bass. At age 11, he got his first guitar and quickly mastered it, soaking up music from Robert Johnson to Lightnin' Hopkins, from B.B. King to Muddy Waters, from Jimi Hendrix to Prince, but all the while he kept developing his own sound and style.
He played his first gig at age of 11 at Clarksdale's famous Ground Zero Club. He performed at the White House for Michelle Obama in 2014 as part of a delegation of student musicians from the Delta Blues Museum. By age 16 he was turning heads and winning awards, including the 2015 Rising Star Award, presented by The Rhythm & Blues Foundation. With the release of Kingfish, Ingram hit the road, performing a series of dates with Buddy Guy and appearing at festivals and clubs around the country. He is now set to headline his own months-long tour.
With his eye-popping guitar playing and his reach-out-and-grab-you-by-the-collar vocals, Kingfish delivers each song with unmatched passion and precision. Steeped in the rich, vivid history of the blues, he's driven by his burning desire to create contemporary blues music that speaks to his generation and beyond. Kingfish is inspired by the music of Robert Johnson, but dreams of one day collaborating with Kendrick Lamar and soul-funk bassist Thundercat. "My core is blues," he says, "but it's important for me to create a sound and style that is uniquely my own. I have a lot to say, so please stay tuned."
FISH GREASE: A JUKE JOINT TOUR
Aug 03 – Mammoth Lakes, CA, Mammoth Festival of Beers and Bluesapalooza
Aug 09- Chattanooga, TN, Songbirds South Stage
Aug 10- Jackson, MS, Bright Lights Belhaven Nights
Aug 31- Charlottesville, VA, The Southern
Sept 01 – Stanhope, NJ, The Stanhope House
Sept 05 – New York, NY, The Cutting Room
Sept 06 – Medford, MA, The Porch
Sept 07 – Burlington, VT, Nectar's
Sept 13 – Los Angeles, CA, El Rey Theatre
Sept 19 – Uxbridge, Ontario, Canada, Uxbridge Music Hall
Sept 20 – Cleveland Heights, OH, Grog Shop
Sept 21 – Pittsburgh, PA, Pittsburgh Blues Festival
Sept 22 – Baltimore, MD, The 8×10
Sept 26 – Sacramento, CA, The Sofia
Sept 27 – San Francisco, CA, Great American Music Hall
Sept 28 – Monterey, CA, Monterey Jazz Festival
Oct 02 – Knoxville, TN, Jackson Terminal
Oct 04 – Memphis, TN, Growlers
Oct 05 – Marks, MS, Mules & Blues Fest
Oct 06 – Birmingham, AL, Vulcan Park
Oct 10 – Vancouver, BC, Canada, Fox Cabaret
Oct 11 – Seattle, WA, Barboza
Oct 12 – Bellingham, WA, Wild Buffalo
Oct 13 – Portland, OR, Star Theater
Oct 15 – Boise, ID, Neurolux
Oct 17 – Boulder, CO, eTown Hall
Oct 18 – Fort Collins, CO, The Armory
Oct 19 – Denver, CO, Marquis Theater
Oct 20 – Santa Fe, NM, Tumbleroot Brewery and Distillery
Oct 22 – Phoenix, AZ , The Rhythm Room
Oct 26 – San Diego, CA, Legendary Rhythm & Blues Cruise #33
Oct 27 – San Diego, CA, Legendary Rhythm & Blues Cruise #33
Oct 28 – San Diego, CA, Legendary Rhythm & Blues Cruise #33
Oct 29 – San Diego, CA, Legendary Rhythm & Blues Cruise #33
Oct 30 – San Diego, CA, Legendary Rhythm & Blues Cruise #33
Oct 31 – San Diego, CA, Legendary Rhythm & Blues Cruise #33
Nov 01 – San Diego, CA, Legendary Rhythm & Blues Cruise #33
Nov 02 – San Diego, CA, Legendary Rhythm & Blues Cruise #33
Nov 07 – Monroe, LA, Hub Monroe
Nov 08 – Little Rock, AR, Stickyz Rock 'N' Roll Chicken Shack
Nov 09 – Tulsa, OK, The Vanguard
Nov 10 – Oklahoma City, OK, 89th Street Collective
Nov 12 – San Antonio, TX, Sam's Burger Joint
Nov 13 – Dallas, TX, Gas Monkey Bar N' Grill
Nov 14 – Austin, TX, Austin City Limits Live at the Moody Theater
Nov 15 – Houston, TX, Continental Club
Nov 16 – New Orleans, LA, The Parish at House of Blues
Nov 22 – Reading, PA, Reading Blues Fest
For more tour dates see Christone Kingish Ingram website.