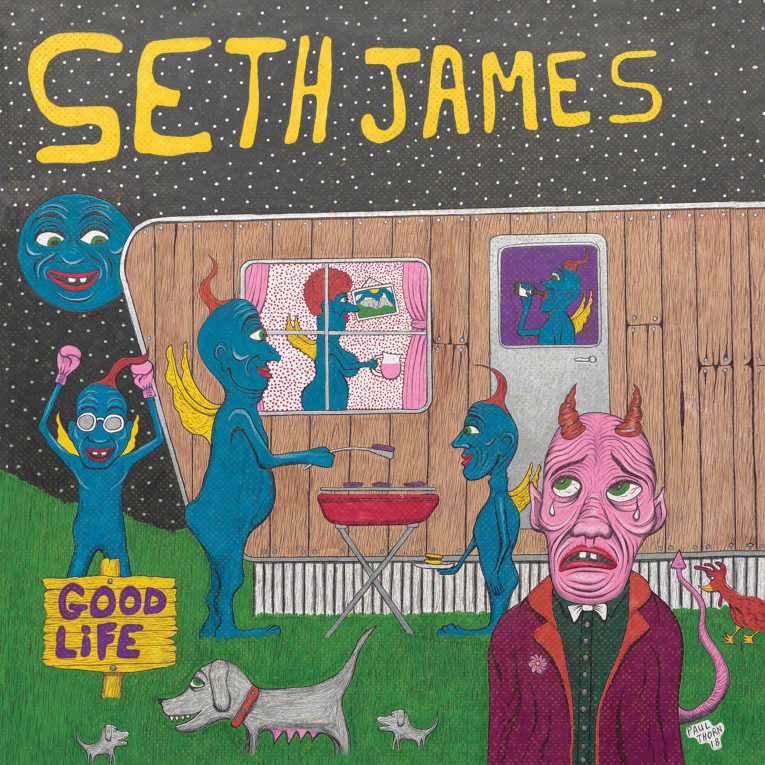 By Martine Ehrenclou
Texas-based guitarist, singer-songwriter, Seth James releases his fourth album, Good Life on August 23rd, 2019 via Cherry Bomb Records, with nine originals and three covers, and produced by Kevin McKendree.
Good Life is a feel-good album that blends blues, country, roots, rock and the best kind of funky rhythms. A superb guitar player with a soulful, smoky voice, James (vocals, guitar) is supported by an outstanding all-star band; Bob Britt (rhythm and slide guitar,) Lynn Williams (drums, ) Kevin McKendree (keys,) Steve Mackey (bass,) Wendy Moten (backing vocals,) Jim Hoke (horns) and Yates McKendree on lead guitar for one tune.
Don't let the upbeat feel fool you. The album has plenty of grit and soul wound into the lyrics. James drops some meaningful wisdom into truly poetic songwriting.
James explains his goal with this release. "It was important to me that this album had an overall positive feel. I always found it easy to be dark and brooding but using happiness is a trick."
Kicking off the record is "Brother," a swampy blues tune with expertly played New Orleans-style piano riffs (McKendree) and slide guitar (Bob Britt) that just light up this tune, complimenting James' smooth vocals and spirited guitar work. Grounded by a full horn section and backing singers, this song is a lively and fun opener.
Digging deeper into the rhythm, "That's How You Do it" written by James and McKendree, is all about hard work and getting it done. An up-tempo blues-roots tune, it's a catchy and danceable track with a lighthearted approach to persistence and seeing things through. The highlights are James' vocal phrasing and his guitar solo. In a nutshell? I've heard this song many times since we premiered it and I still love it.
Title track "Good Life," written by James, McKendree and Bob Britt, slows things down a bit at first but stays true to two themes of this record—great rhythm and authenticity. The song and the album itself are so upbeat musically that initially I thought the lyrics were in the same vein until I listened more closely to catch the stories behind the songwriter. The lyrics of this tune take an unflinching look at the truth of the past and the necessary decision to simply do the personal work and make better choices. Accountability and integrity are wrapped in catchy lyrical phrases and funky grooves that lift your mood. Maybe what they say about sugar making the medicine go down easy is true.
You can hear shades of Delbert McClinton and Little Feat on a couple of tunes on
Good Life
, something I welcomed as Seth James has created a sound all his own.
On an album of catchy tracks, "Ain't Whatcha Eat But The Way How You Chew It" (Delbert McClinton cover) is no different. It's an inventive interpretation of the McClinton song, featuring some meaningful one-liners about life, accompanied by syncopated rhythms, superb guitar licks and piano mastery. James and the band are having some kind of fun. Certainly infectious.
James' expressive voice couldn't be showcased any better on the contemporary blues track, "From Way Behind." What a song. He sings about a past life of drinking and tempting fate. It's an honest apology but more of a love song that might just make you weak in the knees. The guitar solo is downright beautiful, with space between the notes, not unlike some of the blues masters.
Good Life skims the blues-R&B genre with a couple of tunes before it returns to a swampy blues-rock tune, "Medicine Man." I sure hear a Little Feat vibe with James' own personal spin. There's realness in this song and others on the album, poetry too, and James digs deep without appearing to.
Working his magic on the closing solo acoustic number "I Am The Storm," Seth James reminds us that the blues is deeply rooted. The result is a moving and soulful tune.
Good Life is a gem.
For more information about Good Life by Seth James: