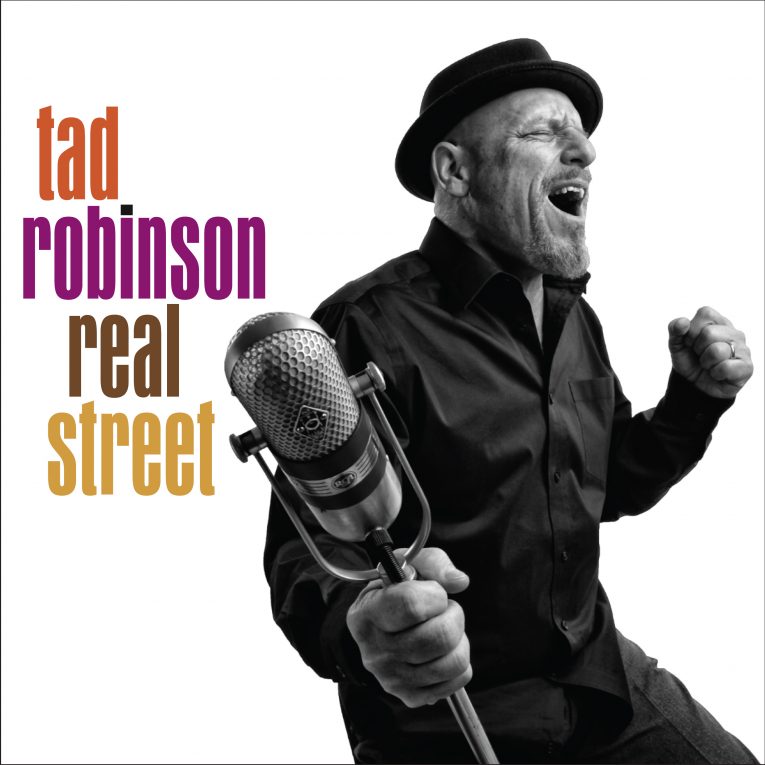 By Annie Dinerman
In the 1980s, soul blues singer-songwriter, harmonica player Tad Robinson moved from a small Indiana town to the big city of Chicago, Illinois. In three months, he was playing seven shows a week at various clubs, where his fluid harmonica and soulful baritone voice fit right into the band-based blues scene. It's no wonder he sounds so much at home on Real Street, his fifth release on Severn Records, out September 13th, 2019. The eight-time Blues Music Award nominee Tad Robinson produced his album in Memphis, Tennessee, and is backed by the legendary Hi Rhythm Section, a foundation of the Southern soul sound.
"The Hi-Rhythm Section guys – Howard Grimes, Charles Hodges and Leroy Hodges – brought such wisdom, grace and solidarity to my session," Tad Robinson says. "I couldn't have asked for a better vibe in terms of how we all approached playing together. I'm forever grateful."
On Real Street, Robinson sings a soulful set of ten tracks with grit and emotional charge. It's no wonder he's considered one of the best modern soul blues singers of this generation.
The album kicks off with "Changes," a song about the singular power of love to create healing change and the cost you pay "when nothing is delivered but you still get the bill." He delivers authentic emotion, often in an intimate, conversational tone. The Hi Rhythm section locks it down with this up-tempo winner.
"Love In The Neighborhood" sparkles with a soulful gospel feel with plenty of groove and warm vocal harmonies. Robinson's voice is smooth modern soul. "I used to be home by suppertime. Now, our love is a memory," recalling a loving home that was "lost in a minute for something that you thought was good." The Hi Rhythm Section powers up this tune and Joe Restivo's spiky guitar expresses the struggles of love lost. When Robinson's harmonica wails in agreement, the ending is so good you'll press play on this tune more than once.
"You Got It" was a hit in 1989 for Roy Orbison who wrote it with Tom Petty and Jeff Lynne. Here, it's refreshed with a gentle groove set by Howard Grimes' drumming and Charles Hodges' mellow Hammond. Robinson recognizes it as a touching ballad about the generous impulses that spring from feeling truly loved.
"My Dream" carries all the joy of walking up the aisle after a wedding. The arrangement supports Robinson's voice and harmonica like a sweet caress, making a short, upbeat song memorable and danceable.
On the CD's title track, "Real Street," an upbeat, rhythmic tune, Robinson spins his vocal magic with the horn section paving the way. On harmonica, he nails a soulful solo leading into Joe Restivo's sparkling guitar riff. Robinson and the band are in top form here. Robinson sings, "I'm gonna carry on dealing with what I'm dealing with. I gotta keep my feet moving on down Real Street." He finds the groove and tells the tale with a confidence that comes from years of experience.
He opens "Long Way" with a high vocal wail then settles in, anchored by the tight horn section, guitar and Hammond. A tune with funky rhythm, "Long Way" tells the story of a lonely man who's in no rush to get home to an empty house. Leroy Hodges' bass drives some shoulder-shaking and toe-tapping. Listen closely to this cut and you'll hear a band that's tight and together in the rhythm. The Hi Rhythm Section didn't get its celebrated status for nothing.
The CD Release party shows for Real Street will be held at The Jazz Kitchen in Indianapolis starting October 14th through October 18th, followed by Tad Robinson's European tour.
For more information on Real Street by Tad Robinson: