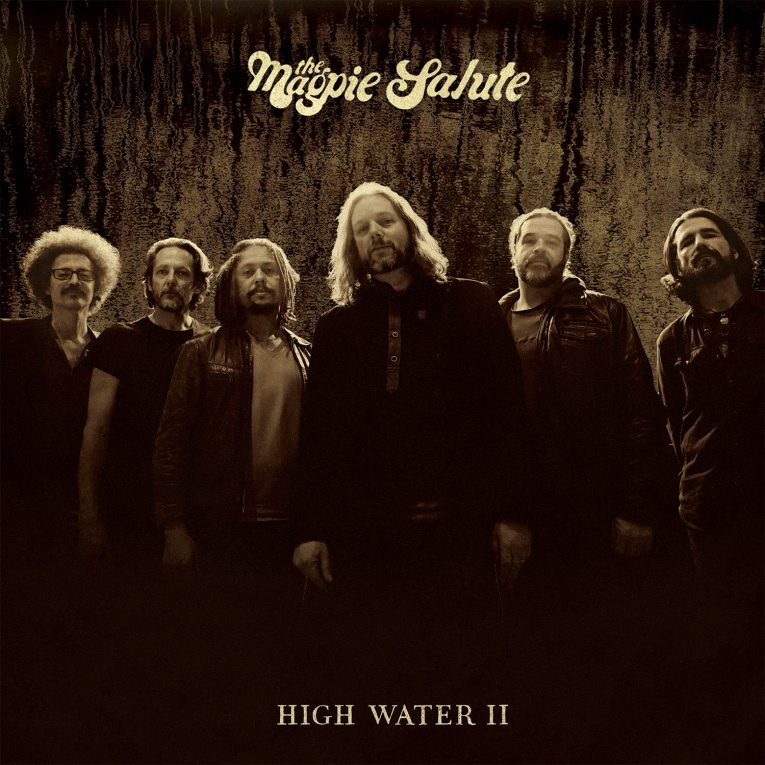 By Tom O'Connor
On October 18th, Eagle Rock Entertainment and the Mascot Label Group are scheduled to release High Water II, the highly-anticipated second studio album from Rich Robinson's latest band, The Magpie Salute.
Robinson (Black Crowes) is again joined by fellow-travelers Marc Ford (Black Crowes) on guitar, bassist Sven Pipien (Black Crowes), drummer Joe Magistro, and keyboardist Matt Slocum, along with the remarkable John Hogg again handling the vocals. Together, the band conjures up a thick stew of psychedelia-tinged Americana Rock & Roll; a clear extension and expansion of the ideas we heard in their 2018 studio album High Water I.
Densely layered and packed full of musical ideas, these twelve tunes aren't, with the exception of a few choruses, exactly "sing-along" songs. They're most definitely "feel along" songs; the kind you'll listen to way more than once, discovering new things with repeated plays. What we have here is a band in search of the source, the central universal vibe, and they're getting mighty close.
The Magpie Salute means business and they prove it with opener "Sooner or Later." Everything you need to know about the album is contained in this track. The band fills every sonic frequency from the opening bars, yet Hogg's vocals and stream-of-consciousness lyrics still grab your attention and rise above the maelstrom of sound, then the nearly-chanted chorus gives you a soft place to land between verses and righteously buzzy lead breaks. A deep bass and piano open then settles into a very Stones-y groove on "Gimme Something" that is a straight-up visit to the church of Rock, right down to the "take me higher" chorus. Preach it. End of Summer track "Leave it All Behind" then kicks hard on the power of Joe Magistro's heavy-hitting drums, then sneaks in a brief, trippy Beatle-esque middle section complete with vibrato chords.
Some powerful horn arrangements lift the country-tinged Americana of "In Here" to another place entirely. This stand-out track feels like a spirit-lifting anthem for every trembling searcher who remains undaunted. The Magpie Salute finally slows things down a bit and lets you catch your breath with the sad and pretty porch-picking open of "You and I" before building to another powerful and untethered finish;
Robinson's
guitar mirroring every emotion in the vocals. The same template works, in spades, on "Mother Storm." The spare acoustic open lays a foundation the band uses to build sound and emotion to a gorgeous peak, that leads to a long, slow fade-out that feels like waking up from a difficult but important dream. That mid-career Stones-y vibe deep in the band's DNA returns on "Mirror Mix," creating a bed of sound and vibration that listeners will want to lay down on while absorbing the "Feel what's on the inside" chorus.
The mournfully beautiful Don Quixote-esque ode "Lost Boy," featuring a guest turn on vocals and fiddle from Alison Krauss is a quiet gem that'll drop tears in many beers. The band then switches gears entirely as the trippy sonic hi-jinx return on the sassy "Turn It Around." With its strutting "Jean Genie" vibe, and gnarly guitar line snaking throughout, this is the kind of track that would be a rock radio hit if rock radio still existed. The trip peaks with "Life is a Landslide" as the first few ominous opening bars quickly give way to a bouncy through-the-looking-glass jaunt that sneaks in a heavy survival tip: "Life is a landslide you ride along or you die." Following on that theme, the band reminds you to "live in the moment" with the bouncy blues/funk of "Doesn't Really Matter." But even this strutting, seemingly straight-ahead rocker surprises with an unexpected, blissed-out and dreamy middle section that then shifts back, on a dime, to a re-funkified coda. It's that kind of extra effort that sets this band apart.
Album closer "Where is This Place" is a journey all its own. Building from the band's slowest, swampiest opening groove and built on a loose guitar loop that I can't quite call a "riff," this jam has enough space for all the players to contribute and a tribal/hypnotic chorus that matches the guitar line. This is the band working toward its core essence; they're not here to explain anything, they're trying to get to a place of universal feeling and they want you to come along. You're going to want to join them on High Water II.
For more information on High Water II by The Magpie Salute: