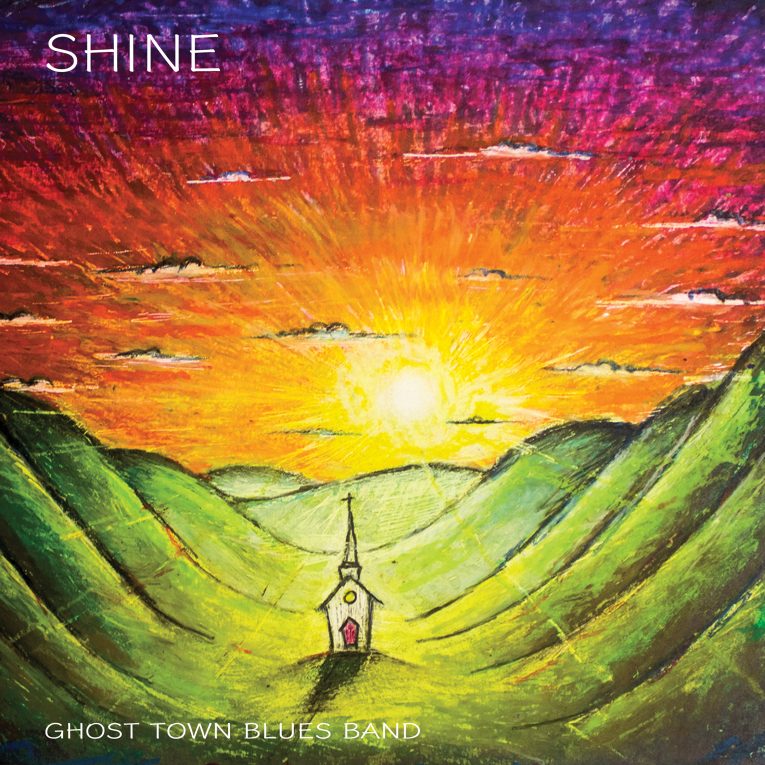 By Mike O'Cull
The Ghost Town Blues Band is an absolutely scorching musical outfit from Memphis, Tennessee with a brand-new album, Shine, that came out October 4th, 2019, produced by Kevin Houston. The record is an engaging set of hybrid modern blues music that blends of elements of blues, rock, jam, and funk styles into a fresh, original whole. Already, Shine has risen to Number One on the Billboard Blues Chart and Number 26 on the Rock Chart, which is proof positive of just how strong GTBB's genre-dismantling style is and how large of a fanbase it's built since its 2009 inception. In that time, the band has become a five-time Blues Blast Music Award Nominee, an International Blues Challenge Runner-Up, a B.B. King International Entertainer of the Year Nominee at the Maple Blues Awards in Canada, and a Tennessee Music Award Winner for Best Blues Band.
Led by Matt Isbell on vocals, guitar, cigar box guitar and harmonica, Ghost Town Blues Band is anything but another typical blues band and has developed its own multi-layered sound by filtering the best parts of 20th Century American music through the minds and souls of young, 21st Century musicians. From its second-line horn stage entrance to its cigar-box guitars, electric push brooms, and rapping trombonist, this is a show you've not seen before but feels familiar, organic, and soulful upon first contact. The band easily combines hill country blues, Allman Brothers jams, vintage electric blues, and poetic songwriting skills into music that must be experienced to be fully comprehended.
The opening song "Running Out Of Time" is a great example of how Ghost Town Blues Band gets down. It starts off as a Grateful Dead-ish jam rock song topped with some sweet cigar-box slide playing from guitarist/vocalist Matt Isbell but shifts into a Southern Soul chorus that takes the tune in a completely new direction. Trombonist Suavo Jones is a big part of the change and his playing adds an unexpected texture at just the right time.
"Soda Pop" follows and takes the band deep into the gritty, innuendo-laden alley so much of the blues has emerged from. It's a fiery song with obvious carnal intentions and is as rough as the previous track is smooth. By this point, you've probably figured out that this bunch doesn't give a fiddler's fig about genre rules and happily stacks its influences on top of each other in the most amazing way. That brand of fearless creativity is the mark of true greatness and Ghost Town Blues Band wields it well.
The title track, "Shine," is more Allman-tinged upbeat soul that sounds like the best day at a music festival you've ever had. It's the sort of feel-good song that moves crowds, improves moods, and just makes life better, somehow. "Givin' It All Away" gets underway with an Impressionistic piano-and-horn intro but quickly hits its riff, turns into funky Southern Rock, and spotlights guitarist Josh Roberts. The long trombone solo in the back half is another unexpected bonus and Suavo Jones hits it like a master.
"High Again" is mid-speed funk rock that contains one of singer Isbell's most emotive performances on the record, putting tough sentiments against a happy-sounding track. The song also features some nice harmonized lead guitar playing that again points towards the Allman camp. "Evangelie" is a groovy love-gone-wrong song with a bunch of Big Easy to it that's a bit of a quiet moment for this boisterous band but occupies its spot in the album sequence nicely. The deeper cuts on Shineare as strong as anything up front, so be sure to get to the slow blues of "Carry Me Home" and the delicate final song "Hey There Lucinda."
Shine is a flat-out excellent effort from a band that's actively evolving American rock music in real time. If you're not in the know about Ghost Town Blues Band yet, you need to hear it. If you're already a fan, you have good taste. Expect this one to get big.
For more information on Shine by the Ghost Town Blues Band: