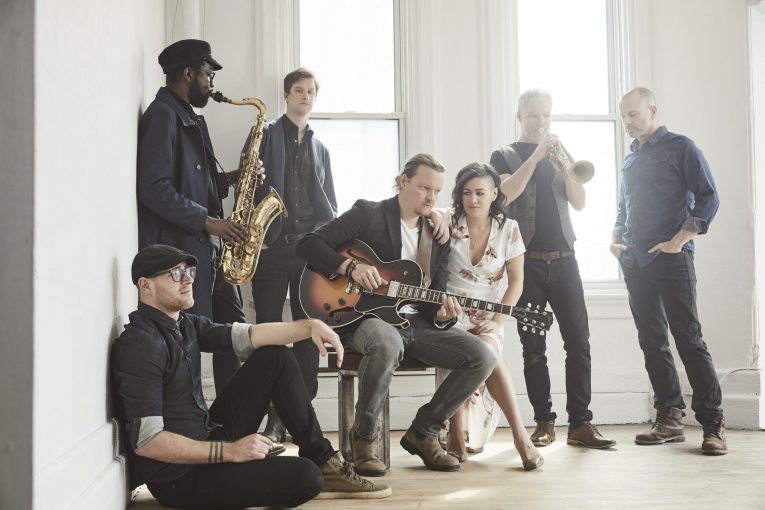 By Tom O'Connor
Do not miss the November 22nd release of the self-titled debut album from Canada's Bywater Call via Gypsy Soul Records. A little out of left field and a lot of what's good, this seven-piece jazz, rock, soul, blues, jam pastiche of a band is as interesting as their music is multi-faceted. They have been nominated as Best New Artist for the 2020 Maple Blues Awards.
Sometimes the right musicians just find each other, and that's what sounds like happened here. Much has been made about singer Meghan Parnell's vocals, but I don't think there's been nearly enough made of them yet; tuneful yet raw and about as honest as anything I've heard in a while.
I was surprised to read that Bywater Call only has one guitarist, as Dave Barnes seems to easily jump from style to style as the song requires. Meanwhile, Alan Zemaitis' keys add another counterpoint to every song. The rhythm section of Mike Meusel on bass and Bruce McCarthy on drums deserves special attention. They handle every shift in groove, every tempo change, and every sudden left turn without ever slipping a gear, and the first time you hear the horn section of Stephen Dyte's trumpet and Julian Nalli on Tenor Sax, you'll know why they were added to the band not long after its inception. Together these seven musicians manage to create layers that never sound too dense, tight grooves that feel loose and drop in the kind of time changes that would terrify a lesser band.
Starting off sounding as high-n-lonesome as the title would suggest, album opener "Arizona" soon kicks into a pretty straight-forward rocking gear, but with the strong funk flowing underneath, that really takes off when the horns and the backing vocals lift it just that much higher while Parnell's vocals somehow manage to grab your attention at nearly every moment. "Forgive" is a high stakes love story lurking behind grinning lyrics and a bouncy, keyboard-powered vibe. Swoon to the slow, horn-soaked bridge and join in the high-stepping hallelujahs. Leading off with a guitar riff, "Talking Backwards," is another tune that layers on the goodness slowly, first the guitar and piano, then vocals and horns…then, before you know it, you're overwhelmed by the sound again and that's before the screaming sax break near the end.
A torch song from the tougher side of town, "Bring Me Down" is an album standout for me. The tune is a vocal showcase for Parnell that still manages to again subtly dazzle with time (and mood) changes as it morphs into an extended guitar and horn jam/exploration of the sort that will go very long during those outdoor Summer concerts. "Nightmare" is another slow and sentimental one as Parnell's vocals again float on a bed of heavenly horns while accompanied by some sly organ work. Even the tasty slide solo in the break gets an added bump from a just-right line from the horns. Every song seems to have one or two more layers to it than you might expect.
Turning a sharp corner from the previous couple of tear-jerkers, "Over and Over" comes out of the blocks funky and hard. You'll particularly enjoy another fine dose of buzzy slide lead that has no trouble getting as funky as the horns… and those horns are dang funky. Shifting gears completely, that big echo in the open, as well as the song title cues you to expect big memories in "Hometown" and that's what you get in this heavy and mournful Country weeper. The sass and swagger return on the mid-tempo but torchy-as-heck "Silver Lining." Parnell's vocals once again reach out and grab your attention, but credit the mournful-but-unbroken line from the horns and the ever-present whispers from the keyboards with some of those big feels and goosebumps. Ominous and stark at the outset, "Walk On By" settles into a late-night groove that might be bad news, but one thing's for sure: if Amy Winehouse were alive today, she would be begging to sing this song. It sounds like four minutes of Film Noir in your playlist.
Some down-home picking opens up album closer "Swing Low" as the acoustic guitar anchors a hopeful, bouncing vibe. Of course, even in this comparatively stripped-down tune, there's an easy-for-them mood/tempo shift or two that feel as natural as breathing. It is a final reminder that this is a tightly connected group of superior musicians who I think have just started to discover what they're capable of, as individuals and most importantly: as a group. There's some rare alchemy going on here, so there is no telling what Bywater Call might create next.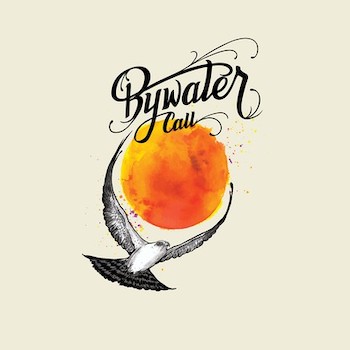 For more information on Bywater Call: