We are very pleased to premiere the video "Buried Above Ground" by Louisiana blues/rocker, guitarist, singer-songwriter, Eric Johanson, from his new album, Below Sea Level out on Nola Blue Records, produced by Luther Dickinson of North Mississippi Allstars. The release is a striking collection of 12 indie rock and blues originals written by Johanson.
"Buried Above Ground" opens with dynamic interplay between drummer Cody Dickinson and Eric's gritty, sinfully good guitar riffs. The almost telepathic connection between the two drives this live-wire blues rocker. Johanson leads you through some of New Orleans' traditions and folklore on this track by way of his bright, present vocals and a guitar solo of the killin' kind. Full throttle, Johanson's six-string bending is nothing short of inspired and tasteful.
Johanson says, "The title of the song refers to the fact that people are typically "Buried Above Ground" in New Orleans, due to the high water table and the fact that much of the city is actually below sea level. The song itself is an expression of the journey I've been through with the city, leaving and coming back, and figuring out this is where I need to be. This was the first song we recorded at Zebra Ranch (the Dickinson's studio), and it was one of the first takes as well, so it really set the tone for the record. From Cody's first couple of bars I could tell we were going to have a blast and make something great."
The band includes Eric Johanson on guitar and vocals, Cody Dickinson on drums, and Terrence Grayson (Victor Wainwright Band) on bass.
A growing force in the blues/rock and roots/rock scene, Eric Johanson also toured worldwide as the lead guitarist for Cyril Neville, Grammy winner Terrance Simien and has also been featured with JJ Grey and Mofro, Eric Lindell, Mike Zito, The Neville Brothers, Anders Osbourne and Tab Benoit. Benoit produced Johanson's first album, Burn It Down, out on Whiskey Bayou Records.
Watch "Buried Above Ground"

Order link for Below Sea Level
The music video was shot by Kaylie McCarthy in New Orleans and directed by Eric Johanson and McCarthy. Johanson started making his own videos during the lockdown due to the pandemic. "Buried Above Ground" is the fifth video he and McCarthy have created together.
Johanson adds, "This pandemic has given me more time for the other aspects of the creative process. I've always wanted to make music videos, as I feel it enhances the art and puts it in a context. My fiancé and I have produced all of them for this record, and one for the last record. I'm more into the tech aspects of it, and she really has a natural eye for getting interesting shots, so it's a fun process. I do the editing at home as well.
We partly shot this one at one of the old cemeteries in New Orleans, and then found the abandoned graffiti covered building made into a skatepark. I like beauty in things that have been left behind and have taken on a new life. In a way that building was "buried above ground" too, so it just seemed right to use it."
Below Sea Level is a breakout record for Eric Johanson and offers roots/rock barn burners, swaggering blues rockers and a bit of psychedelia, with outstanding, elegant guitar playing and superb musicianship throughout. His songwriting must be noted—Johanson is a natural storyteller with songs that feature haunting images, heartbreaking stories, romantic love, and tales of of The Crescent City.
Eric Johanson puts on a Facebook livestream every Thursday 7pm CT @EricJohanson504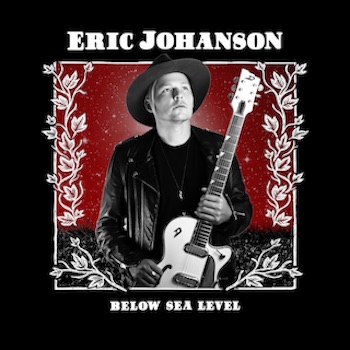 Order link for Below Sea Level 
Eric Johanson Online